UPDATE: Life Itself Virtual Q&A Adds Music By Clem Snide, Moderator Scott Mantz Tomorrow, May 27th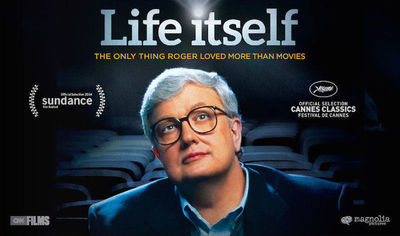 Chaz Ebert is happy to announce that two new guests will join her and director Steve James Wednesday, May 27, to discuss her late husband, Roger Ebert, and the acclaimed documentary "Life Itself" chronicling his life. (It will take place here tomorrow at 5pm PT/6pm MT/7pm CT/8pm ET) "I am absolutely thrilled that singer/songwriter Clem Snide (a.k.a. Eef Barzelay) will grace us with the original song he wrote called 'Roger Ebert,'" said Chaz. "It just fits perfectly in these surreal times. I think it would get Roger's Thumbs Up!"
"We are also so fortunate to welcome Scott Mantz, the Emmy-nominated producer and film critic as our moderator. Steve James and I have not had a chance to discuss the documentary lately, and I'm just hoping that I can do so without getting too emotional about it. I have to say it was a beautiful experience watching it in my home theater where Roger and I have watched many movies over the years."
"And the fact that 10% of the proceeds will be donated to the Chicago Cinema Workers Fund just brings tears to my eyes. It is just what Roger would have wanted. One of the reasons he loved movies so much was because of the empathy they conveyed and the way they motivated us to help make life better for others."
"Life Itself" opened in virtual cinemas this past Friday, May 22nd, as part of Magnolia Pictures' screening series entitled, "A Few of Our Favorite Docs." However, you can still purchase the film package for $5 (here) to watch the film before the session tomorrow night. Once you purchase any film from the Doc series you have up to 30 days to watch it, but once you start watching it, you have 72 hours to complete it.
You may submit questions for the Q&A to: submityourquestion@magpictures.com or be tweeted with the hashtag #magnoliadocseries.
For more information about Eef Barzelay and Clem Snide, see here.
The other films in the series are "RBG," BLACKFISH," and "HAIL SATAN."
For more info, including a complete list of the participating venues, click here.
"Life Itself" is available to screen here, and the Q&A will take place here tomorrow, May 27th.