The Ghost of Peter Sellers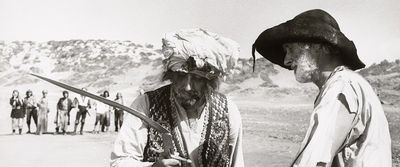 There are probably a lot of people out there who consider themselves Peter Sellers-heads who've never heard of a movie called "Ghost in the Noonday Sun." This never-completed high seas comedy, conceived by Sellers' "Goon Show" friend and mentor (and fierce rival) Spike Milligan, was directed by Peter Medak, the Hungary-born filmmaker who came to England after harrowing early years during which he and his families were tormented by both Nazis and Russians.
The (sort of) completed film was never released, and the financial boondoggle it left in its wake nearly sunk Medak's career, while Sellers, its star and its making's nearly central villain, skated on to other triumphs, tormenting friends and colleagues the whole while.
The experience still scars Medak, who considered Sellers a pal when they first resolved to work together. (The director's gift for comedy was manifested pretty spectacularly in his 1972 picture "The Ruling Class," with Peter O'Toole as an aristocrat who believes he's Christ.) To exorcise his agony, he has made a documentary starring himself and featuring, in new interviews, other still-living directors who survived the Sellers Treatment, and even some figures who were Medak's enemies during the cursed production of "Noonday Sun."
The result is the most fascinating documentary about a failed movie since 1965's "The Epic That Never Was," about the abortive Korda-produced, von Sternberg-directed, and Charles Laughton-starring film of Robert Graves' great novel I, Claudius.
Medak uses a lot of footage from "Sun"—enough to make you curious to see the whole thing. He intersperses it with his own tortured musings. At the beginning of the movie he visits Spike Milligan's widow, and they reminisce about the joy Milligan and Medak experienced during the rewriting.
Sellers begins misbehaving early in the shoot. On location in Cyprus, he goes to the house that's been rented for him. He won't enter until the movers and his assistant actually set up his phonograph system and put on a Ravi Shankar LP. Once he hears the music from the inside of the house, they can go in. Sellers sees a copy of the International Who's Who on one of the bookshelves. He looks up one of the film's producers, Tony Clyde. Unimpressed with the entry on Clyde, he tells Medak he wants the producer fired.
And on it goes. Once Sellers turns against Medak, the actor, who famously insisted that he had no actual personality of his own, morphs into Fred Kite, the agitating shop steward of his 1959 trade union comedy "I'm All Right Jack." Tony Franciosa, hired to play the role of a dashing swashbuckler in the farcical pirate tale, looks forward to working with Sellers, who was a friend. By the middle of the shoot Sellers had turned on Franciosa to the extent that he refused to share the frame with him, and all their scenes had to be shot in reverse shot alternations. And once Spike Milligan shows up at Sellers' behest, he begins to hijack the shoot.
It's not just Sellers. Shooting a film on a ship in the water, in the real sea as opposed to a tank where you have some measure of control, is practically an impossibility. One director is said to believe "anything with water, even someone washing their hands, they want nothing to do with." And here you see why.
There's a lot more, a lot of it appalling, all of it kind of delicious. Especially valuable is Medak's chat with Piers Haggard (who helmed Sellers' last picture, the unfortunate Fu Manchu one) and Joseph McGrath (who, God love him, directed Sellers in not only the Bond pastiche "Casino Royale" but also "The Magic Christian" and the obscure "The Great McGonagall"). "Even with a good film," muses McGrath with a "I can laugh about it now" twinkle, "it was never fun."
Available on VOD today, 5/22.