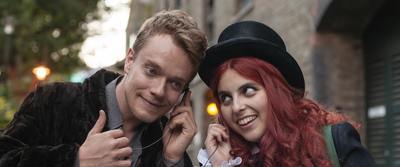 Some lucky few achieve their impossible dreams well ahead of schedule—if there's even such a thing as a schedule for success. Johanna Morrigan (Beanie Feldstein) is one such lucky dreamer in Coky Giedroyc's adaptation of Caitlin Moran's bestseller "How to Build a Girl." Although she starts out a painfully shy loner who fantasizes about writing professionally, Johanna finds a niche for herself as an upstart rock critic shaking up the boy's club of a music magazine in early '90s London. She might be only 16, broke, live in an un-posh part of Wolverhampton, and have too many siblings and a set of uncool parents, but Johanna finds the strength to take on the critics both inside her mind and out in the world to make a name for herself.
There is more in "How to Build a Girl" that works than doesn't. It's charming and sweet, and even in its more serious moments, the movie never loses its sense of humor. Feldstein's accent may not always be on-point, but her acting sure is. Johanna's moods vary from self-pitying sad girl to an awkward teen desperate to be accepted to feigning confidence to take on her own critics. Feldstein particuarly has fun when Johanna creates a new persona, Dolly Wilde. Playing the part of a stylish music journalist, she dyes her hair bright red and dresses up in a buttoned shirt with a bowtie, tailcoat, top hat and shorts with tights and of course, a solid pair of Doc Martens. There are several great little moments where Feldstein capitalizes what she says with her expressive eyes and reactions, especially when her character stumbles into her first romantic feelings with her first interview subject. We may be used to seeing Feldstein play the best friend in "Lady Bird" or "Booksmart," but in "How to Build a Girl," she's proving that she can carry a movie by herself.
Moran's story, which she also adapted for the screen, shares a number of details with her own life, like a set of hippie parents, growing up with many siblings in Wolverhampton and starting her career as a young music journalist. Save for a few slower scenes, the story moves briskly, following Johanna's meteoric rise with plenty of humor. As Johanna finds more success, her outfits evolve from baby show punk to an outfit worthy for an audition for "The Greatest Showman"—what a teen girl may think it takes to stand out, be cool and to fit into the boy's club. The film also shows the harassment Johanna faces as her co-workers pick on her for age, gender, and class, but she meets their taunts with a plucky determination and a newfound inner strength.
Supporting characters played by Chris O'Dowd, Emma Thompson and Paddy Considine, who plays Johanna's dad, give Feldstein the chance to show a range of awkward reactions and interactions. Although Johanna may think of herself as all grown-up, she still has a lot to learn when communicating with adults. Her mother, played by Sarah Solemani, is unfortunately a nonentity tired out by the needs of five kids and a musician husband. She almost looks as if she could be Johanna's older sister rather than her mom. Her presence looms over Johanna's mind as a cautionary tale. While Johanna dreams of Jane Austen novels and a room of her own, her mother seems to have given up on life.
With neither parent available to her, Johanna turns to the wall art collage of famous figures, philosophers and authors played by Gemma Arterton, Michael Sheen, Jameela Jamil, Lucy Punch, and Lily Allen, to name a few. Through her active imagination, Johanna solicits advice from the moving subjects in the photos. They talk her up, make her believe in herself, and give her the inspiration to write. Unfortunately this is one of the movie's few flat notes, a cliche idea in an otherwise refreshing story. The ending also suffers an easy flaw, but Feldstein's performance is so endearing and Moran's story so compelling, that it's practically forgivable.
Through the eyes of a 16-year-old, "How to Build a Girl" bottles the insecure feelings of not being good enough, fearing rejection, and dreading what are you going to do with your life. Johanna believes in a world beyond her school commute and that there will be love and adventure just outside her humble home. The film hits the high notes of what it feels like to write passionately into late-night hours and the thrill of a writer's first printed byline, as well as the lows of making rookie mistakes and feeling like a failure. While at first glance "How to Build a Girl" may have a lot in common with Cameron Crowe's coming-of-age classic "Almost Famous," there's so much of Giedroyc's movie that's distinctly its own, including the message to "not too beat yourself up so hard—the world will do that for you."