Cannes Flashback: Cannes Premieres of Life Itself, Foxcatcher and The Homesman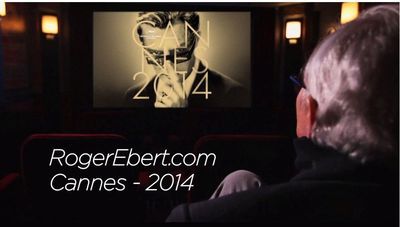 Since I would normally be broadcasting from Cannes at this time, I decided to go into the vault and share some of my cherished memories from past years spent along the French Riviera in the midday sun. The following video was originally published on May 22nd, 2014 and produced by me and Scott Dummler of Mint Media Works.–Chaz Ebert
"LIFE ITSELF" will be screened in a virtual cinema event as part of Magnolia Pictures' Favorite Documentary Series on Friday, May 22nd, 2020, with guest appearances by Chaz Ebert and Steve James for a Q&A on Wednesday, May 27th. Click here for information.
EDITOR'S INTRO:
In our second video report from the Cannes Film Festival, Chaz Ebert reports on the festival premieres of Bennett Miller's "Foxcatcher" (starring Steve Carell, Channing Tatum, and Mark Ruffalo) and Tommy Lee Jones "The Homesman" (with Hilary Swank). Far-Flung Correspondent Michal Olesczyk offers his take on the Jones film and raves about Mike Leigh's "Mr. Turner" and Alice Rohrwacher's "The Wonders."
Chaz returns in the video to offer her very personal recap of the Cannes premiere of Steve James' "Life Itself," the documentary about Roger Ebert (which was to be released in theaters and On Demand on July 4, 2014.) She offers a note that she wrote to Roger about the event and tells of a very rare event: a mid-film Q&A. Don't miss it.
---
2014 Cannes Segment 3 – RogerEbert.com from The Mint on Vimeo.
The following text is a transcript of the video…
Oscar buzz is already starting for Steve Carell's portrayal of John du Pont in Bennett Miller's "Foxcatcher," screening in competition for the Palme d'Or. Carell, known primarily for his comedic roles in movies like "The 40-Year-Old Virgin," completely disappears into his character, and seems to inhabit the oddly eccentric heir to the Du Pont chemical fortune who ended up going to prison for murder. It is not only the physical changes to Carell's appearance. Indeed, his mannerisms and measured speech display a totally different psychology. This is an intriguing portrait of how one can misuse the privileges wealth affords him.
"Foxcatcher" is a triumphant follow-up to Bennett Miller's other movies based on real-life people. His direction of Philip Seymour Hoffman in "Capote" and Brad Pitt in "Moneyball" won both actors Oscar nominations, with Hoffman taking home the prize. I think this film is a strong contender for the Palme d'Or, and it also includes impressive performances by Channing Tatum and Mark Ruffalo as Olympic gold-winning brothers who Du Pont recruits to help fashion a wrestling ream for the 1988 Seoul Olympics. Channing Tatum is no "Magic Mike" here. His slumped-over walk and blank face is one of a man defeated by what life has offered him so far.
"The Homesman," directed by Tommy Lee Jones, is an interesting take on the female homesteader going west during the settling of America. Hilary Swank gives us a character we haven't seen before in a western. She's strong, independently wealthy and very capable, but not a cowgirl. She's smart and cultured, but she needs a man to help her share the burden of cultivating the land and herding her cattle. Her problem is that her plain looks and take charge demeanor gets her labeled as bossy, making her too much for any man to handle. I loved Hilary Swank's acting in this movie, the way her pinched expression telegraphed her painful, naked vulnerability, and the determined way she sweeps her floors and bakes her pies, making everything perfect for the husband she hopes will come.
But I was disappointed by the film's handling of the three women who have been driven insane by the rigors of the old west. They are suffering variously from postpartum depression and other ills, and it is up to Hilary Swank to take them back to the east to be treated for their mental illness. These women are played by very strong actresses, but their characters as written are never fully realized. They are treated more as plot points to keep the action moving. Also, although Tommy Lee Jones' craggy face and Texas twang makes her perfect in a western, this particular direction of "The Homesman" is inconsistent in tone. It's light and humorous in parts, cartoonish in others, serious and sympathetic later. I like this movie, but I doubt that it's a serious contender for the Palme d'Or. But now, with his take on "The Homesman" and two other Cannes films is our Far Flung Correspondent for RogerEbert.com, Michał Oleszczyk…
…Last night was so exciting when they screened the documentary about Roger, "Life Itself," here at Cannes, and here is a note I wrote to Roger about the event…
Dear Roger,
Today was the first day that rain had fallen all week, and I was uncharacteristically nervous all day before the screening, even as I was getting ready to go to the Palais…
…It turns out I was nervous for good reason. The screening started out perfectly, with a packed house of old friends and lots of fans we had never met…
…And the film was introduced by none other than festival head Monsieur Thierry Fremaux…
…But Roger, was that you who caused the projector to break down two thirds of the way during the screening? You used to say that the most memorable evenings were often the ones where something goes wrong and someone saves the day. Steve James had added new footage to the film of Cannes, and after the new section was exhibited, we heard a loud pop, and then the screen flashed green and black. The audience gasped, and we discovered there was not anyone there from the festival who could tell us what happened or if it could be fixed. Steve and I looked at each other in horror. This was Steve's first Cannes experience, and he didn't know what to expect. He surely didn't expect this, so we made a quick decision.
I grabbed his hand and we took to the stage to do an impromptu Q&A, just as you had taught me to do in other similar circumstances. The audience was so kind and understanding, Roger. Of course, while we waited for the projector to get repaired, some members had to leave to attend other screenings or events, but thank goodness for all of those who stayed. Once the projector was fixed and the film continued, I think it made watching the rest of the movie deeper and even more poignant. My dear Roger, tears flowed, both for me and for some of those who waited to give me hugs after the screening.
My love, you were at Cannes, and it was a victory.