U.S. states developing plans together to reopen are significant drivers of American economy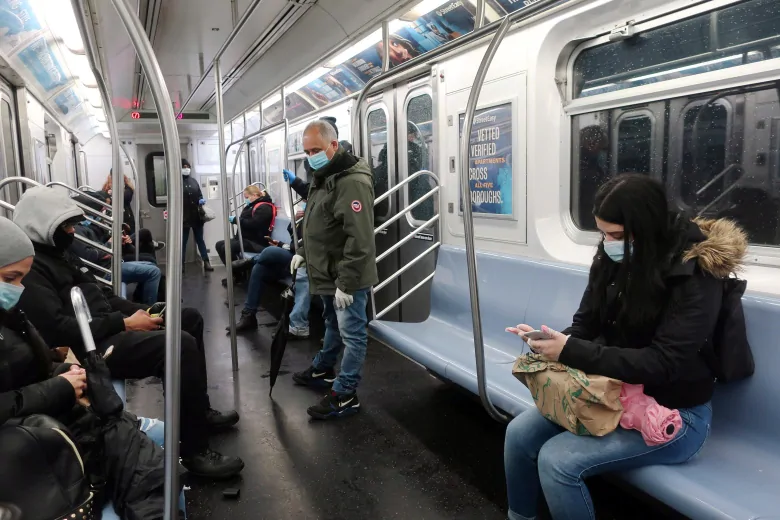 New York Gov. Andrew Cuomo said on Tuesday he would not abide by any order from U.S. President Donald Trump to reopen his state in an unsafe manner during the coronavirus outbreak.
Trump said on Monday he believed the president has "total authority" over states in the U.S. coronavirus response, a stance that is not supported by the constitution and was immediately rejected by legal experts and some governors.
"If he ordered me to reopen in a way that would endanger the public health of the people of my state, I wouldn't do it," Cuomo said in an interview with CNN.
In a separate interview he told MSNBC that if the federal government tried to impose an order to reopen, "we will have a constitutional crisis like you haven't seen in decades, where states tell the federal government we're not going to follow your order."
The U.S. constitution gives state authorities the power to police citizens and regulate public welfare.
On Monday, ten U.S. states announced they were co-ordinating plans separately from the White House to reopen businesses shut by the coronavirus.
The West Coast states banding together were California, Oregon and Washington. On the East Coast, they are as follows: Connecticut, Delaware, Massachusetts, New Jersey, New York, Pennsylvania and Rhode Island.
The governors of the states forming joint task forces said they were doing so due to their interdependence in trade and transportation. Each state will ultimately make its own decisions on reopening based on specific needs, Cuomo said.
Collectively the ten states generated 38.3 per cent of the total U.S. economic output in the fourth quarter of 2019, highlighting how much of the U.S. economy depends on its most populous states. California and New York, the biggest and third-biggest states respectively, account for about 23 per cent of total U.S. economic output, figures from the Bureau of Economic Analysis show.
Governors of those states and others including Michigan, Illinois and Louisiana, have previously complained that Washington has not assumed authority of medical supply chains, leading to what they have characterized as a time-consuming and costly bidding process for scarce equipment, with allegations of profiteering by private suppliers.
With the exception of Massachusetts, the states in the joint initiatives are all led by Democratic governors. But Republican governors Chris Sununu of New Hampshire and Larry Hogan of Maryland were among those who said Monday that Trump's interpretation of the constitution was not one they shared.
Pres Trump stated that "When somebody is President of the United States, his authority is total." The Constitution was written precisely the deny that particular claim. It also reserved to the states (& individuals) rights not expressly given to the federal government.

—@JonathanTurley
Even constitutional scholar Jonathan Turley, who defended Trump's authority with respect to his dealings with Ukraine during House impeachment hearings, tweeted that the president's view of his powers was mistaken.
Turley followed up with an editorial in the Washington Post on Tuesday.
"Trump has alluded to a type of pan-economic power to force states to prioritize economics over pandemic concerns. Not only does no such express power exist, it would contradict core principles of our constitutional system," he wrote.
Turley said Trump was correct in earlier briefings when he asserted that the state governments "have primary authority to prepare for and deal with a pandemic."
While Trump boasted of his authority, he did also suggest Monday he would prefer to defer to governors.
"I'd rather have them make the decision," he said.
White House task force announced
The White House on Monday announced it was organizing its own council to consider how to reopen the economy.
Among those expected to be part of the new team: Treasury Secretary Steve Mnuchin, Commerce Secretary Wilbur Ross, Housing and Urban Development Secretary Ben Carson and White House economic advisers, past and present, Kevin Hassett and Larry Kudlow. New White House chief of staff Mark Meadows is expected to chair the effort.
Senior White House aides Jared Kushner and Ivanka Trump had been expected to be part of the team, but the president said Monday they would not be included. It would work separately from the coronavirus task force led by Vice-President Mike Pence, though there could be some overlap of participants.
Trump said Monday the new panel would seek counsel from various industries and include committees representing fields like manufacturing, transportation and religious interests.
The expected new group, so far, largely resembles the upper echelon of the Trump administration. Some ethics experts and participants in past councils created by Trump voiced concern that the president may not be open to using the new panel to explore diverse viewpoints and hard truths about the best path forward.
"It doesn't work if you bring in the hallelujah chorus," said Thea Lee, president of the Economic Policy Institute, a left-leaning Washington think-tank. Lee served on a short-lived manufacturing council that Trump established early in his presidency.
More than 23,000 people have died of the virus in the United States overall, with 582,000 confirmed infections, according to a tally by Johns Hopkins University. Some 10,000 of those deaths, over 40 per cent, have come in New York state, and about a quarter of American deaths have been recorded in the New York City metropolitan area.