Transcendent in Its Reach: Christine Swanson and Aunjanue Ellis on The Clark Sisters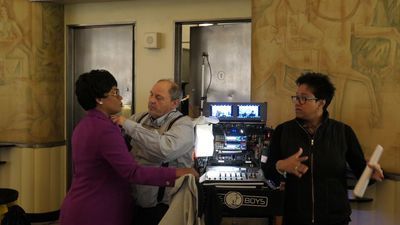 Lifetime Channel's highest-rated premiere in four years was Christine Swanson's "The Clark Sisters: First Ladies of Gospel." The film stars a dazzling Aunjanue Ellis as Dr. Mattie Moss Clark, the manager, choir director, and mother (sometimes in that order) of the Grammy-winning gospel singers. We see in the film that when a harmony comes to the fierce and demanding Dr. Clark in the middle of the night, she does not wait until morning to bring her girls downstairs to try it out.
In an interview with RogerEbert.com, Swanson and Ellis talked about portraying Dr. Clark, how gospel singing is more than music, and casting singers rather than actresses to play the Clark Sisters.
When did you first hear the Clark Sisters' music?
CHRISTINE SWANSON: Growing up in Detroit, Michigan, the music of homegrown talent such as The Clark Sisters, The Winans and Anita Baker, was the ubiquitous soundtrack of my life. I don't remember a time when I didn't hear this music.
What makes the Clark Sisters different from other gospel greats?
CS: Notwithstanding their success as the highest selling female gospel group in history, what makes the Clark Sisters great is their unique story as daughters of the great matriarch Dr. Mattie Moss Clark, who sacrificially and intentionally created a singing group with her daughters who achieved a high level of success in the gospel and the secular world. They are homegrown geniuses who wrote their own music (Twinkie Clark wrote the songs), played their own instruments, and produced their own records. They are international music stars yet they still live in their own hometown and continue to inspire generations of people and musicians such as Jay-Z, Beyoncé, [and producers] Missy Elliott, Queen Latifah, and Mary J. Blige along with so many others.
Is gospel more about music or about prayer?
CS: This music form stands apart from others as it relates to purpose. Gospel music is spiritual communication. Gospel means "good news" and gospel music is expression of that good news through song and singing. So the expression of gospel music through song is really an expression of God's goodness that is being communicated to everyone. The effect of this singing is something that tinges the mind, body and spirit. It's transcendent in its reach. It's reverent in its approach. It's never entertainment for the sake of entertainment. This music ushers us into the presence of God.
Do you have a favorite Clark Sisters song?
CS: I have phases when a Clark singer's song means something different depending on what I'm going through in life (that's how important their music is to me). Right now, "Nothing to Lose" really speaks to me. When I was working on the film in Toronto, to get into the space of Twinkie's genius, I listened on repeat, "My Soul Loves Jesus." The piano solo alone on that song sets Twinkie Clark into her own stratosphere of genius.
How did you help to shape the movie as a producer?
AUNJANUE ELLIS: There were things in the script that I felt did not serve Dr. Mattie or the Clark Sisters. Often portrayals of women in the public eye are reduced to petty concerns like dating and clothes and weight. I would not accept that. Why would we tell a story about one of the most significant forces of Western music and collapse into pettiness? I worked every day and night with our fearless director Christine Swanson to get the script to a place so that it did not diminish who these women were. Dr. Moss Clark was not a cuddly woman—and thank God for it. I embraced every bit of her that made other people uncomfortable. The biggest compliment to me is when I hear people say they don't know whether to love her or hate her.
Do audiences expect more from gospel singers than other musicians, either in terms of their music or in terms of their personal lives?
CS: There's a line in the movie when Mattie admonishes Denise for living a "raggedy" life, because her life and her witness is tied into her anointing when she sings. There is a deeply profound understanding regarding those that minister in song or those that preach, that they must walk the walk as they are standing before the throne of God.
Not to get overly theological, but there is a connection to living a "holy" life if one works in the gospel music industry. What makes the Clark Sisters movie so compelling is the juxtaposition of the holy and the hell, so to speak. The conflicts that arise within the lives of the Clark Sisters and their mother make for relatable tension that many families experience. The fact that they work and sing within the gospel genre makes no difference. At their core, these are women who have enormous gifting who have hopes, dreams, hurdles, disappointments, hurts, triumphs and devastation. They are human indeed. Yet, they are endowed with enormous gifting and genius as well. This makes for the most tragic of circumstances worthy of our attention as it relates to such a music treasure. They are the Jackson 5, The Beatles, The Rolling Stones of gospel.
You had a lot of characters and a lot of years and a lot of drama to get into one feature-length film. What were the biggest challenges and how did you resolve them?
CS: When dealing with so many characters over time, the biggest obstacle is time itself. This story could have been a mini-series and we still wouldn't have enough time. Ultimately, the final cut was the solution although there's enough material to do an extended director's cut over two nights. [Laughs]
If I had another hour, I would have included more story arc with Dorinda's character and an extended song sequence in the third act with the character Twinkie singing a capella for starters. One of our regrets is that we could not properly center the cost of the labor of Black women who work tirelessly in and for the church without seemingly a return in investment, at least on the earthly side. So much to unpack just in that. Twinkie Clark is an American genius who created a body of work that rivals those of Stevie Wonder and Prince in terms of depth, scope, genius and contribution to the music canon that is Black, American and International. She sacrificed a lot to achieve so much. Her life was practically the church and the music. What's the cost for her laboring for the greater good of her mother's vision and her Lord? So much to dive into. So little time.
You also had one very experienced actress in the extraordinary Aunjanue Ellis with other performers whose background was in singing, not acting. How did you work with them to help them be so natural in their dramatic scenes?
CS: Aunjanue Ellis is a treasure. Truly one of the greatest actresses working today, Black or White. I hope people finally realize how fierce she really is and has been her whole career. One headline (Washington Post) regarding Aunjanue read: "Aunjanue Ellis has been in box office hits, but a Lifetime biopic is making her famous." She truly aimed for the rafters and hit a Grand Slam! Her performance was so transformative, Tony and Emmy award-winning Billy Porter and his friends reached out to Aunjanue, Donald Lawrence (music producer) and myself on a Zoom call to just celebrate our artistry and honor our attention to detail. He compared what we did in this movie to "The Color Purple." He said, "The Clarks Sisters movie is our new 'Color Purple' in terms of what the movie means to Black culture and American culture as well." We were all floored and humbled. He said he and his friends could not stop talking about the movie. That's saying a lot especially coming from such prolific peers. They really appreciated that I cast real singers and insisted that made all the difference in the world to them (singers themselves). The casting of singers was very unorthodox for a Lifetime movie. Nevertheless, in my gut, I felt that was a unique way to properly honor gospel legends such as The Clark Sisters. It seemed to have worked thanks in part to our outstanding music producer, Donald Lawrence.
AE: I worked with them the same way I work with more experienced actors. I never presume I know more than another actor just because there are more items on my resume. If you do that you are blocking your blessings—the blessings of having "lived" and not robotic moments on camera.
Experience is not a guarantee of honesty. I have seen more experienced actors try their best to achieve honesty on camera and fail at it—including myself. So I supported them in whatever way they needed and it was mutual.
The Clark sisters' mother, Dr. Mattie Moss Clark, was very hard on her daughters, and it would have been easy, even tempting, to make her into a villain. How did you and Aunjanue talk about creating a full and complex character? What was her greatest frustration? What, if anything, was her greatest satisfaction?
CS: First of all, we all had an understating of Dr. Mattie Moss Clark as a visionary genius who was doing a great work as a woman and mother at a time she was swimming upstream against patriarchy, church hierarchy, divorce and abuse. So, in no way would her character come off as a villain to us, ever. We were all on the same page about that. The goal then was: How do we delicately tell her rich story that includes five daughters and a bunch of song numbers? Not an easy task! [Laughs]
I know Aunjanue's greatest frustration was getting Mattie's voice just right. Aunjanue wanted to add a little "hoarse" element she felt she didn't get quite right, but any and everyone who knew Dr. Mattie Moss Clark including all of her daughters felt Aunjanue nailed the performance. So much so that, when the Clarks Sisters first met Aunjanue, all the sisters broke down in tears. They were so moved by what they had seen so far in Aunjanue's portrayal of their mother. What Aunjanue and I tried to create was authenticity without sentimentality. Dr. Mattie Moss Clark was tough, yes, but she loved and championed her daughters and drove them to be their greatest. It's not a pretty road to achieve that kind of greatness and we wanted to show the truth of what that looked like, what the cost for greatness is. I know Aunjanue displayed nuanced efforts to show tenderness in the touch of a hand or face, brushing of the hair, little details that showed a mother's love was always operative despite the challenges.
AE: There is footage of Dr. Clark in a wheelchair. She has a partial amputation due to diabetes and yet she is still directing with Dorinda by her side. She could barely point but she was still directing with that one finger. This is who this woman was: Giving fully of herself to choirs, to the Church of God in Christ church, and to her daughters even when her body had nothing left.
I don't think Dr. Mattie wanted anything for herself. She was singular, but she was not an individualist. Her success as a director and instructor of choir music was the success of multitudes and that's what she craved. I think she wanted no less than to usher in a new movement of sound in American music. She wanted her daughters to be the crafters of that sound. And they, led by the then musical prodigy Twinkie Clark, were.
What was she proud of?
AE: I think she would balk publicly at "proud" because pride is so condemned in the Church of God In Christ tradition. They in fact use terms like "Godly proud" to distinguish from personal pride. But privately I wager she would say she was bursting like fireworks with pride for her daughters.
What was she angry about?
AE: I think willful mediocrity angered her. Excellence gave her joy.