RCMP investigating incident at Tiny House Warriors village in Blue River, B.C.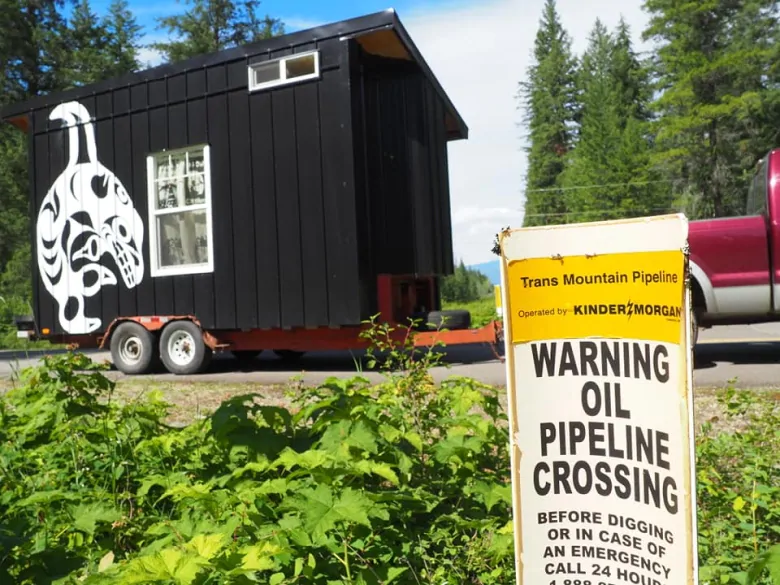 RCMP in Clearwater, B.C., are investigating an incident that took place at the Tiny House Warriors village in Blue River over the weekend.
Blue River is about 175 kilometres north of Kamloops.
Kanahus Manuel, a high profile Secwepemc land defender and spokesperson for the village, said she feared for her life when four strangers showed up unexpectedly on Sunday night.
She said they came into the encampment area driving off-road vehicles, smashing through barriers at the entrance and knocking down signs.
At one point, she said one of the men stole her truck and rammed it into the tiny house she'd taken refuge inside.
"By the time the impact hit, I was jumping onto the floor from my bed," she said. "I was so shook and scared."
The Tiny House Warriors have taken up residence in tiny homes built and placed strategically along the route of the Trans Mountain pipeline expansion project in an effort to block access to pipeline construction in Secwepemc territory.
Manuel said at one point the men shouted at her "You think you can stop this? You can go live wherever you want?"
Manuel said the whole incident lasted about half an hour and no one was physically injured, but she said three of the men physically attacked one of the men at the village at one point.
She said she worries that as pipeline construction comes closer and as temporary workers move into the area, incidents like this will increase.
Photos of two of the men who were involved in the alleged events have been circulating widely on social media.
In an emailed statement, a spokesperson for Trans Mountain said the individuals in the photos that are circulating online "are not part of the Trans Mountain workforce" and there are currently no worker accommodation camps in the area.
"The police need to pursue and track down the offenders," wrote Judy Wilson, elected chief of the Neskonlith Indian Band near Kamloops, in a news release about the incident.
"They need to be taken into custody to ensure safety of the human and Indigenous rights defenders and the public."
The RCMP said they've been in touch with the complainant to get more information about what happened but have released no other details about the status of the investigation.