Netflix's Middleditch & Schwartz a Treat for Improv Comedy Fans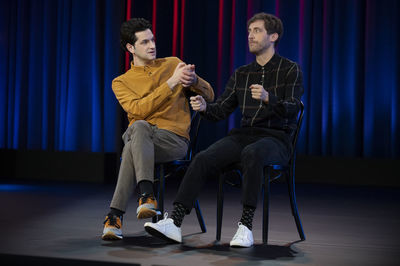 Netflix has been gradually making itself a primary hub for comedy—it's arguable that the biggest venue for a comedian's special is no longer HBO or even Comedy Central, but the prolific streaming service (though Amazon is not far behind). And with "Middleditch & Schwartz" being the first improv special that Netflix has put out, it comes in a big way—three separate nights with improv duo Thomas Middleditch and Ben Schwartz, who tell three different 50-minute stories that are completely made up. It's a treat for comedy fans, especially if "Yes, and" sounds to you like a phrase with boundless opportunities.
You simply can't review improv the way you would a scripted production, but the series excels within the form's different rules: it's funny, it's sharp, and the energy of the performers is as exciting as their creativity. With each episode starting off with a prompt received from the audience (each time it's "What's something coming up that you're worried about?"), it's a delight to see the two build multiple characters out of a real person's woes, and then treat it with wacky plot turns like an author gradually losing their touch with reality.
With only two chairs as their props, Middleditch & Schwartz bounce between different people, like when creating a dysfunctional wedding party in episode one, "Parking Lot Wedding." And then there's the secret door subplot that dominates law school anxieties in the second episode, "Law School Magic." Or there's the third episode, "Dream Job," which requires them to even break character and refresh themselves on everything that had happened—a breaking of character that isn't out of character (so to speak) for the two comedians.
One of the greatest accomplishments of this three-episode series is not immediately noticeable—the stage production's swift visual transition into a medium that offers multiple points-of-views and editing. As you watch it, the series' biggest laughs and comedic beats land as if a full production had planned them, but we're reminded by their sporadic fumbling through fake names (always endearing) that this was all obviously made up. "Middleditch & Schwartz" has a fluidity that can balance the effect of the two sharing the frame together, as you might see them on stage, but also give their character even more emphasis with a close-up, as you'd only see because of a camera.
"Middleditch & Schwartz" captures the spirit of improv across its three episodes, in watching two friends crack each other up, find a narrative together, and show off their shared knack for characters, voices, and comedy. Provided that improv is your bag, it speaks to the bizarre places a single tale can go when it's not planned.