Indigenous artists explore kinship at 5th edition of the Contemporary Native Art Biennial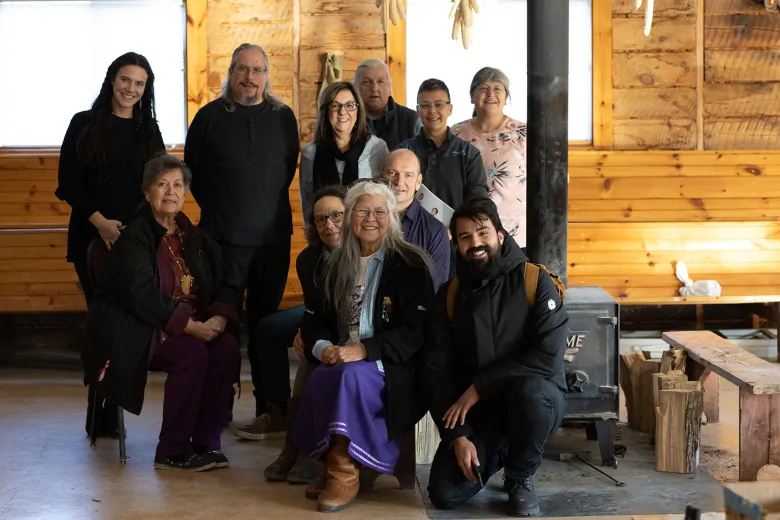 Intergenerational relationships. Friendships. Mentorships. Kinships.
These are some of the themes Indigenous artists are exploring, recognizing and appreciating in the fifth edition of the Contemporary Native Art Biennial (Biennale d'art contemporain autochtone — BACA) in Montreal​​​​​. BACA is aimed at supporting contemporary Indigenous art through exhibitions every two years.
This year's edition is called Kahwatsiretátie: Teionkwariwaienna Tekariwaiennawahkòntie/ Honouring Kinship and features over 200 works by more than 50 Indigenous artists.
The work was supposed to be viewable at six museums and galleries in Montreal but as the coronavirus pandemic continues, this year's programming moved online.
"While we can't have access to the physical spaces, we're going to put out as much as we can virtually," said Mike Patten, director of BACA.
A virtual opening ceremony took place on April 23 to launch this year's programming. Performances, roundtables, workshops, and beading circles over Zoom and social media will take place throughout the spring and summer.
"We were really interested in not just curating objects, but also gathering together people having some sort of way of connecting. Art can often do that," said David Garneau, who curated the exhibition along with the support of rudi aker and Faye Mullen.
"Having events beyond the galleries, beyond the objects was always really important. Finding ways of extending that hasn't been too uncomfortable but has been a part of our plan from the beginning."
In December, the BACA team visited the Mohawk Trail longhouse in Kahnawake, Que., and received guidance from Mohawk elder Otsitsaken:ra Charles Patton and Faith Keeper Niioieren Eileen Patton. The two gifted the title of the show.
"The title actually means coming together in a circle, and lifting weight together," said Mullen.
"We've seen its resonance throughout the months of winter, as we've been organizing and selecting artists' work, but even more so during this time of COVID care."
Artists in the event were encouraged to invite their "kin" to participate in the exhibitions in the form of collaboration or a mentorship role. For Cree artist Judy Anderson, that meant including her son Cruz Anderson as well as two of her students at the University of Calgary. Three of the four pieces included in the exhibition are a part of work Anderson has done on honouring people in her life.
"Sometimes we have these relationships where it's difficult to tell people how much we care about them," she said.
"I know that we still love each other but to say it is a different thing."
It's the first time her work is being featured in the biennial, which was established in 2014 following a ground-breaking Indigenous group exhibition curated by Nadia Myre in 2012 at gallery Art Mûr in Montreal.
Anderson said it's "fantastic" BACA is continuing online.
"I was wondering how can you work through something like this. It's unfortunate, but at the same time you want to make sure everyone is safe."
Mohawk artist Skawentati expressed similar sentiments. The exhibition features a handful of her works including Intergalactic Empowerment Wampum Belt. It's a part of a series of wampum belts that features the xenomorph from the movie Alien, a Na'vi from Avatar, a Twi'lek from Star Wars, and E.T., along with an Indigenous person in purple weaved in glass beads and white leather.
"They're wampum belts that I imagine are made in the far future when we are making agreements with alien nations. That wampum has all aliens from popular science fiction," said Skawennati, who is based in Montreal and originally from Kahnawake, Que.
Skawennati is a multimedia artist who often uses cyberspace and virtual environments as a metaphor for Indigenous representation into the future.
"I'm very interested in seeing how the world can go online," she said.
"When we can't go into the museums, can this be a substitute for now? I think its wonderful that people are experimenting. It's exciting for me. COVID-19 is moving us into a new realm and giving us another reason to be using these digital spaces that we've been building and trying things."