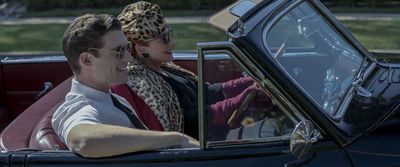 It would appear that no one at Netflix is willing to shape Ryan Murphy's visions in the way they were at FX. The often brilliant TV creator, and one of the hardest working men in the business, has produced two series under his Netflix deal, the frustrating "The Politician," and this week's seven-part limited series that reimagines the Golden Age of Hollywood in a way that only Murphy could but no one seems to have asked if Murphy should. I'm a fan of Murphy's unabashed theatricality and heartfelt compassion for outsiders, but this is the most disastrous project of his career, a limited series that not only fails dramatically but attempts a degree of social commentary that can only be called insulting.
Much like Quentin Tarantino did in "Once Upon a Time … in Hollywood," Murphy blends actual history with his widely revisionist view of it, but the result isn't as poignant as Tarantino's, instead coming off as simple-minded and cruel. Murphy's project seems to suggest that systemic racism and homophobia in Hollywood were primarily the product of marginalized people not trying hard enough to stop it. He actually has the nerve to have a character speak of the "refusal to accept shame any longer," as if people like Rock Hudson were closeted because they accepted shame. It's a childish view of deep problems in Hollywood that still exist to this day, made worse by how Murphy treats the real people of the era as caricatures and then surrounds them with boring young performers. At least his divisive "Feud" had some ace scenery-chewing to get viewers through the historically questionable aspects. No such luck here as, with the exception of only a few supporting performances, there's nothing in "Hollywood" that even hints at the peaks Murphy can reach with the right material. This is a reminder of how much his vision can backfire when it's not guided into something coherent and consistent.
Set after World War II, "Hollywood" is the story of intersecting young people trying to make it in the industry. It starts with the story of Jack Castello (David Corenswet, who starts charming but gets lost in the project), a young man trying to find his break but who ends up working as an escort at a gas station run by the charming Ernie (Dylan McDermott). Wives of studio heads and closeted men go to Ernie's gas station for encounters with gorgeous young guys still waiting for their break. One of Jack's clients is Avis Amberg (Patti LuPone), the wife of Ace Amberg (Rob Reiner), the head of a major fictional studio. And one of Jack's co-workers ends up being Archie Coleman (Jeremy Pope), a gay young writer who falls in love with one of his johns, the boy who would become Rock Hudson (Jake Picking).
Archie's latest script, "Peg," is about the tragedy of Peg Entwistle, a British actress who notoriously jumped off the Hollywoodland sign in 1932. At first, the weaving of the Entwistle story—as well as the one of Anna May Wong (Michelle Krusiec), who was notoriously snubbed for the lead role in "The Good Earth," which ended up winning Luise Rainer an Oscar—feels like a way to reclaim lost performers of Hollywood. It makes perfect sense that Murphy's love of outsiders would bring him to a tragedy like Entwistle, someone who used the symbol of the system that destroyed her dreams to end her life. But one of many problems with "Hollywood" is how Entwistle's story becomes mere feed for the mill of Murphy's focus on his gorgeously cast creations. This isn't a story about outsiders, but of genetically blessed people finding historic success. If Murphy thinks he's destroying preconceptions about the Golden Age of Hollywood, why write and cast such dull performers and then make all their dreams come true? Even the talented ones like Samara Weaving get totally lost in the tonal imbalance and lack of character Murphy considered giving them.
No one fares worse than Rock Hudson, turned into a doofus by Murphy and co-creator Ian Brennan. There's little evidence that Hudson was the kind of "aw shucks" goofball who doesn't recognize Vivien Leigh and can't remember simple lines for a screen test. It's insulting, especially given how "Hollywood" then later tries to use Hudson's sexuality as a moment of empowerment. It's almost as if Murphy is trying to punish Hudson instead of looking at the system that forced him to stay in the closet.
Some of the older performers find moments of truth in the thin scripts they've been given, particularly McDermott's take on a silver fox who knows the system and the great stage actor Joe Mantello as a studio head who has been forced to hide his sexuality. Mantello understands that this issue is far more complicated than refusal to accept shame. And I know that Murphy does too—he has created some of the most complex and nuanced takes on acceptance that have been on TV in the last two decades. It just feels like he got caught up in his own vision here, seduced by the lights of Hollywood into creating something with no consistent tone or vision.
At the end of "Hollywood," we should be imagining the better world that Murphy has shown us and what would have happened for the next seven decades if his revisionist history had been a reality. Instead, I just wanted to go watch a Rock Hudson film to reclaim his legacy and seek a more nuanced understanding of what actually was. I'm going with "All That Heaven Allows."
Premieres on Netflix tomorrow, 5/1