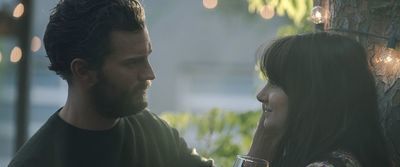 Daphne (Shailene Woodley) is adrift. She just broke up with her boyfriend of four years, and quit a job she loved because "the culture" wasn't a good fit for her. Now she lives in her sister's pool house, smokes a lot of cigarettes, picks up some shifts at a second-hand store, and occasionally cries over all she has lost. Navel-gazing is hard work. She also swears off alcohol and men. Drake Doremus' "Endings, Beginnings" trudges along behind Daphne (often literally, the camera following her around) as she immediately gets embroiled in a love triangle with two men—who also happen to be best friends—who both think she is "amazing" (one says it outright), and yet we really see no evidence of her amazing-ness onscreen. The most unique thing about her is her love of pinball. "Endings, Beginnings" is not even a proper character study.
Daphne is just a week into staying at her sister's when she meets two gorgeous hunks at a party. Frank (Sebastian Stan) approaches her with the pickup line: "Who are you hiding from in that dress?" She talks about her suffering. He finds this attractive. He tells her he is suffering too, and says stuff like, "You're killing me," or "You're driving me crazy." Five minutes later she meets Jack (Jamie Dornan), a friendly Irish writer who is instantly interested in her. Both men text Daphne the following day. Texts pour back and forth. ("Endings, Beginnings" is a potent reminder of why I disabled sound alerts on my phone.). Daphne has hot steamy sex with Frank, and goes on proper dates with Jack, and she's lying to both about her dealings with the other. She gets jealous. She has feelings for both! Jack gets a fellowship in Rome, and she can barely hide her dismay at him leaving her. Oh, Daphne, you need to learn the freedom of a "friend with benefits" arrangement.
The two men are presented in a binary way: Frank makes her come, Jack makes her think. Frank is a melancholy bachelor who does drugs (she is horrified), and Jack talks about Nikos Kazantzakis and is all super smart and everything. That being said, the performances are grounded in in-the-moment reality, and nothing is pushed. It's nice to see Jamie Dornan playing a regular guy instead of a serial killer ("The Fall") or a lonely bazillionaire with a penchant for BDSM ("Fifty Shades of Grey"). He's lovely here. And so is Stan, exuding charm and troubled sex appeal, as well as a strain of true sadness and loneliness.
There are some nice stylistic flourishes. Daphne gets flashbacks to her relationship falling apart, and these come in fragmentary images, literal "flashes," here and then gone. It's effective: memories don't unfold in a linear narrative when you think back on them. The constant yearning-romantic needle drops are relentless. Daphne sits around agonizing what to do, who should she choose, Jack or Frank? (How 'bout neither? How 'bout just enjoy your flings for what they are? Such a liberated mindset does not exist in the film, not even as an opposing viewpoint). The main problem is: It's not actually clear what is appealing and/or interesting about any of these people.
Alcohol is really the main character in "Endings, Beginnings," its presence felt in almost every scene, and yet nothing is developed, beyond a couple of jokes. She and Jack clinks glasses, and he says, "Here's to falling off the wagon" and she laughs. I kept flashing on James Ponsoldt's "Smashed," where a young couple, so bonded together by drinking, don't even realize how trapped they are by alcohol, that all of their problems actually derive from it. It's the elephant in the room. John Cheever's short stories come to mind. All these crazy things happen in them, and nobody ever says, "Maybe it's because we all drink so much?" A man swims home through his neighbor's swimming pools, a former jock decides to jump over all the chairs in his neighbor's living room just to prove "he's still got it"—and everyone is sloshed and nobody puts it together. Alcohol trembles on the periphery of "Endings, Beginnings," too, begging to be addressed in a serious way.
Available on VOD today, 4/17.