Coronavirus: What's happening in Canada and around the world Monday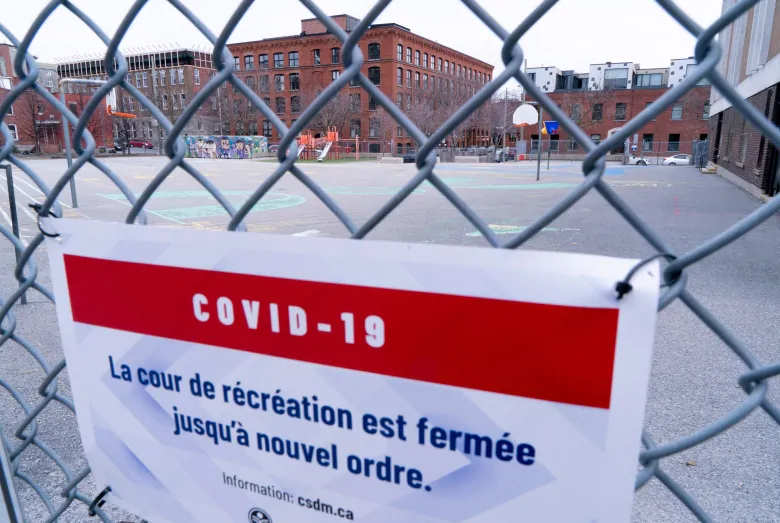 The latest:
Canada's two largest provinces announced plans on Monday to ease restrictions put in place in response to the COVID-19 pandemic.
In Quebec, Premier François Legault said for the good of children, especially those with learning difficulties, the province is moving forward with a plan to begin reopening schools.
In his daily briefing Monday, the premier said five or six months without attending school could pose serious, long-term risks for many children.
"Life must go on," he said.
Elementary schools and daycares will begin reopening on May 11 outside of Montreal and on May 19 on the island of Montreal.
All other schools — high schools, colleges and universities — won't reopen until late August.
But Legault said that timeline will depend on the number of hospitalizations for COVID-19 remaining stable. There are now 1,541 people in hospital — an increase of 23 over Sunday. Some 210 patients are in intensive care, down five from yesterday.
WATCH | Legault details plans to reopen schools:
Eighty-four more deaths have been recorded in the past 24 hours. Of those, 79 were residents of long-term-care homes, or CHSLDs.
The premier has spent the past several weeks pleading with various medical professions for help, especially in those besieged CHSLDs. He said that a critical short-staffing situation is beginning to ease.
"It's like a weight has been lifted from my shoulders," Legault said at the government's daily news conference.
In Ontario, the government announced it will reopen the province's economy through a three-stage process in the coming weeks and months, though it offered no firm date and few details about when that effort will begin.
Health and safety "will continue to be a top priority as Ontario transitions to a 'new normal,'" a government document unveiled Monday afternoon said. A Framework for Reopening our Province emphasizes that public health officials will have input during each phase of the process.
According to the province, the stages are as follows:
Stage 1: Open select workplaces and allow some small gatherings.
Stage 2: Open more workplaces and outdoor spaces, and allow some larger gatherings.
Stage 3: Further relax restrictions on public gatherings and open all work places "responsibly."
WATCH | Ford moves cautiously to reopen economy:
Each stage will last at least two to four weeks, at which point Ontario chief medical officer of health will be able to tighten certain restrictions, extend the stage or advise that the province can move into the next phase.
While there are no specific dates included in the planning document, when and how Ontario begins reopening will depend on a number of factors, including:
A consistent two-to-four week drop in new daily COVID-19 cases.
A decrease in cases that can't be traced to a source.
A decrease in new hospitalizations.
Dr. David Williams, Ontario's chief medical officer health, said last week that the province would need to see fewer than 200 new cases daily for an extended stretch before relaxing COVID-19 emergency measures would be feasible.
With the province still falling somewhat short of its goal of processing 13,000 tests per day, whether the number of new cases being reported daily reflects the true number of new infections remains a question.
WATCH | Trudeau on provincial plans to reopen their economies:
Prime Minister Justin Trudeau, who said the federal government is working with provinces around "shared" guidelines, reiterated on Monday that provinces have broad authority around reopening.
Deputy Prime Minister Chrystia Freeland said the federal government is still actively discussing reopening plans with provinces, adding that the process would be collaborative, gradual and guided by science.
Worldwide cases pass 3 million
The announcements comes as the reported worldwide coronavirus case count surpassed three million, according to a database from Johns Hopkins University.
The novel virus, which causes an illness called COVID-19, first emerged in China and has since spread around the world. The U.S-based university's tracking tool, which draws on a range of sources including national and local public health data, reports more than 209,000 deaths linked to the virus.
As of 6 p.m. ET on Monday, Canada accounted for 48,450 of those cases. The provinces and territories that provide data about recoveries listed 18,228 cases as recovered or resolved. A CBC News tally based on provincial data, local health information and CBC reporting has found 2,784 COVID-19-related deaths in Canada, with an additional two deaths abroad.
The head of the World Health Organization (WHO) warned on Monday that the new coronavirus pandemic was far from over and said that he was "deeply concerned" about the impact of the disruption of normal health services, especially on children.
"The pandemic is far from over," said WHO Director-General Tedros Adhanom Ghebreyesus, adding that the body was concerned about increasing trends in Africa, eastern Europe, Latin America and some Asian countries. "We have a long road ahead of us and a lot of work to do," he said.
Tedros also said all countries should have heeded the agency's warning when it declared COVID-19 to be a global emergency on Jan. 30, when there were only 82 cases of the disease beyond China.
WATCH | Can't force countries to take our advice, WHO says:
He added that shortages of vaccines against other diseases were being reported in 21 countries as a result of border restrictions linked to the pandemic, citing the GAVI global vaccine alliance.
"The number of malaria cases in sub-Saharan Africa could double," he said. "That doesn't have to happen; we are working with countries to support them."
Canada's top doctor told CBC News the federal government could have made earlier efforts to keep the pandemic from sweeping across the country — but moves to close borders and screen travellers for the illness sooner might not have made much of a difference.
WATCH | Tam says more could have been done:
In a wide-ranging interview, Chief Public Health Officer Dr. Theresa Tam told CBC News that simply shutting the border to travellers from China and other coronavirus hotspots earlier wouldn't have stopped the virus — and that expecting officials to identify travellers at the border with symptoms was "unlikely."
She also said the closure of the Canada/U.S. border did not happen sooner because it wasn't part of the government's pandemic preparedness plan.
"Could we have done more at the time? You can retrospectively say yes, absolutely, you could screen more, or you could change your stance. But at the time we had very, very few cases globally and in Canada," Tam said.
Wage subsidy program opens
Monday also marks the first day that eligible businesses can apply for Ottawa's $73-billion wage subsidy program.
The federal government initially proposed a 10 per cent wage subsidy for eligible workers but after criticism from businesses and the opposition, the government boosted the subsidy to 75 per cent of wages, offering up to $847 a week. Businesses that can are being urged to top workers up and cover the remaining 25 per cent.
The first payments should begin to arrive as soon as May 7, Trudeau said at his daily briefing on Monday.
"Whether you're a charity that employs 200 people or a fast-growing startup that employs just 20, you will be eligible to up to $847 per week, per employee."
The program should help employers and staff stay connected through the pandemic, the prime minister said, adding that 10,000 businesses have already applied since the portal opened Monday morning.
WATCH | Epidemiologist on why testing is key to reopening economy:
With no proven vaccines or treatments, governments around the world imposed a range of public health measures — including stay-at-home orders, physical distancing requirements and sweeping business closures — to try and slow the spread of the virus, or flatten the curve.
Saskatchewan has announced initial details around how it plans to proceed with a phased reopening and New Brunswick recently loosened restrictions on some outdoor spaces and allowed families to partner up in what's been described as two-family bubbles.
Here's what's happening in the provinces and territories
The Office of the Seniors Advocate in British Columbia has announced an additional $500,000 to help support caregivers and seniors as part of the province's emergency COVID-19 response plan. "Family care-giving can be intense for people," seniors advocate Isobel Mackenzie said. "It can be stressful in the best of times." Read more about what's happening in B.C.
Alberta reported two new deaths and 216 new cases. Health officials say there is an outbreak involving 13 people at the Bearspaw First Nation in the southern part of the province, and four people have also tested positive in Calgary's homeless community.
Meanwhile, the City of Edmonton is temporarily laying off another 900 employees in response to reduced transit service and lower demand for administrative services caused by the pandemic. Read more about what's happening in Alberta.
WATCH | Province takes over Alberta long-term care home after COVID-19 outbreak:
Saskatchewan reported another death from COVID-19, bringing the toll there to five. The government says the person was in their 80s and hailed from the far north.
That region is experiencing an outbreak of cases, with the mayor of La Loche, a remote community about 600 kilometres northwest of Saskatoon, saying it had around 20. Read more about what's happening in Saskatchewan.
Manitoba is set to become the latest province to ban health-care workers from working at more than one facility. Read more about what's happening in Manitoba.
Ontario is reporting 424 new cases, and 57 new deaths. In long-term care — information that comes from a separate database — there were 17 more deaths in the previous day and there are now outbreaks in 150 homes. Read more about what's happening in Ontario.
Quebec announced 84 more COVID-19 deaths in the province. Premier Francois Legault said the COVID-19 situation is largely under control with the exception of long-term care centres, where 75 of the 84 new deaths originated.
He thanked the thousands of people who have submitted CVs to work in the facilities, including Olympic medal-winning figure skater Joannie Rochette and Super Bowl-winning football player Laurent Duvernay-Tardif. Read more about what's happening in Quebec.
New Brunswick did not report any new cases for the ninth straight day. To date, 112 people have recovered from the virus and three remain in hospital, none of whom are in the intensive care unit. Read more about what's happening in N.B.
Nova Scotia announced 27 new cases of COVID-19 on Monday, but said there were no additional deaths. Read more about what's happening in N.S.
Prince Edward Island, which has reported only 26 coronavirus cases since the outbreak began, had no new cases to report on Monday for the 12th straight day.
Chief Public Health Officer Dr. Heather Morrison said the plan to ease public health restrictions is being finalized and should be released this week. Read more about what's happening on P.E.I.
WATCH | Ian Hanomansing checks in with some of the people who've shared their stories about life during the COVID-19 pandemic:
Newfoundland and Labrador is reporting no new cases of COVID-19. The province has confirmed 258 cases of the illness and 221 people have recovered.
Dr. Proton Rahman, a clinical scientist and professor of medicine at Memorial University of Newfoundland, presented models Monday looking at the spread in the province, showing the first wave of infections has been brought under control. Rahman said it's appropriate to start thinking about reducing public health measures in a phased and controlled way. Read more about what's happening in N.L.
Online school is getting underway in Inuvik, N.W.T. Read more about what's happening across the North.
Here's a look at what's happening in the U.S.
From The Associated Press, updated at 3:30 p.m. ET
In the U.S., the Centers for Disease Control and Prevention (CDC) was to release new priorities for coronavirus testing Monday, including testing asymptomatic individuals in high-risk settings.
And the White House was set to unveil what it described as a comprehensive overview of its efforts to make testing for COVID-19 more widely available.
The White House is aiming for states to have enough tests and needed supplies to test at least 2.6 per cent of their populations per month — a figure needed to catch asymptomatic spread.
The administration is also releasing a "testing blueprint" for states, outlining how they should prioritize testing as they devising their reopening plans.
It includes a focus on surveillance testing, as well as "rapid response" programs to isolate those who test positive and identify those they came in contact with.
The administration aims to have the market "flooded" with tests for the fall, when COVID-19 is expected to recur alongside the seasonal flu.
Governors in states including hard-hit New York and Michigan are keeping stay-at-home restrictions in place until at least mid-May, while their counterparts in Georgia, Oklahoma and Alaska are allowing certain businesses to reopen.
The split in approaches to reopening in the U.S. has often been along partisan lines.
Oklahoma Gov. Kevin Stitt, a Republican, said with hospitalizations dropping in his state, he will reopen churches and restaurant dining on Friday, with physical-distancing guidelines in place.
WATCH | More businesses open in Georgia as COVID-19 restrictions ease:
But Michigan Gov. Gretchen Whitmer, a Democrat, told ABC that her state is not ready and needs more robust testing, community tracing and a plan for isolating people who get sick.
"We've got to be nimble, and we have to follow the science and be really smart about how we re-engage," she said.
The U.S. death toll is nearly 55,000 — close to the 58,000 U.S. troops who were killed during the Vietnam War. Italy, Britain, Spain and France account for more than 20,000 deaths each.
Here's a look at what's happening around the world
From The Associated Press and Reuters, updated at 4:15 p.m. ET
Italy registered its lowest day-to-day number of new cases of COVID-19 Monday since practically the first day the country was put under lockdown to contain what would become one of the world's worst outbreaks.
According to data from the Italian health ministry, 1,739 new cases were confirmed in the 24-hour period ending Monday evening. The last time the nation saw such a low daily number occurred on March 10, when 77 new cases were registered. Italy now has 199,414 known cases. It registered 333 deaths since Sunday evening, raising to 26,977 the number of known deaths in the country. Italy has Europe's highest death toll in the pandemic.
Some of Italy's lockdown rules will be partially eased on May 4, but many restrictions on retail shops, museums and other businesses will last two or more weeks beyond that date. Scientists advising the government are concerned the contagion rate will start soaring again when Italians start moving around more with newly regained freedoms. Premier Giuseppe Conte has decided that reopening society will come gradually, since there is no vaccine against COVID-19.
In Spain, daily fatalities from the virus rose by 331 on Monday to a total of 23,521 but well below the daily peak of more than 900 recorded in early April. Cumulative cases rose to 209,465 from 207,634 the day before.
If the daily death toll continues to fall, Spaniards of all ages will be allowed to exercise outdoors from May 2 on, Prime Minister Pedro Sanchez announced on Saturday. He also said his cabinet would approve on Tuesday a wider plan to lift restrictions and gradually restart the country's stuttering economy.
The lockdown loosening will not be rolled out by the authorities in unison across the country. Instead, each region will decide its own plan based on several criteria, including the infection rate and capacity of local health services.
British Prime Minister Boris Johnson said the country has reached the moment of "maximum risk" in the coronavirus outbreak, arguing that lifting the countrywide lockdown too soon would allow a second wave of infections. Speaking outside 10 Downing St. on his first day back at work after three weeks off sick with the virus, Johnson said the country was beginning to "turn the tide."
Johnson's Conservative government is under mounting pressure to set out a blueprint for easing the lockdown that has hobbled business activity and daily life since March 23. The restrictions are due to last until at least May 7.
Johnson said he understood people and businesses were eager to get back to work, but "I ask you to contain your impatience because I believe that we are coming to the end of the first phase of this conflict and, in spite of all the suffering, we have so nearly succeeded."
WATCH | Boris Johnson returns to work after bout of COVID-19:
China, meanwhile, was fighting back against calls for an investigation into its role in the coronavirus pandemic, citing faults with the U.S. response to the outbreak and calling for Washington itself to admit its errors.
"Indeed, lately in the U.S. many people are questioning whether the U.S. government responded in a timely and effective manner," Foreign Ministry spokesperson Geng Shuang said at a daily briefing. China has faced questions and criticism over how it reported cases and its initial response to the virus, which first emerged in the city of Wuhan.
Russia reported 87,147 confirmed cases on Monday, surpassing the total number of cases reported by officials on mainland China.
Desperate business owners in the country have been pleading with the Kremlin for help in the pandemic shutdown, although the response has been slow and largely focused on big industries.
That has left most smaller companies to fend for themselves and raised the prospect of massive unemployment and social unrest.
Brazil is emerging as potentially the next big hot spot for the coronavirus amid President Jair Bolsonaro's insistence that it is just a "little flu" and that there is no need for sharp restrictions.
The intensifying outbreak in Brazil — Latin America 's biggest country, with 211 million people — pushed hospitals to the breaking point, leaving victims to die at home.
Brazil officially reported about 4,200 deaths and almost 62,000 confirmed infections, but the true numbers there, as in many other countries, are believed to be vastly higher, given the lack of testing and the many people without severe symptoms who haven't sought hospital care. Some scientists said more than one million in Brazil are probably infected and the crisis could escalate as the country heads into winter, which can worsen respiratory illnesses.
Turkish President Recep Tayyip Erdogan says his government is working on a detailed plan to normalize life by easing restrictions, adding that "there is light at the end of the tunnel for Turkey."
The government has refrained from imposing a total lockdown, fearing its negative impact on the already fragile economy. It has opted for piecemeal measures instead, including weekend curfews and banning people above the age of 65 and below the age of 20 from leaving their homes.
On Monday, Health Minister Fahrettin Koca announced 95 deaths in the previous 24 hours, the lowest since April 11. The total death toll now stands at 2,900, with 112,261 confirmed infections.
South Africa is seeking almost $5 billion US from multilateral lenders to help it fight the COVID-19 pandemic.