Chag Sameach! Relive the Best Passover Scenes From TV and Film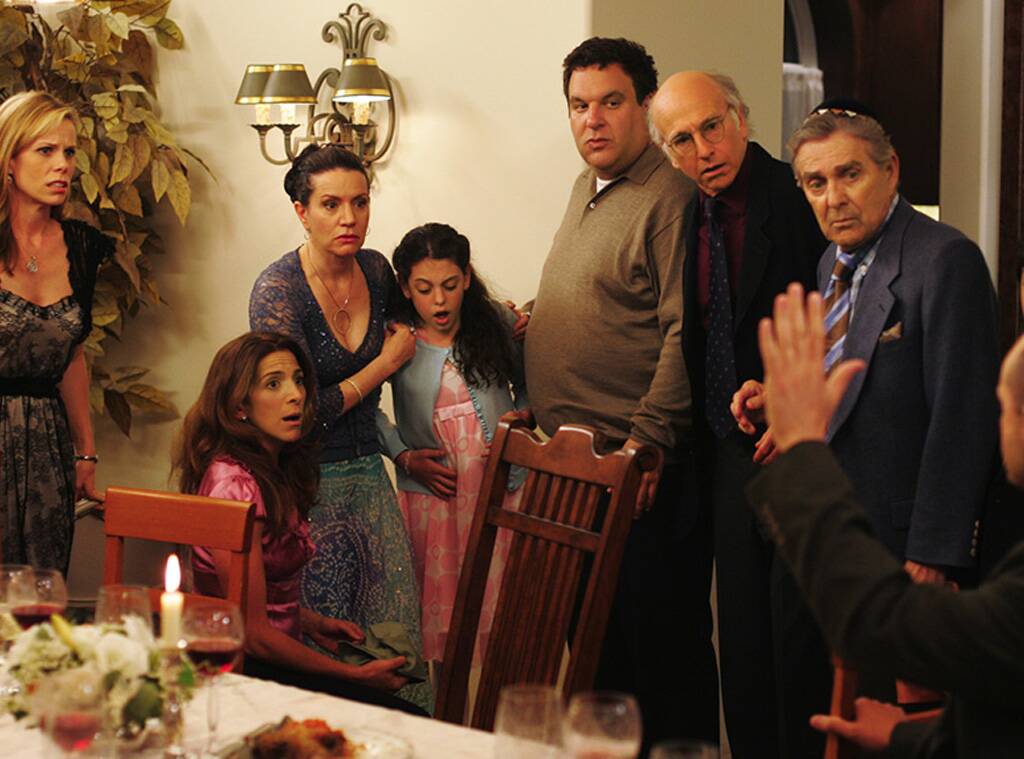 Yesterday marked the start of Passover, and today we're celebrating with some of the best TV episodes and movies that also took part in the holiday!
As families across the world gather for seder (often digitally, in light of the coronavirus pandemic), it's the perfect time to watch some of our favorite characters also break matzah.
Whether your nostalgia drives you to throw on The O.C. and watch Summer study Passover traditions to be the perfect girlfriend or you're in the mood for a more serious episode, like Homeland's "Why Is This Night Different?", there are plenty of great representation to tune into.
There are episodes of Saturday Night Live and Curb Your Enthusiasm that will make you laugh or the entirety of Uncut Gems, which will have you on the edge of your seat.
So pass the seder plate and take a look at the list below!
A24
Uncut Gems

While most of this movie is like having an anxiety attack, it speaks to the beauty of Passover that one of our only breathers in the film comes when Adam Sandler's Howard Ratner joins his family for the tradition.
CW
Gossip Girl

In the episode, "Seder Anything," Dan needed something stiffer than Manischewitz when he found out that the waiter job he scored meant having to serve the guests at a Seder at Blair's penthouse.
Nickelodeon
Rugrats

Grandpa Boris tells Tommy and his pals the story of Passover when they end up locked in the attic during the family seder—a version of events that may include a few more babies than were legendarily involved in freeing the slaves of Egypt.
Courtesy of Parmount
The Ten Commandments

Charlton Heston will forever be Moses thanks to Cecil B. DeMille's 1956 epic about the story of Passover.
NBC
Saturday Night Live

Jerry Seinfeld as the usually invisible prophet Elijah makes a bickering family (Adam Sandler, Kevin Nealon, Mike Myers, Rob Schneider and Julia Sweeney, yay!) sorry they ever opened the door. But they do finally agree on something—Elijah's a real kvetch.
NBC
Saturday Night Live's "Weekend Update" Segment

Watching Vanessa Bayer bring her character Jacob the Bar Mitzvah Boy back to Saturday Night Live's "Weekend Update" segment to explain Passover may be one of the funniest things we've seen, but don't quote us on that.
ABC
Sports Night

The team break matzah together in the face of flagging ratings on Aaron Sorkin's underappreciated sitcom.
Showtime
Homeland

In the season five "Why Is This Night Different?" episode of the drama series, Saul and Allison are guests at a seder in what ends up being the calm before one of the series' biggest storms.
HBO
Curb Your Enthusiasm

Rob Corddry plays the friendly neighborhood sex offender whom Larry David takes a liking to and invites over for Passover, appalling everybody. But at least he brings homemade latkes!
Courtesy of DreamWorks SKG
The Prince of Egypt

Val Kilmer voiced Moses and Ralph Fiennes his boyhood pal-turned-rival Ramses in DreamWorks' kid-friendly, musical retelling of the story of Passover. Mariah Carey and Whitney Houston joined forces on the Oscar-winning original song "When You Believe."
Courtesy of the TNT Network
Moses

Ben Kingsley carried the famous staff in this 1995 TV movie, in which the Red Sea parted a bit more believably than in 1956's The Ten Commandments.
Joe Alblas/A+E Networks
The Bible

British thesp William Houston pulls Ten Commandments-acquiring duty in the History Channel miniseries.
Courtesy of When Do We Eat Inc.
When Do We Eat?

The 2005 ensemble comedy about an eccentric clan whose patriarch ingests Ecstasy right before their seder starred a pre-New Girl Max Greenfield.
Fox
The O.C.