Celebrating Our Ebert Fellows in Quarantine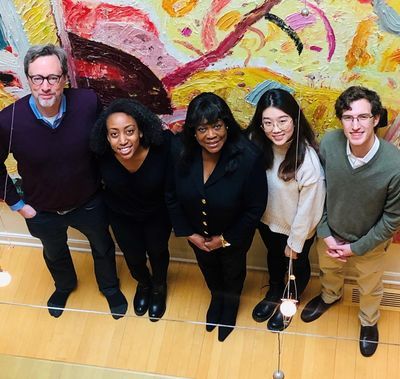 It is my hope that the Ebert Fellows will walk the world as Ambassadors of Compassion…
---
ONE OF THE MOST FULFILLING PARTS OF THE WORK I DO IS SPONSORING PROGRAMS OF MENTORSHIP for our ever-growing group of Ebert Fellows. These students are emerging writers, film and art critics, journalists, filmmakers, artists, business administrators, scientists and/or technologists who have been mentored in one of the Ebert programs. The largest Fellowship program began in 2014 at the Sundance Film Festival. But others either followed or preceded it at the University of Illinois in Urbana-Champaign; or at film festivals in Hawaii, or at the Telluride, Toronto or Chicago International Film Festivals. It was also a pleasure to partner with Film Independent's Project Involve, or at the Columbia College's Journalism Links program in conjunction with the Chicago Urban League, or at Ebertfest. Over the years these young men and women have surprised and delighted me with their authenticity and it is my hope that they will walk the world as Ambassadors of Compassion no matter which path they choose.
Before I tell you more about the history of the growth and development of the Ebert fellowship programs generally, I want to introduce the three newest Ebert Fellows who attend the University of Illinois, College of Media. With university postponed during the Coronavirus Pandemic, our latest wonderful group of Ebert Fellows are stuck in isolation, but that won't stop us from showcasing their work. Today you will find essays penned by Coltrane Zerai-Che, Hallin Burgan and Xinyi Li about their experiences in quarantine published on our site. They present three quite different perspectives and you will see why it is such a joy to work with them.
For a bit of our history– Sundance Institute President and Founder, Robert Redford, commemorated a fellowship in 2014 to honor the memory of my late husband, Roger Ebert, who passed away in 2013. I was joined by Eric Kohn of Indiewire who started a Criticwire internship for aspiring film writers. He, along with critics from Rogerebert.com, helped to mentor the program for its first few years. Redford said, "Roger Ebert's blessing on the Sundance experiment in its earliest days made all the difference in the world. His eloquence at cutting to the heart of what we were trying to do helped to interpret for others what I often could not find the words to say. I will always be grateful to him for that and for so much more."
I was immensely grateful to Redford for his recognition of what Roger brought to the world of cinema because I wanted to find a way to help spread Roger's ideas about empathy. Empathy is so important to civilization and Roger said that film provided a visceral opportunity to put yourself in the shoes of another. It was also important to me to connect the actions that could grow from empathy, and so that and other programs were born. But I stress, the idea of the programs was not to show what Roger has done, but to put into place an incubator where others could show us what they would do with those ideas. And I have not been disappointed. My continuing interaction with various Ebert Fellows just confirms my faith in humanity.
While these various programs differ in their lengths of time and experiences, what they all have in common is a call to observe empathy either on the screen or around them during the course of their internships. The process for choosing the Ebert Fellows has always been rigorous, and once selected, I have found them to be extraordinary either in their intellect, outlook, emotional intelligence, motivation or willingness to work hard under sometimes difficult circumstances. Besides Empathy, we also explored notions of Kindness, Compassion and Forgiveness. The bonus was Creativity. Any employer would be fortunate to have them as an employee.
And I look forward to the opportunity to bring the Fellows from the disparate programs together to determine how these principles have influenced the paths they have taken since. I expect that they will make a tremendous difference in the world, and I know that some of them have already started.
While some of the Ebert Fellows began an internship in Utah, students in the Ebert University Seminars convened at the Telluride Film Festival. Recipients of the first Roger Ebert Scholarship for Film Criticism at Sundance are pictured below, and you can find a round-up of our Fellows' Sundance coverage here.
The following year, I partnered with the Hawaii International Film Festival to launch the first Ebert Young Writers for the Arts program in Hawaii. Chicago-based filmmaker and critic Kevin B. Lee mentored the first group of students, while our weekly critic Sheila O'Malley (pictured below) headed the program in 2016. The cultural diversity of the program is one of its biggest riches. Diversity determines not only how you see the world, but how you begin to heal it. I love the insight our Hawaii students bring.
In a swiftly changing media environment, informed writing and criticism on cinema by African-American and Latinx voices is vital to a strong film culture and industry. Beginning in 2013, we partnered with the Chicago Urban League and Columbia College's youth journalism Links program to mentor high school students during Black History Month (their reviews are featured on our site). The 2015-16 class of students are pictured here…
Our most recent Sundance Ebert Fellows are pictured here, and include an award-winning cinematographer, Jomo Fray, who went on to lens Tayarisha Poe's acclaimed drama "Selah and the Spades," which premiered at Sundance this past January. The Roger and Chaz Ebert Foundation Fellowship has also supported independent filmmakers through Film Independent's Project Involve program with such bright luminaries as Lulu Wang, Melissa Hazlip and Sue-Ellen Chitunya. These women have made films that told compassionate and entertaining stories. I am so proud of them.
At last year's Cannes Film Festival, we had four of our Fellows in attendance: Mark Evans, Niani Scott (pictured above), Joshua Lee and Sasha Kohan. We gathered them before our cameras for a lively conversation, which you can view here.
In 2015, the first class of Ebert Fellows was launched at the University of Illinois in Urbana-Champaign in the College of Media. Some of the students have graduated and gone on to illustrious careers. Michael Phillips, the talented film critic and arts writer from the Chicago Tribune, has served as the mentor ever since. These Fellows are also invited to cover our annual Ebertfest, and we were thrilled to have 24 of our Fellows join us for the festival in 2017.
These are by no means all of the students who have graced our programs. There are so many more, and I hope to introduce them to you in future columns. But what I really hope to do is sit back and watch how they will change and enhance the lives of all of us through their art and their science and their technology. But mostly, through their empathy and compassion.