Calgary Stampede cancelled for first time in almost a century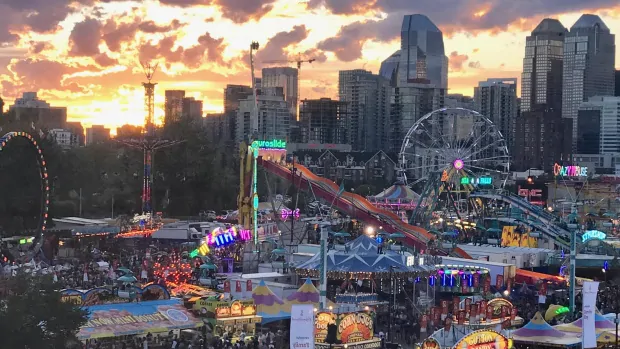 The Calgary Stampede will not go forward this year because of the COVID-19 pandemic, officials announced Thursday.
This year's event was scheduled July 3-12, but was deemed unworkable given the ban on large gatherings and the need for physical distancing.
"This is very, very tough. Stampede is such an important part of who we are as a community and it's hard for me to even imagine what a July without a Stampede will look like," Calgary Mayor Naheed Nenshi said. "But this year, with this risk, we simply cannot continue to do that."
The cancellation is a major blow to a city and province already reeling from the economic impact of the COVID-19 lockdowns coupled with the collapse of energy prices.
"I think I've been in denial. But there was no choice here," said Tom Sampson, chief of the Calgary Emergency Management Agency. "It was mandatory. It was a decision that needed to take place."
On average over the past five years the summer event has brought in $79.2 million in gross revenue, and turned an average profit of $21.4 million, after expenses.
The Calgary Stampede draws more than one million visitors to the city each year and, according to the Conference Board of Canada, it pumps $540 million into the provincial economy annually.
The Stampede's year-round events contribute about $110.9 million to Calgary's GDP, the board says.
Nenshi said though the city is currently focused on the physical and mental health of local residents, Calgary's road to economic recovery will be a challenge.
"Oil and gas is a very large contributor to our economy. [But other contributors] include retail, those include travel and tourism. You just heard we are cancelling the biggest magnet for travel and tourism in the city," Nenshi said. "The province of Alberta and the government of Canada do need to think about Calgary differently.
"One-size-fits-all programs will not work for Calgary."
Even in the aftermath of the destructive 2013 floods, organizers still managed to pull off the annual event, just a couple of weeks after the disaster, as weary Calgarians rallied to the slogan of "Hell or High Water."
But the global health and economic emergency created by COVID-19 proved insurmountable.
"Stampede 2020 planning has been on hold since restrictions were placed on mass gatherings. We will continue to be paused until we receive further direction from our government partners," says the organization's website.
"The organization is assessing what may be probable, possible and not possible with respect to all programming in the coming months given that the full impact of COVID-19 on the community remains unknown."
Last month, the Stampede announced it was laying off 80 per cent of its staff, 890 people, temporarily due to the impacts of the pandemic.
In addition to its own functions, the Stampede hosts around 1,200 events from external groups each year, which include business, tourism, sporting, hospitality and community functions, but has held none since the province implemented a ban on gatherings of more than 250 people.
The first Calgary Stampede was in 1912. From 1923 onward, it has been an annual event in the city.
Officials in Edmonton announced Thursday that K-Days, that city's 10-day exhibition, will not take place this summer.