Trudeau announces $1B fund to respond to COVID-19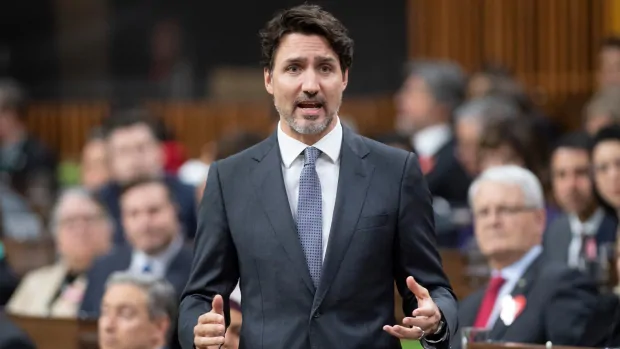 Prime Minister Justin Trudeau has announced a $1-billion fund to help Canadians cope with the spread of COVID-19.
During a news conference in Ottawa Wednesday, Trudeau said the federal government is "pulling out all the stops" to help Canadians through the global health crisis. The fund will include $275 million for additional research, including vaccine development, and $200 million for federal medical supplies, supports for Indigenous communities and education efforts.
The federal government will also waive the one-week waiting period for employment insurance to assist workers and businesses affected by the novel coronavirus.
"I want all premiers and Canadians to know your government is here for you," Trudeau said. "We will make sure you have everything you need."
Watch the prime minister's announcement live above.
Labour Minister Filomena Tassi said Tuesday the federal government doesn't want workers to be forced to go to work when they're not feeling well.
"We want to ensure that workers are supported," she said. "We do not want workers having to feel that they have to go to work if they feel they shouldn't be going to work. We also don't want workers going to work because they feel that they need to work in order to pay for the groceries and put food on the table."
WATCH: PM teases new economic measures to support Canadians affected by COVID-19
So far, there have been more than 90 confirmed cases of the illness in Canada and one death.
The research funding in the package unveiled Wednesday is over and above the $27 million announced in Montreal last week.
Ottawa is also leading a pan-Canadian effort to bulk-buy certain medical devices, and the federal government says it will be ready to support provinces needing further assistance to shore up their health-care systems as the number of confirmed cases rises.
Treasury Board President Jean-Yves Duclos said the government is also considering stimulus spending in the upcoming federal budget.
Beyond Wednesday's announcement, Duclos said Ottawa will spend more to help people "go through the crisis" and help "workers, families and businesses thrive and sustain themselves."
While the debt-to-GDP ratio has been falling in recent years, Ottawa is running a federal budget deficit of $26.6 billion for the 2019-20 fiscal year.
Stock markets have cratered and the price of oil has dropped to levels not seen in years due to the global panic over the spread of COVID-19. Italy, the world's ninth-largest economy, has locked down travel within the country to slow the spread of the virus.