Canada, U.S. closing border to non-essential traffic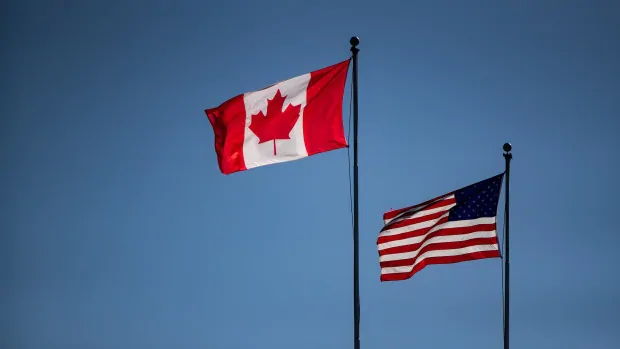 Canada and the United States have agreed to restrict non-essential travel across the border, as both countries try to slow the spread of the novel coronavirus.
U.S. President Donald Trump first tweeted the news Wednesday morning. Soon afterward, Prime Minister Justin Trudeau held a news conference at which he said travellers will no longer be able to cross the border for recreational and tourism purposes.
"These measures will last in place as long as we feel they need to last," he told reporters from outside his home at Rideau Cottage, on the grounds of Rideau Hall in Ottawa, where he's in self-isolation.
"In both our countries, we're encouraging people to stay home. We're telling our citizens not to visit their neighbours if they don't absolutely have to."
The Prime Minister's Office said they are still negotiating the start date and will have it "soon."
Trudeau said both sides agreed to preserve supply chains, which ensure that food, fuel and life-saving medicines reach people on both sides of the border.
"Supply chains, including trucking, will not be affected by this new measure," he said. "Canadians and Americans cross the border every day to do essential work, or for other urgent reasons, that will not be impacted."
Canadian citizens will be able to get home, although the government says travellers presenting symptoms won't be able to board flights.
When asked if he's considering restricting travel within Canada, Trudeau said his government is "looking at all options."
"We will continue to look at measures as they become necessary," he said.
We will be, by mutual consent, temporarily closing our Northern Border with Canada to non-essential traffic. Trade will not be affected. Details to follow!

—@realDonaldTrump
On Monday, when Trudeau announced his government would deny entry to almost all foreigners, he made an exception for Americans— but he did not rule out including them in the ban in the future.
The government has already said Canadians crossing at a land border will be screened for symptoms. Sick individuals will be referred to public health authorities on the Canadian side of the border, but they will be allowed into the country.
Major crossings will have quarantine officers on site to intercept the sick and supply masks.
"We know there are very many Canadians who are presently in the United States and are very quickly making their way home, and I want to assure them all, Canadians will always be allowed to return to Canada," Public Safety Minister Bill Blair said Tuesday of people crossing by land.
In 2019, 25 million travellers entered Canada from the U.S., according to Statistics Canada, while Canadian residents returned from 43.8 million trips to the United States that year.