Alberta's Bottcher advances to 3rd straight Brier final with win over Saskatchewan's Dunstone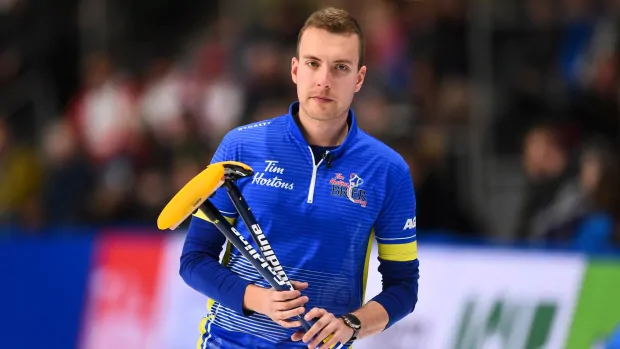 Alberta's Brendan Bottcher defeated Saskatchewan's Matt Dunstone 9-4 in the 1-2 Page playoff game Saturday afternoon to earn a berth in the Tim Hortons Brier final.
Bottcher never trailed in the standing-room only matinee at the Leon's Centre.
He will make his third straight appearance in the Canadian men's curling championship final. Bottcher lost in 2018 to Brad Gushue and fell last year to Kevin Koe.
Dunstone will play the semifinal on Sunday afternoon against the winner of Saturday night's 3-4 Page playoff game between Gushue and Northern Ontario's Brad Jacobs.
Dunstone has delivered highlight-reel shots with regularity through the week but struggled at times against Bottcher, who has lost just once in this competition.
The 24-year-old Saskatchewan skip wrecked on a guard in the third end to give Alberta a steal and 2-0 lead. Dunstone was several feet light on a draw in the fourth and was forced to a single.
Saskatchewan scored a deuce in the ninth and Bottcher made a hit for four to win it in the 10th.
Gushue earns 3rd seed
Gushue and his Newfoundland and Labrador team earned the third seed by closing the championship round Friday night with an 8-3 record.
Jacobs, in a four-way tie at 7-4, had to beat Koe and Ontario's John Epping in tiebreakers Saturday to get the other playoff spot.
Epping eliminated Team Wild Card's Mike McEwen 7-6 on Saturday morning. McEwen had a chance to score three for the win but his double-takeout attempt was slightly wide and he settled for a single.
Jacobs tops Koe
Jacobs, meanwhile, stole three points in the eighth end for an 8-3 victory over Koe.
The top-ranked Jacobs then controlled the game against Epping, scoring three in the fourth end and adding a deuce in the sixth.
Ontario stole a point in the eighth end and Jacobs sealed it with a deuce in the ninth. Alternate John Morris came on in the eighth end for some ice time as a replacement for Ontario third Ryan Fry.
The Brier champion will wear the Maple Leaf at the March 28-April 5 world men's curling championship in Glasgow, Scotland.
Curling Canada announced the competition all-star teams Saturday. Bottcher was named to the first team along with second E.J. Harnden of Northern Ontario and Wild Card's Reid Carruthers (third) and Colin Hodgson (lead).
McEwen took the nod at skip for the second team, which included Northern Ontario's Marc Kennedy, Wild Card second Derek Samagalski and Canada lead Ben Hebert.
Hodgson won the Ross Harstone sportsmanship award in a player vote. The all-star selections were determined by player votes, media votes and shooting percentages.