10 Facts About Tim Burton's Alice in Wonderland That Are Fairly Bonkers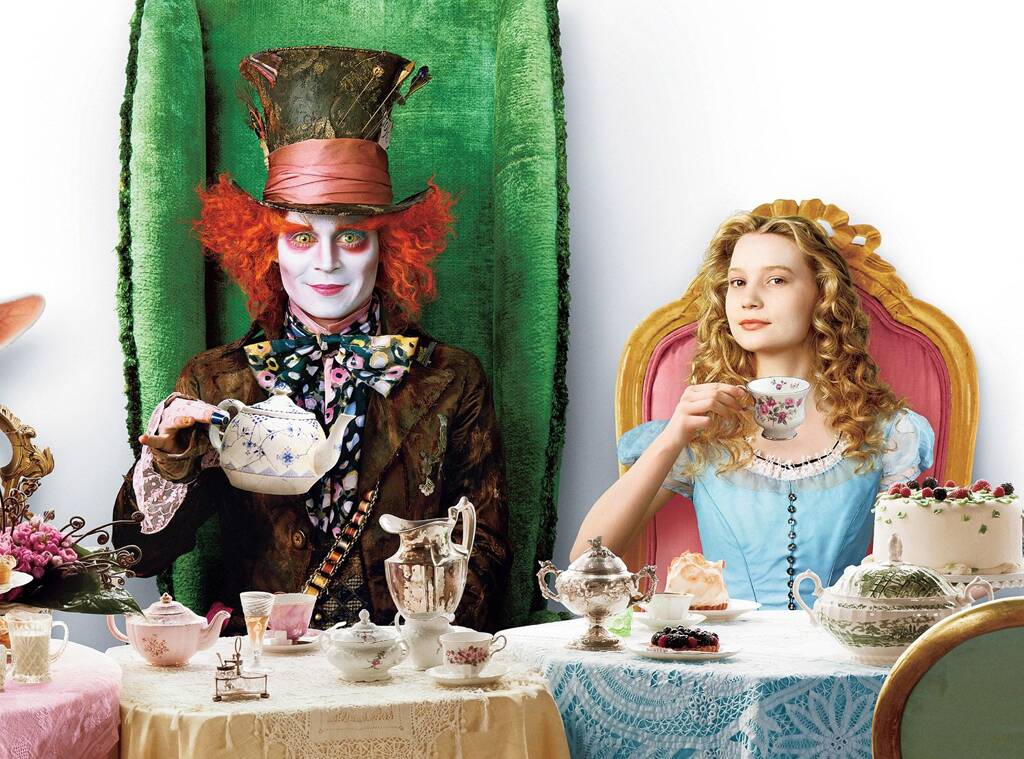 Disney/Kobal/Shutterstock
Alice in Wonderland didn't need Tim Burton to turn the story into a bonkers trip down the rabbit hole. That's how it popped out of Lewis Carroll's head when he wrote the story 155 years ago.
But Burton, naturally, put his signature stamp on the part-live-action, part-CGI'd-to-the-nines film, an eye-popping confection that directly employs more of the humor-tinged terror found in Carroll's Alice's Adventures in Wonderland than the animated Disney film that came out in 1951 (though, really, the cartoon has its terrifying moments, too), as well as characters from his 1871 follow-up, Through the Looking-Glass (many of whom returned for the 2016 sequel directed by James Bobin).
Burton got the merry band from his 2007 adaptation of Sweeney Todd back together for Alice, namely Johnny Depp as the Mad Hatter, Helena Bonham Carteras the Red Queen, Alan Rickman as the Caterpillar and Timothy Spall as Bayard (the pet dog of Crispin Glover's Knave of Hearts, inspired by the Puppy mentioned in the Carroll tale), as well as costume designer Colleen Atwood, and ended up with a visual feast—if not exactly a well-balanced meal, as far as most critics were concerned.
Nevertheless, audiences found Alice's level of muchness perfectly up to snuff, and the film made over a billion dollars worldwide.
Of course, a lavish production like this one, at least 90 percent of which was shot in front of a green screen, doesn't come together overnight—or even within the preset parameters of a studio schedule, for that matter.
So in honor of the 10th anniversary of the quirky blockbuster, here are 10 things to know about the making of Tim Burton's Alice in Wonderland:
Disney/Kobal/Shutterstock
Mia Wasikowska, whose breakthrough in America came playing a self-harming young gymnast on HBO's In Treatment, won the role of Alice over some more established names (Amanda Seyfried was also said to be high on Burton's list). The following year she gave a critically acclaimed performance as the title heroine in the latest movie adaptation of Jane Eyre.
"I did about five auditions for Alice before I got the role," the Polish-Australian actress told W in 2011. "I wore a corset for the red dress and the blue dress at the very beginning of the film, and they were very painful, but I only realize now, having done Jane Eyre, that they were such sissy corsets."
"I've always hated Alice on screen," Burton told The Guardian regarding his feelings about the titular heroine before he had a version to call his own. "She's a very annoying, odd little girl. I wanted to make her into a character I could identify with: quiet, internal, not comfortable in her own skin, not quite knowing how to deal with things, being both young and having an old soul."
Disney/Kobal/Shutterstock
Talking about the process of being turned into the Mad Hatter—a hatter who seems to be mad because of mercury poisoning, a peril of the felt hat-making trade in those days that could lead to memory loss, confusion and other symptoms that could present as madness—Johnny Depp told E! News in 2010: "Early calls and you sit in a chair and people start painting this kind of grease paint on your face, and suddenly you start to disappear, and then you're attacked by a giant orange ferret. Then they attach it to your head. Then you're wrapped in magnificent 19th century surrealist costume, hat goes on, you're ready to go."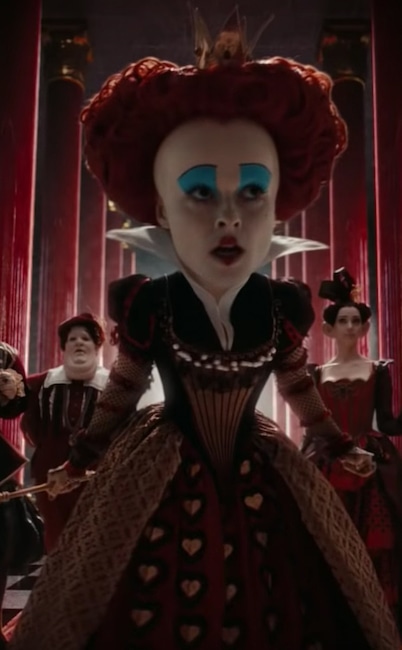 YouTube
Helena Bonham Carter's psychotic Red Queen is a character mash-up of the "off with her head!"-squawking, croquet-playing Queen of Hearts from Carroll's book, who is the chief villain in the Disney version, and the Red Queen, a live chess piece that squares off against the White Queen in Carroll's 1871 sequel Through the Looking-Glass.
Carter, who was still Burton's real-life longtime partner at the time (they broke up in 2013), told the Orange County Register that, though she had worked with him five times beforehand, she remained pleasantly surprised to be offered the role. "I'm always touched when he wants to work with me again," she said. "But this time, after he asked me, he told me I had to be in it because he already drew me in the part. He then produced this drawing of a woman with a big head and angry eyebrows. It was quite flattering."
Carter also said about the character, "I guess that's how Tim sees me. She has the emotional growth level of a 2-year-old. She lives in an 'it's-all-about-me' world. She's constantly throwing tantrums, and she's totally insecure because her parents gave the crown to her younger sister with the tiny head."
Moviestore Collection/Shutterstock
Tim Burton's films are laden with special effects, but this was his first time directing a movie shot primarily in front of a green screen. He told E! that he and Depp tended to bond over the general absurdity that is the art of moviemaking anyway, so "we tried to use what was negative and kind of treat it like a bizarre positive."
Helena Bonham Carter told the OC Register that working in front of a green screen was "in a way…more like acting than in a live-action movie because you have to make it more real. You have to bring the audience into this unreal world, and make it real for them." The secret was, "You have to imagine with great precision. You have to believe in everything because if you don't believe in it, the audience won't believe in it."
Disney/Kobal/Shutterstock
Originally Alan Rickman's face was going to be superimposed on Absolem, the hookah-puffing caterpillar, but in the end animators just tried to make the inquisitive creature's features Rickmanesque.
The late actor recorded his dialogue for the film in one day, as did many of his fellow British thespians doing voice work, including Stephen Fry (Cheshire Cat), Imelda Staunton (the Talking Flowers), Barbara Windsor (Mallymkum), Michael Gough (Uilleum, Christopher Lee (the Jabberwocky) and Jim Carter (the Executioner).
Disney/Kobal/Shutterstock
Sterling Holloway voiced the Cheshire Cat in the 1951 animated Alice in Wonderland, and Stephen Fry did the honors in this one. Coincidentally, both Holloway and Fry have also voiced Winnie-the-Pooh on different occasions, with Holloway voicing 1960s- and '70s-era featurettes and Fry reading the audiobook of A.A. Milne's original stories.
"My agent rang up and said, 'Can you see Tim Burton and lay down some Cheshire Cat action,'" Fry recalled to Digital Spy in 2009. "I said I'd be honored to do so."
He added, "My friend Michael Sheen is playing the White Rabbit, I know him jolly well. We don't have a 'scene' together. We do have dialogue together but he'll probably do his in America, in London or wherever he is, and they'll get mixed together in the end."
Disney/Kobal/Shutterstock
Michael Sheen was originally going to play the Cheshire Cat, but there were scheduling conflicts, so he ended up voicing the White Rabbit, the tardy mammal who sets the whole story in motion.
Despite all the green screen, Burton supplied his actors with "all the conceptual artworks, all the characters and the world, and how everything would look," Sheen told RTE's Paul Byrne. "…And of course you've got the whole tradition of 'Alice in Wonderland' there to inform what you're doing as well." Burton talked him through, "but he was kid of working in the dark as well." One of the last sessions he did, Sheen recalled, Burton told him that it was the first movie he'd ever worked on where he couldn't review a single freshly shot frame, because the finished product was going to look entirely different.
Walt Disney Studios
When he pictured the White Queen, played by Anne Hathaway, Burton thought of Nigella Lawson. "She's really beautiful and she does all this cooking, but then there's this glint in her eye and when you see it you go, Oh, whoa, she's like really… nuts,'" Burton described the British cookbook author, cooking show host and all-around kitchen goddess. "I mean in a good way. Well, maybe. I don't know."
Asked about her inspiration as she got into character, Hathaway told MovieWeb, "Unless you are playing a real life person it will be inspired by other things. For the White Queen there were a lot of different sources. I was looking at silent films with Greta Garbo and looking at the way she moves and I looked at Debbie Harry for the glam, punk rock element. And Tim Burton had mentioned Nigella Lawson and she helped in the cooking scene because of her ease in the kitchen and the way Nigella Lawson is very sensual with food. I wanted the White Queen to have that."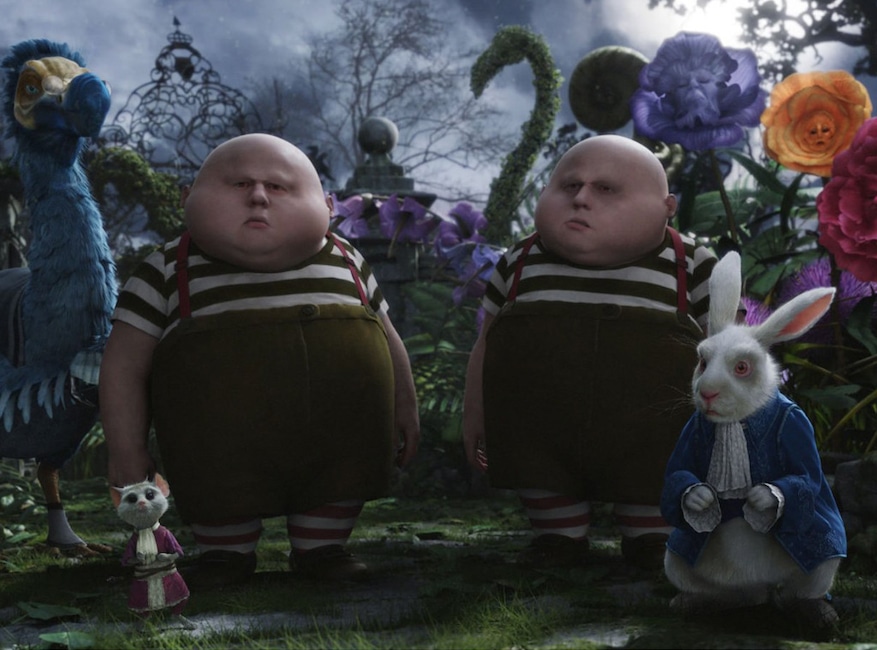 Disney Pictures
British actor Matt Lucas was morphed into both Tweedledee and his twin brother Tweedledum.
"To be honest, it wasn't that bad," he told RTE's Paul Byrne. "If I do Little Britain I can be in makeup for six hours sometimes as Bubbles, but in this it was just a pleasure. I just wore one of those bodysuits, you know, in green, but my face was exposed and I acted with the other actors. There was a guy called Ethan Cohn who would act with me, so whichever Tweedle I wasn't playing, he would play. And it was great fun, 'cause you're there on set working with Johnny Deep, or Helena, and Tim Burton is directing you. So it was just a great pleasure."
Disney
Principal photography started in September 2008, about four months later than originally planned, and lasted for three months. They shot at several locations in the English countryside, after which the green screen work was done in about 40 days at Culver Studios in L.A. and the wizards at Sony Pictures Imageworks put it all together. Shot in 2-D, the film was converted to 3-D in post-production.
Alice in Wonderland was originally on Disney's 2009 release schedule but was postponed until March 5, 2010. While out promoting the film, Cater revealed on The Late Late Show With Craig Ferguson that Burton was still tinkering with the movie two weeks before its premiere.
"Alice was an experiment," Burton explained to The Guardian once the film was finally in the can. "We didn't know what the movie was till the very end. It was exciting and scary. Working on the CG just got more and more and more intense. The intensity peaked last week, when we had to stop." He raised his voice. "We had to stop! STOP! I never consider a film finished and this was no different…Finishing a film is like a death in some way."
He agreed that it could also be compared to a birth, adding, "Of course it's a birth. But something definitely dies, too. It's an unnerving feeling that takes time to get over."
At least Burton's painstaking efforts were worth it in the end. Alice in Wonderland was the second-highest grossing film of 2010, behind only Toy Story 3, and it helped launch the live-action remake renaissance that's all the rage at Disney now.