Thank You Clem Snide for Your Song Entitled Roger Ebert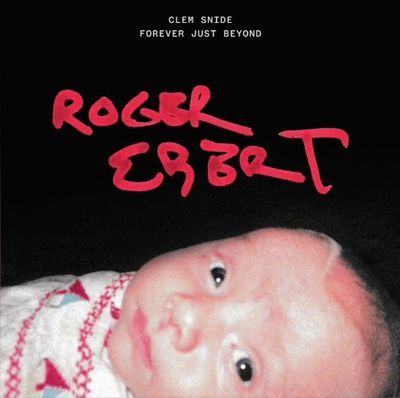 I was astonished and moved when I listened to "Roger Ebert," the new song inspired by words of my late husband, which serves as the lead track on Forever Just Beyond, a new album from guitarist/vocalist Eef Barzelay as Clem Snide. Barzelay said his life was falling apart around the time when his band members parted ways, and it was only through forging a deeper connection with his spirituality that he was able to overcome these challenges. On his new album, due out on March 27th, Barzelay collaborates with bassist Bill Reynolds and drummer Mike Marsh as well as fiddler Ketch Secor and cellist Joe Kwon.
Clem Snide (Barzelay) read my December 2013 conversation with writer Chris Jones, which was published in Esquire magazine. I was recalling how Roger would note with amazement that things on this earth weren't quite what they seemed. Whatever world he was tuning into caused him to lose all of his fear of death. Even though we didn't expect him to pass away when he did, he talked about how beautiful his life here had been; how fortunate he was to have found true love, and that even though he experienced illness later, what a beautiful life was waiting for him. If Roger's words in any way served as an inspiration to Clem Snide to not give up, it makes my heart overflow with joy. And Clem Snide (Eef Barzelay), I bet Roger appreciates it too.
You can read our reprinted article in full here. But here is an excerpt…
The one thing people might be surprised about—Roger said that he didn't know if he could believe in God. He had his doubts. But toward the end, something really interesting happened. That week before Roger passed away, I would see him and he would talk about having visited this other place. I thought he was hallucinating. I thought they were giving him too much medication. But the day before he passed away, he wrote me a note: "This is all an elaborate hoax." I asked him, "What's a hoax?" And he was talking about this world, this place. He said it was all an illusion. I thought he was just confused. But he was not confused. He wasn't visiting heaven, not the way we think of heaven. He described it as a vastness that you can't even imagine. It was a place where the past, present, and future were happening all at once.
Chris Jones, who is a wonderful writer, also wrote a rather fulsome profile of Roger in 2010 for Esquire, "Roger Ebert: The Essential Man." It is very much worth reading.
Below is Clem Snide's audio version of "Roger Ebert."