Kahnawake Mohawks offer to head up peacekeeping force in Wet'suwet'en traditional territory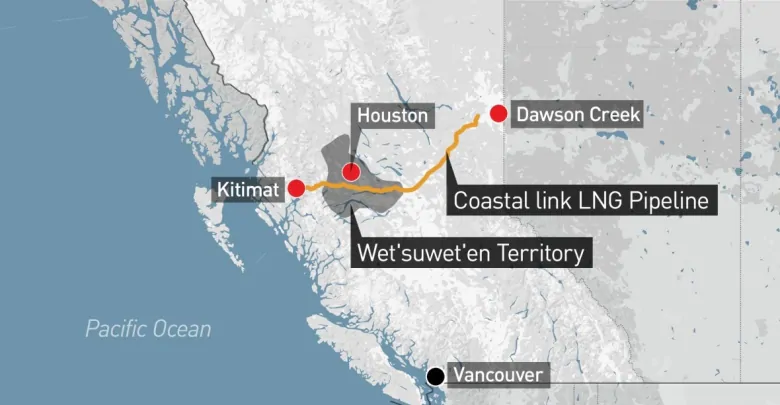 The Mohawk Council of Kahnawake has proposed that its peacekeepers head up a temporary Indigenous police force to patrol traditional Wet'suwet'en territory instead of the RCMP.
"We are bringing forth a possible solution to address one of the most problematic issues in the Wet'suwet'en situation," Grand Chief Joe Norton said in a press release.
"The key demand is for the RCMP to leave, but there is a need for policing services to offer assistance in everyday matters. We feel this can lead to an immediate de-escalation of the current crisis."
The force would be led by Kahnawake Peacekeepers and include members of other Indigenous police services, Norton told CBC News Friday. He said such a force would not enforce Canadian court orders, but would provide public security for the area.
The idea would need to be approved by the Wet'suwet'en hereditary chiefs currently at the negotiating table, the federal and British Columbia governments and the RCMP, Norton said.
Norton said he spoke about the idea on Thursday with federal Minister of Indigenous Services Mark Miller and Justice Minister David Lametti.
"There seems to be acknowledgement that might be a very good answer at this point in time," Norton said.
"We did a similar thing in Kanesetake in 2004 when requested to come and help to ease a very tense situation there," he said. "We stayed for a while and helped calm things down, restore peace."
The head of the Kahnawake Mohawk Peacekeepers, Dwayne Zacharie, is contacting other Indigenous police chiefs in order to build up the necessary manpower, the press release said.
Zacharie is also president of the First Nations Chiefs of Police Association.
Norton said it wasn't impossible that an Indigenous force could work with the RCMP. He said that funding for the project, if it happened, would be up to the Canadian and B.C. governments, Norton said.
"They created the circumstances, so they would have to pay for it," he said.
Wet'suwet'en hereditary chiefs and their supporters erected a camp in the territory in northern British Columbia to prevent the construction of a natural gas pipeline there.
Solidarity protests and blockades erupted across the province after the RCMP enforced a British Columbia Supreme Court injunction by raiding the camp earlier this month
Work on the pipeline has been paused for two days as the hereditary chiefs meet with government officials.
A blockade in Kahnawake is currently halting operations on a Canadian Pacific Railway line south of Montreal. The Kahnawake Mohawk Peacekeepers have said they have no intention of enforcing an injunction to dismantle that blockade.