Nancy Pelosi: The other key player in the Trump impeachment inquiry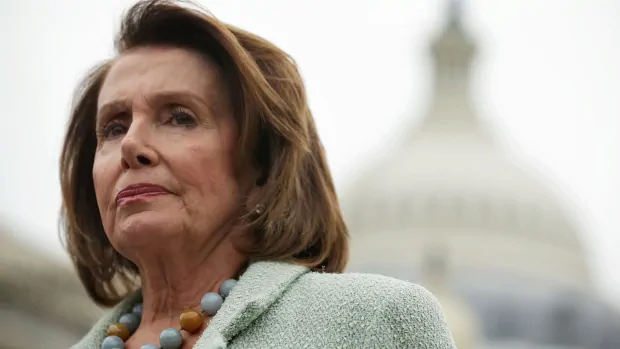 Nancy Pelosi is in the eye of the impeachment storm.
As the first female Speaker of the U.S. House of Representatives, she's orchestrating this week's high-stakes vote on whether to impeach President Donald Trump, and reportedly, Pelosi is overseeing every detail.
At 79, she is one of the most powerful women in the United States, third in line to the presidency after Donald Trump and Vice-President Mike Pence. A California Democrat who runs the Democrat-controlled House, she is the Republicans' favourite target in campaign ads and on Twitter. In 2018, Republicans linked her to more than 137,000 negative ads.
"She's very good at politics, but she's also fair game," says Evan Tracey, a Republican media consultant and professor at George Washington University in D.C.
"It's just easier to say Nancy Pelosi than it is to sort of give you a laundry list of bad liberal ideas."
Tracey says Pelosi will again be a target in 2020 ads, focused on impeachment.
On Monday, Trump re-engaged his personal attacks on Pelosi, saying her "teeth were falling out, and she didn't have time to think," in response to a reporter's question that was caught on video. Her teeth are intact.
WATCH: A preview of Susan Ormiston's profile of Nancy Pelosi, which will run in full on The National tonight:
The president has regularly mocked her facial expressions in campaign rallies, calling her "Nervous Nancy" and saying "she hates America."
Pelosi's daughter, Christine Pelosi, writes in the new book Nancy Pelosi's Way that her mother shakes off negative attacks, saying, "Look, you have to don a suit of armour and eat nails for breakfast.
"What she has told us over and over is that when the president says something mean about somebody else, it's really his own self-diagnosis," says Christine. "So if he's feeling insecure, he calls somebody else nervous. If he is feeling out of control, he calls somebody else deranged.
"Since we were little kids, the more drama swirls around Nancy Pelosi, the calmer she gets."
The House Speaker will need every bit of calm she can muster this week as the House meets to vote on impeaching the 45th president of the United States.