Lizzo's Tiny Purse Is So Yesterday: Behold Timothee Chalamet's Tiny Eiffel Tower Keychain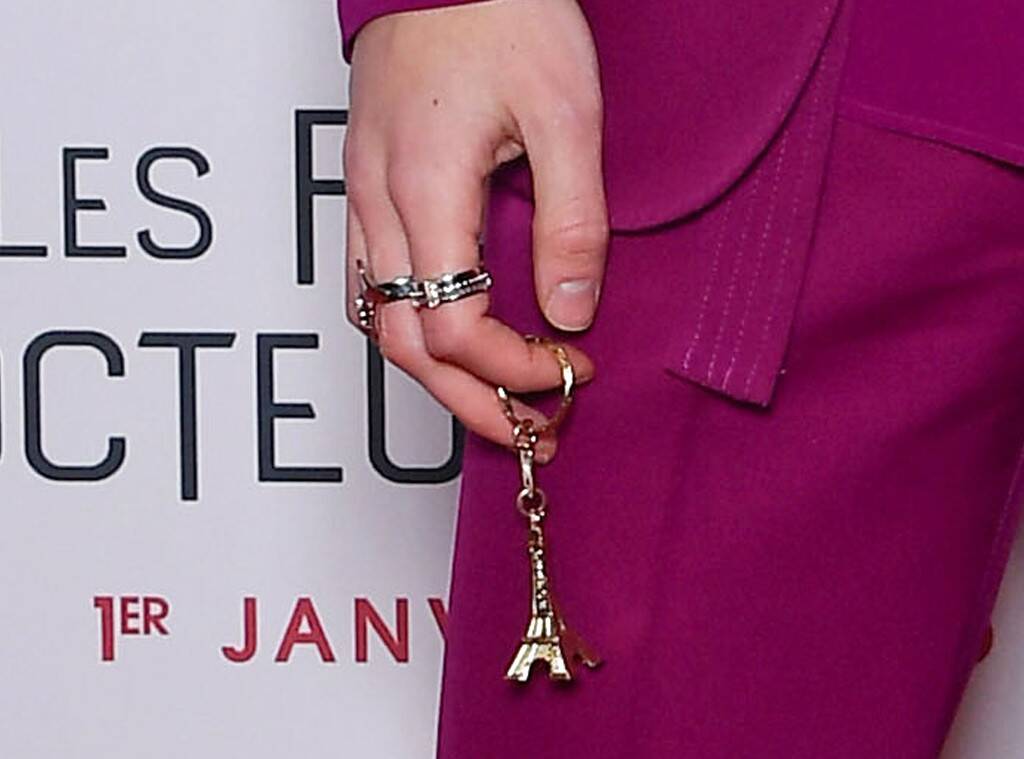 Stephane Cardinale – Corbis/Corbis via Getty Images
Forget Little Women! We can't stop talking about Timothée Chalamet's little Eiffel Tower.
With each new movie Timothée performs in, there's a new red carpet premiere for him to attend and his stans couldn't be more delighted by this recent round of press the actor is doing for Little Women. In recent days, he's been spotted wearing suits and ensembles from designers like Alexander Mcqueen, all of which he's mainly chosen on his own—he doesn't have a stylist, according to Vogue. In short, this is his time to impress the world with his impeccable choice in clothing.
So it was no surprise when the 23-year-old strut onto the Paris red carpet in a stunning look from Stella McCartney and one eye-catching accessory: a tiny Eiffel Tower. Immediately, the internet was abuzz over the charm, with some questioning if it was a statement piece similar to Lizzo's tiny purse.
But alas, Timmy says it was a mere keychain. "someone gave me that Eiffel Tower outside lol," he revealed on his Instagram Story.
Keychain or not, it's a lewk that will go down in history as one of Timmy's finest fashion moments. To see some more stunning styles he's sported, check out the gallery below!
Stephane Cardinale – Corbis/Corbis via Getty Images
Monochromatic Moment

Only Timothée could pull of this vibrant magenta design by Stella McCartney, worn to the Little Women premiere in Paris.
P. Lehman / Barcroft Media via Getty Images
Fashion Icon

Shut it down, Timmy! The actor's belted gray suit by Haider Ackermann turns heads at the 2019 Venice Film Festival.
Taylor Hill/FilmMagic
Pop of Color

Chalamet gives us a whole new reason to love Givenchy as he arrives at the NYC premiere of The King.
Mark Von Holden/Shutterstock
Pinstriped Perfection

This Alexander McQueen ensemble is utter perfection.
Chung Sung-Jun/Getty Images
Paint the Town

Overall, this splattered and acid wash one-piece by Sterling Ruby is a daring look for the actor. The ensemble, which he rocks at the South Korea premiere of The King, is estimated to cost up to $1,700!
Ian West/PA Wire
Bring on the Bling

The star arrives at The King premiere in London dressed to impress. According to Vogue, the actor wore a sequined hoodie by Louis Vuitton that was embroidered with more than 3,000 Swarovski crystals and 15,000 sequins.
David Fisher/BAFTA/Shutterstock
Uniquely Formal

The Beautiful Boy actor takes a risk with a Pais or cause red checked pants and an red and silver patterned jacket while on the BAFTA's red carpet.
Frazer Harrison/Getty Images
Classic Leather

Chalamet mixes Hollywood glam with Rock & Roll flair wearing Celine leather pants designed by Hedi Slimane.
Pascal Le Segretain/Getty Images for Louis Vuitton
Causal & Minimal

The 23-year old heartthrob is posted up at 2019 Men's Paris Fashion Week wearing a Louis Vuitton black embroidered hoodie.
VALERIE MACON/AFP/Getty Images
Structured Patterns

The actor is seen wearing Haider Ackermann patterned suit at the 2019 Governors Awards.
Jon Kopaloff/Getty Images
Living Art

Timothée Chalamet becomes a work of art wearing Louis Vuitton.
Matt Crossick/PA Images via Getty Images
Bold Blooms

Chalamet demands all eyes on him wearing a striking Alexander McQueen floral suit at the Beautiful Boy London premiere.
Axelle/Bauer-Griffin/FilmMagic
Riche Rouge

At the Beautiful Boy LA premiere, Chalamet stuns us a monochromatic piece from Louis Vuitton.
Juan Naharro Gimenez/WireImage
Beautiful Boy in Suit

He wears pale blue Alexander McQueen suit accented with vibrant florals and birds in flight.
Frazer Harrison/Getty Images
Harnessed For Safety

Chalamet starts the 2019 awards season in a custom Louis Vuitton glitter harness designed by Virgil Abloh.
Carlos Alvarez/Getty Images
When in Spain…

Timothée is seen wearing Christian Louboutin boots (no red bottoms) at the San Sebastian International Film Festival for Beautiful Boy.
Jason Merritt/Getty Images
Rev Up Your Engines

He's cleaned up from the gas station and wearing an oversized button down from Off-White at the Film Independent Spirit Awards.
Jordan Strauss/Invision/AP
Hunted in Green

At the 90th Academy Awards Luncheon, Call Me By Your Name rising star is a tailored in a hunter green Gucci suit.
Frazer Harrison/Getty Images
Dapper Timmy

Chalamet is classic and dapper in a Thom Browne suit at the 2018 Critics Choice Awards.
Charley Gallay/Getty Images for GQ
Checkmate!

The Call Me By Your Name star wears a Gucci checkered suit at the GQ 2017 Men of the Year event.
Venturelli/WireImage
Across the Pond

Budding hearttrob Timothée attends BAFTA Los Angeles Tea Party wearing Bertuli.
Dimitrios Kambouris/Getty Images for IF
Decadent Burgundy

Chalamet pops out in a stunning Berluti burgundy suit at the 2017 Gotham Independent Film Awards.