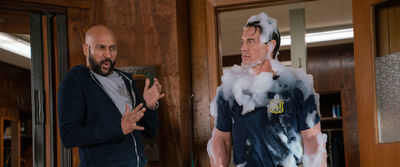 It's clear that we're entering surreal territory very early on in the family comedy "Playing With Fire" – specifically, from the opening titles.
The movie begins with a wildfire raging through a Northern California forest. People are stranded in their cars, roads are clogged, chaos and fear are swirling around with the smoke. The soundtrack for this emergency situation? Mark Ronson and Bruno Mars' "Uptown Funk," the perky and ubiquitous party anthem from a few years back. Maybe the filmmakers were taking the "Call the police and the fireman" section of the song's lyrics literally. Whatever the reason, it's a bizarre choice, but only the first in a series of many.
Director Andy Fickman, whose previous high-concept comedies include "You Again," "Parental Guidance" and his piece de resistance, "Paul Blart: Mall Cop 2," has slapped together a series of wacky antics with little concern for continuity, logic or pacing. I kept asking myself questions like: "How did that dog get there?" "Where did Judy Greer get that sweater?" "How did they paint that 'My Little Pony' mural so quickly?" and "What happened to Keegan-Michael Key? He was standing there a second ago." Just to give you an idea of how the movie aims to appeal to the widest possible audience with its broad brand of humor, it features an even ratio of poop jokes to John Cena shirtless scenes. I counted.
"Playing With Fire" tries to be tasteless and crass but also treacly and cheery. It wants to you go: "Ewwww …," but also: "Awwww …" You're more likely to groan, then look at your watch again.
Cena stars as a by-the-book firefighter named Jake Carson, who leads his team of smokejumpers into harm's way when flames threaten the rugged wildlands of Northern California. (A side note: It was also a strange experience seeing this movie when much of the state was burning in reality.) The fastidious Mark (Key), the sensitive Rodrigo (John Leguizamo) and the mute, burly Axe (Tyler Mane) are his co-workers. (Mane, Cena's fellow former wrestler, plays a character with that name because he … carries an axe.) When a fire breaks out at a cabin and the team swoops in to put out the flames, Jake finds a trio of siblings trapped inside: responsible teenager Brynn (Brianna Hildebrand), impish little brother Will (Christian Convery) and the tiny, wide-eyed moppet Zoe (Finley Rose Slater).
The scene is a prime example of the awkward ways in which Fickman, working from a script by Matt Lieberman and Dan Ewen, will nonsensically yank us out of a moment for a cheap laugh. In the middle of a supposedly tense rescue, Jake and the kids have a petty argument about semantics before Jake gets hoisted back up to the helicopter too quickly in a misunderstanding with pilot Rodrigo. (Actually, he gets slammed up to the ceiling. Cena also falls on his face a lot. It's never even good for a chuckle.)
Anyway, the whole point is to get the kids back to the fire depot, a pristine and orderly workplace where they can wreak havoc in a variety of ways. And because Jake can't get a hold of their parents, he's stuck taking care of them for far longer than he'd hoped. You see, Jake has no time in his life or room in his heart for other people—not even the scientist (Greer) doing research nearby who has a crush on him. He is all about the work. Nonetheless, madcap hijinks ensue involving paint thinner, soap suds and, yes, poop. There's one bit involving projectile diarrhea and a protective firefighting suit that defies the laws of physics; I'm still trying to figure out how it makes sense logistically. Then there's the scene in which Jake has to relieve himself outdoors, with the youngest sibling – a little girl who's maybe 4 years old – standing directly in front of him and holding his head in place to ensure that he maintains eye contact with her the whole time. It is as uncomfortable as it sounds.
From there, it's a dizzying, 180-degree turn into feel-good territory, with Mark rhapsodizing about the important, brave work smokejumpers do and Jake finally letting his guard down and becoming a warm, doting father figure to these kids when they need it the most. Cena has enjoyably toyed with his beefy image in a variety of comedies, including "Trainwreck" and "Blockers," but he has nothing to work with here. An even more egregious offense is the way "Playing With Fire" wastes the ever-reliable Greer (with whom Cena has not an ounce of chemistry) and the hugely versatile Key. He gets the one genuinely funny line in the movie—a joke that only adults in the audience will understand—and is the only reason this is a half-star review rather than zero.
Don't believe me? Just watch. Or better yet, don't.