Jagmeet Singh unveils NDP critic roles ahead of Parliament's return next week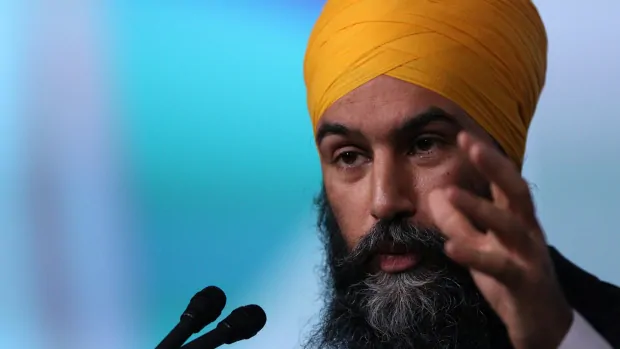 NDP Leader Jagmeet Singh unveiled his shadow cabinet in Ottawa this morning, giving himself two portfolios that are expected to loom large in the upcoming Parliamentary session: addressing intensifying regional divisions and ongoing Indigenous issues.
As critic for intergovernmental affairs, Singh will go head-to-head with deputy prime minister Chrystia Freeland during question period, which briefly resumes next week. As minister of intergovernmental affairs, Freeland is tasked with easing provincial tensions and holding the federation together in a period of deep economic anxiety in much of Western Canada.
Singh also will be the critic for Crown-Indigenous relations and Indigenous services. He's been a vocal opponent of the government's decision to appeal a court ruling on child welfare compensation for Indigenous children.
Singh's inner circle remains largely unchanged since the last session. The party's lone Quebec MP, Alexandre Boulerice, will stay on as deputy leader. He'll also be the critic for Canadian economic development for Quebec regions, and for Canadian heritage
Re-elected New Westminster-Burnaby MP Peter Julian will keep his job as House leader and will take on the role of finance critic.
Windsor West MP Brian Masse remains caucus chair and will take on the critic role for digital government, the Great Lakes, telecommunications and innovation, science and industry.
North Island-Powell River's Rachel Blaney will continue on as whip and become the NDP critic for veterans affairs.
"If the government is willing to work with us, my team is ready to deliver for Canadians to help make their lives better and deal with the challenges they face every day," said Singh in a statement.
The other NDP critic roles are:
Charlie Angus: the federal economic development initiative for northern Ontario, income inequality and affordability, Indigenous youth
Niki Ashton: public ownership, transport
Don Davies: health
Carol Hughes: official languages
Randall Garrison: defence, justice, sexual orientation and gender identity
Daniel Blaikie: democratic reform, employment, workforce development and disability inclusion, export promotion and international trade, western economic diversification
Richard Cannings: natural resources
Scott Duvall: the federal economic development agency for southern Ontario, labour, pensions and seniors
Gord Johns: economic development, fisheries, oceans and the Canadian Coast Guard, small business, tourism
Jenny Kwan: housing, immigration, refugees and citizenship
Alistair MacGregor: agriculture and rural economic development
Taylor Bachrach: infrastructure and communities
Laurel Collins: caucus vice chair and critic for environment and climate change
Leah Gazan: families, children and social development
Matthew Green: national revenue, public services and procurement, Treasury Board
Jack Harris: the Atlantic Canada Opportunities Agency, foreign affairs, public safety and emergency preparedness
Lindsay Mathyssen: deputy whip and critic for diversity, inclusion and youth, post-secondary education, women and gender equality
Heather McPherson: deputy House leader, critic for international development
Mumilaaq Qaqqaq: critic for the Canadian Northern Economic Development Agency, northern affairs