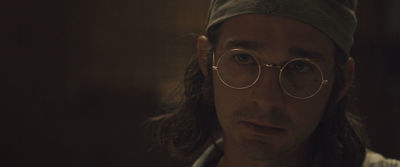 "I'm your cheerleader, honey boy."
James Lort (Shia LaBeouf) says this to his son, 11-year-old Otis (Noah Jupe), whose career acting in movies and television keeps the shattered family afloat financially. The words are supportive on the surface, as is the nickname "honey boy" (which gives the film its title), but underneath is an ocean of unmanaged pain, resentment and rage. The emotional burdens on child Otis are heavy, and we see the end result in a separate timeline, when Otis, now a young man and rising movie star (played by Lucas Hedges) finds himself in court-ordered rehab after yet another DUI. While in rehab, he is diagnosed with PTSD, which enrages Otis (Otis is always in a rage). Isn't PTSD a war thing? What on earth does he have to be traumatized about? Prodded by the counselor (Laura San Giacomo) to go deeper, Otis—resistant and furious—starts to remember his childhood. "Honey Boy," directed by Alma Har'el, goes back and forth between the two timelines.
Shia LaBeouf wrote the script, and based it on his own childhood. This means he is, in essence, playing his own father. The performance is so good, so in-the-trenches, it feels like it's an act of channeling rather than mimicry or even imitation. LaBeouf's struggles with addiction have made headlines in recent years, and he, too, was diagnosed with PTSD. He was an actor as a child, before he even knew what that would mean, before he could choose it for himself. It's not really a surprise that child actors sometimes flame out early. They were supporting their families when they were 9 years old! Their childhoods were sacrificed. What keeps "Honey Boy" from being self-pitying is not just its intelligence and humor, but LaBeouf's choice to play James. The film itself is part of a healing process, you can feel LaBeouf working out something, squinting into his past, trying to understand and heal. The final credits feature pictures of LaBeouf as a child and his father (who is still alive).
James is a former clown, former alcoholic, and a convicted sex offender. His life didn't turn out the way he wanted it to. He and Otis live in a crappy motel, and commute back and forth to the studio on James' motorcycle. It's not clear where Otis' mother is, although she calls in on occasion, and has enrolled Otis in the Big Brother program. James and Otis are so on top of each other there's no privacy, and James is aggressive, jittery and insufferable. He seethes with envy at his son's success, and feels impotent because his son supports him financially. These feelings are not managed at all, and so he's always picking at Otis, making him do pushups, mocking the sound of his trickle of urine ("You've got a dick like a golf pencil"), mocking his son's innocence. He's a blue-collar "Great Santini."
Otis is used to having to please others, and he does his best to manage his dad. (Young Jupe is a natural. Most of his scenes are painful ones, and he navigates all of it easily. He and LaBeouf work together so well they become a codependent unit, in tune with each other's rhythms and subtexts.) There's no real parenting going on. Otis wants to hold hands with his dad, his dad pushes him away. Otis lays his head on his dad's back, as they careen down the freeway on the motorcycle, and James bucks his head back, brushing Otis off him. Otis befriends a sex worker (FKA Twigs) across the way, and while their scenes together have a mix of excitement and tension (there's a beautiful scene where they pantomime playing baseball), there's a tentative quality to the sequences. The film shies away from the more queasy aspects of what potentially might happen.
Har'el and LaBeouf have collaborated a couple of times before, and it was she who helped structure LaBeouf's script, weaving together the two timelines. Sometimes it's not clear if what's happening is real, a memory, a nightmare, or a scene from one of Otis' movies. This is what trauma can do, how flashbacks can operate. Cinematographer Natasha Braier bathes the film in golden-deep color: it's all lens-flares at sunrise and sunset, pouring over the shabby beauty of Los Angeles' outskirts.
LaBeouf was so good in this year's "The Peanut Butter Falcon," playing a jittery charming chatterbox, and James in "Honey Boy" adds to the impression that LaBeouf is moving into very interesting territory as an actor, territory uniquely his own. No longer the charming kid, he comes to the screen now grizzled with tough experience, hardened but wiser. LaBeouf has taken painful memories and tried to work through them. He's an actor, and so the best way to understand why his father treated him the way he did is to put on the man's shoes and walk around in them for a while. It's an astonishing performance.
As I watched this painful father-son relationship, John Mayer's song "Daughters" came into my head (unbidden, unasked-for). In the song, Mayer cautions "fathers" to "be good to" their daughters, because "daughters will love like you do." Good advice, John! But then it derails with this terrible advice:
"Boys, you can break
You'll find out how much they can take
Boys will be strong
And boys soldier on."
Those four small lines are basically what is so wrong in our world. Yes, of course, you can "break" boys, but you shouldn't. Broken boys become broken men. "Finding out how much" a boy can take is abuse. Child Otis "finds out how much he can take" and it's a lot, as it happens. But it impacts his ability to function as an adult. By the time he reaches adulthood, his emotional capacity has narrowed to a pinpoint-sized tunnel, and the only thing allowed out is rage. That's what happens when you "break" boys, when you won't hold their hands, show affection, be gentle with them, just like you do with "your daughters." "Honey Boy" is a cry of pain for the neglected boy Otis was, but it is also a cry of pain for James. The most painful truth of all may be that James was doing the best he could. Because what was his father like?