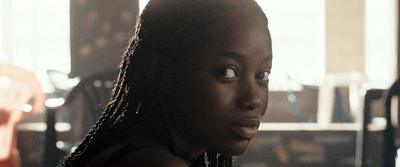 In watching so many films in a given week, month, or year, it's rare to find one that sustains its thrills throughout its runtime, matches its gorgeous imagery with a compelling story, and defies easy categorization. Mati Diop's haunting narrative feature debut "Atlantics" is one such movie. It's unlike few other movies you'll see this year or possibly this decade.
Set in Dakar, Senegal's bustling capital, a young man frustrated by his boss cheating him and his friends out of a paycheck takes off for a better life in Spain. Souleiman (Ibrahima Traoré) leaves behind his love, Ada (Mame Bineta Sane), without so much as a goodbye. Ada wrestles with her feelings for Souleiman and his abrupt departure while only days away from her promised marriage to a wealthier man, Omar (Babacar Sylla). Her heart remains with Souleiman, wherever he might be, as strange and unexplained incidents begin to occur throughout town.
On the surface, this is a familiar story of lovers kept apart by circumstances beyond their control, but "Atlantics" quickly reveals itself to be so much deeper that. Diop, who co-wrote the screenplay with Olivier Demangel, blends the story with the desperation that forces them to leave home and loved ones, echoes of the refugee crisis, a look at the exploitation of the poor by the wealthy and the fetishization of virginity, purity, and marriage. The mystery of "Atlantics" unravels slowly, its gentle twists keep surprises hidden in plain sight. The story begins on Souleiman, but then it belongs to Ada. During Ada's wedding party, she hears her two sets of friends—the outgoing, modern dressing party girls and the more conservative, religious flock—pass judgment on her unhappiness at Souleiman's absence. When Ada and Omar's wedding bed is set on fire, there's a suspicion that one group of friends blame Souleiman for the incident to get him in trouble—and embroil Ada in a scandal.
As Ada, newcomer Mame Bineta Sane is absolutely electric. She begins the film with almost a girlish crush on Souleiman, but over the course of the movie, we see her love for him and who she is as a person grow. She's quiet and looking devastated as her friends talk over her to tell her to move on from Souleiman and enjoy life with Omar. Eventually, Ada becomes petulant with her mother and stands up for herself when Omar tries to force her to come with him. She's no longer controlled by an uncaring husband, her conservative parents who force her to get her virginity proven by a doctor or her meddling friends. Sane's passionate and lively approach to the character takes us with her on Ada's emotional journey to find out what happened to her love as she is to find out who she will be as an adult.
Cinematographer Claire Mathon, who comes with a lengthy resume in French cinema including another highly anticipated 2019 release "Portrait of a Lady on Fire," captures the various layers of life in Dakar. She captures the windswept coastal setting at various times of day, sometimes at blindingly bright afternoons when there's so much sun it hurts to look outside, at sunset when the sky looks like a multicolor tapestry of gold, red and purple, or in the dead of night, when only the white-tipped foam riding on dark waves is visible. It's important to capture the sea that gives the movie its name not just because it's constantly on Ada's mind, but also because Dakar sits on a peninsula, and the sound of crashing waves is almost inescapable for her. Even indoors, Ada's curtains blow in the wind like waves. In one scene, it's a stormy enough night to double as a bad omen for what she will later learn. Mathon also orchestrates a marvel out of the seaside club where Ada and her friends used to flirt with guys before they left for Spain. Here, the saturated dark lights and lasers create different waves of color washing over the women who look to be floating in both a dream and a nightmare, as they must accept the news that their boyfriends and brothers have left. Diop and Mathon also employ mirrors into the story in a way that leads to more dreamy images and develops the main character.
Part of the movie's haunting quality comes from musician Fatima Al Qadiri's melodic score, an otherworldly mix of electronic sounds that are full of mystery and emotions. During Ada's most stressful moment, her wedding to Omar, the score creeps into a higher register, making an unnerving sound even before the dreaded event appears on-screen. In some regards, "Atlantics" channels the spirit of Peter Weir's "Picnic at Hanging Rock," which also features a magical yet disturbing score and an ominous look at nature. The characters' lives in both movies are forever changed by the unexplained and each story reveals itself slowly over the course of the movie.
Yet, "Atlantics" is its own surprising film, one I hope will be talked about with as much reverence as a movie like "Picnic at Hanging Rock." It's a potent mix of feelings, meanings, gorgeous visuals, and hypnotic sounds. Diop's timely yet timeless story is so wonderfully told through Mathon's lens and accompanied by Al Qadiri's score, that it's easy to soak in the story's emotions, the movie's evocative cinematography, the naturalistic performances from the cast of non-actors and the emotional sounds of the city and its music. As soon as I am awash in the movie's blue-green credits, I already want to dive back in and start "Atlantics" over again.