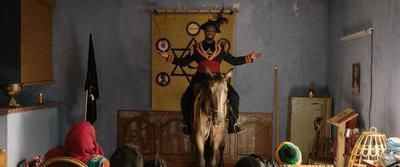 A political satire in the biting spirit of "Wag the Dog" and "In the Loop"—though not nearly as sharp as either—Christopher Morris' "The Day Shall Come" claims with a title card that it's based on a hundred true stories. This bold declaration might sound like it's blown out of proportion at first, considering we're in for an over-the-top story about clumsy FBI agents chasing bogus terrorists to justify their own existence. And yet it's one that's tough to dispute, while the post-9/11 US Government and its still-young Department of Homeland Security continue to dig their heels in on the notion of terrorism as a scare and control tactic. So what happens when the unwinnable war on terror becomes hazy and lacks a tangible enemy? In "The Day Shall Come," Morris illustrates a scenario in which a squad of officers goes to extreme lengths and basically fabricates a terrorist to pin down in a sham operation.
The results are mixed cinematically—crisply lensed by Marcel Zyskind, the Florida-set film looks like an average episode of "Veep," which Morris has directing credits on. And the laughs are pretty sparse, too, despite a non-stop flow of zingers (never funnier than mildly amusing) and forgettable one-liners that are perhaps more suited for the aforementioned TV show. But you still need to hand it to Morris for bravely utilizing humor to draw attention to countless immoral cases that unfold behind the scenes in real life, away from unsuspecting civilian eyes. Many of them go like this: The FBI works with informants to identify who they consider to be potential outlaws. Then hand-in-hand, they encourage these targets to commit a crime, for which they could then be arrested. "FBI is how America f**ks itself," one character in the film claims. And it's hard to disagree upon following the satirical tale of Moses Al Shabaz (Marchánt Davis), written by Jesse Armstrong with additional material from Sean Gray and Tony Roche.
Moses is just a smalltime preacher in Miami, on top of being a borderline delusional (if not a little mentally ill) revolutionary with far-fetched plans to overthrow the government one day. "The Star of Six," he calls his hodgepodge organization, based in a modest farm with serious resource problems, financial and otherwise. On the verge of bankruptcy he might be, but Moses still pledges his loyalty to a jumbled fusion of religions and rebels (Jesus, Mohammad, Black Santa, Haitian General Toussaint Louverture … anything goes) and dutifully preaches to his feisty wife Venus (Danielle Brooks) and young children. The most sophisticated method he uses to spread his word is Facebook Live, which, too bad for him, makes him the perfect gullible scapegoat in no time to a group of agents desperately craving to score a new glory to their names.
That team includes Kendra (Anna Kendrick) and her bigmouthed boss Andy (Denis O'Hare). Blackmailing the low-life sex offender Reza (Kayvan Novak) to become her informant, Kendra pursues the credulous Moses incessantly, hoping to lure him into a big-time arms deal and pull off her next triumphant arrest. Except, she has some convincing to do—her bosses think, "black targets are no longer cool, as the cops have f**ked up those legal optics." Still, the plan moves forward at full speed and Moses finds himself tangled in a complex (and by all accounts, illegal and ethically bankrupt) scheme thoroughly orchestrated by Kendra's unit.
Morris delivered a truly innovative satire with "Four Lions" in 2010 through the hysterical story of a group of jihadists and their eventually (and comically) failed plan. While he continues to grapple with a different side of the same coin in "The Day Shall Come," neither his humor nor his on-the-surface political examination feel as vital or new, despite the film's overlabored efforts to touch upon a myriad of ever-relevant topics, from misogyny to racism. But even when his political souffle collapses (especially in its directionless and underwhelming last act), the performers keep the whole affair watchable. This is especially true for the terrific Anna Kendrick, whose motor mouth agent experiences a moral awakening akin to the actor's workaholic "Up In the Air" character, and Marchánt Davis, a luminously naïve and lovable presence throughout. If only "The Day Shall Come" had provided them with something weightier, more memorable than a collection of overwrought quips.