Steve James Among Presenters at Victory Garden Theater's Chicago Stories Gala, Featuring Debut of My Play, The Great Debate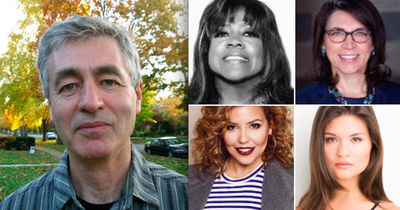 VICTORY GARDENS THEATER, the wonderful performance venue located in the historic space once known as the Biograph Theater—where famed gangster John Dillinger met his immortal end—will be introducing Stacy Janiak and me as debuting playwrights, and honoring Justina Machado and Phillipa Soo at its annual fundraiser, Chicago Stories Gala, on Saturday, October 5th, in honor of its 45th anniversary. The evening will present two new theatrical works, while also awarding two artists selected as this year's Impact Honorees.
I have started a tradition of raising money for worthy causes for my birthday. So I encourage you to help me celebrate my birthday by celebrating Victory Gardens Theater either in person, or with a donation. (To order tickets or make a donation, visit the official Victory Gardens site.) A few years ago, I "danced with the stars" to raise money for the Giordano Dance Troupe (you can read more about that here).
Among this year's presenters is Steve James, an Oscar-nominated filmmaker whose filmography includes "Life Itself," about my late husband, Roger Ebert. That film was named Best Documentary by The National Board of Review, and The Producers Guild of America, among many others. Steve's previous classic works include "Hoop Dreams," which was nominated for an Oscar for editing, and he also directed and produced Sundance award winner, "Stevie"; "The Interrupters," which won an Emmy, Independent Spirit Award, and the DuPont Columbia Journalism Award; and "Abacus: Small Enough to Jail," which earned James a fourth DGA nomination, and was one of the National Board of Review's "Top 5 documentaries of the year," won the "Best Political Documentary" by The Critics Choice Awards, and was nominated for an Academy Award. His Starz docuseries, "America to Me," premiered at Sundance and was one of the most acclaimed TV shows of 2018.
I'm honored to be joining Stacy Janiak, Managing Partner and Chief Growth Officer at Deloitte, as one of the two guest playwrights whose whose one-act plays will have their world premiere during the Gala. My play is entitled, "The Great Debate," and is packed with surprises. To say more would spoil the fun.
Both of the 2019 honorees are accomplished actresses: Justina Machado, a Chicago-born actress best known for her roles on the celebrated reimagined "One Day at a Time," "Six Feet Under," and "Queen of the South"; and Phillipa Soo, the Tony Award-nominated actress known for originating the role of Eliza Schuyler Hamilton in Broadway's "Hamilton."
Victory Gardens Theater is such a treasure in Chicago because of its rich diversity of characters, actors and playwrights, as well as its partnership with Chicago Public Schools to illuminate for students the power of the arts. I am honored to be following in the footsteps of the esteemed playwrights who have previously contributed to this gala, including my husband Roger. He made his debut at Victory Gardens Theater in 1993 with a play entitled, 'Sex, Lies and Theatricals,' about the selling of films at the Cannes Film Festival. That same year, Roger's fellow guest playwright was NBA coach Phil Jackson, who led the Chicago Bulls to win six championships. Roger's play was also restaged in 2013.
"We are incredibly honored to have Chaz serving as a Guest Playwright at this year's Chicago Stories Gala," said Erica Daniels, Executive Director at Victory Gardens Theater. "She embodies the core values that we celebrate here at Victory Gardens Theater. Her commitment to empowering women, giving voice to women and children through education and the arts, and her passion for spreading empathy, kindness, compassion, and forgiveness are to be lauded. It is our privilege to recognize Chaz alongside Stacy Janiak, Justina Machado, and Phillipa Soo, three other trailblazing women producing powerful work onstage and off."
The 2019 Chicago Stories Gala will take place on October 5th at the Four Seasons Hotel, 120 E. Delaware Place, beginning with a 6pm VIP experience, followed by cocktails at 6:30pm and the show joined with dinner at 7:30pm. To order tickets or make a donation, visit the official Victory Gardens site.