Incredible Ensemble Brings Gravity to Familiar Story of The Godfather of Harlem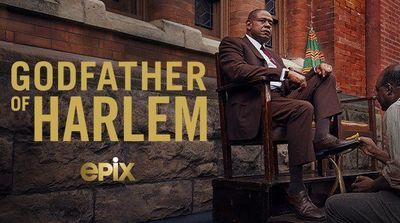 Epix's epic (sorry) crime drama "The Godfather of Harlem" is one of those ensemble pieces in which every other scene introduces a new famous face. The promos have advertised the two major roles played by Forest Whitaker and Vincent D'Onofrio, but this is a show that's simply loaded with talent, including Luis Guzman, Paul Sorvino, Kelvin Harrison Jr., Giancarlo Esposito, and Chazz Palminteri. It is an ambitious, layered period series about Harlem in the mid-'60s that seeks to dramatize the often intersecting movements of the mafia and the battle for civil rights. The Oscar-winning star of "The Last King of Scotland" holds it all together, but this is definitely an ensemble piece, and it's smart, engaging television that only occasionally falters under the weight of its ambition to tell a few too many stories at once.
John Ridley, the writer of "12 Years a Slave" and "American Crime," directs the pilot, which opens with Bumpy Johnson (Whitaker) being released from Alcatraz and returning to a Harlem that has changed significantly while he's been away. Drugs have taken over the community, and the Italian mafia runs most of them and basically all of New York. Johnson demands his territory is returned to him, much to the dismay of Vincent "Chin" Gigante (D'Onofrio), who refuses to simply give up control that he feels he's earned. Ridley and company also introduce soldiers on both sides, a musician named Teddy Greene (Harrison) who is dating Gigante's daughter Olivia (Lucy Fry), and local political and religious leaders, including one played by the great Esposito and another who just so happens to be Malcolm X (Nigel Thatch).
Harlem in the '60s is clearly very fertile ground for drama, and not only because of larger than life personalities like Johnson and Gigante, who have been portrayed on camera many times before. (Johnson was played by Laurence Fishburne in "Hoodlum" and Clarence Williams III in "American Gangster"). So what does this retelling of an oft-told story illuminate about this chapter in history? Not quite enough at time, to be honest. There are so many characters and threads that any search for thematic focus seems fruitless. "Godfather of Harlem" is better appreciated as an acting piece than any sort of grand commentary or complex character study.
On that level, it's a consistently entertaining actor's showcase. Whitaker is the gravitas at the center, but D'Onofrio hasn't been this good in years, Fry is an engaging young actress, it's always great to see Guzman and Esposito, and so on. Even small roles are well-cast and written (although a subplot involving Johnson's addict daughter sinks into melodrama early and often). Sure, we may have heard this story before but never with this particular group of talented performers. Think of it like a Shakespeare revival. Johnson tells the doomed lovers of Teddy and Olympia that they shouldn't seek to emulate "Romeo and Juliet." One wonders if he couldn't learn a similar lesson from "Richard III."
Three episodes screened for review.