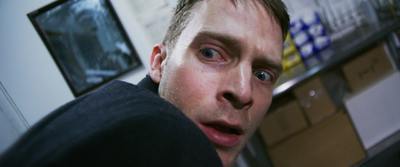 American indie horror king Larry Fessenden ("The Last Winter," "Wendigo") is just as much a pulp fiction aficionado as he is a neo-gothic romantic: his doomed heroes and sorrowful monsters are all messy, small people whose apparent sense of compassion is often dwarfed by their titanic egos and their general cosmic insignificance. Fessenden's low-budget film horror movies are not the most cuddly (or polished), but his body of work as a writer and director (and producer and editor) is consistent in its investment in human-scaled people. Fessenden's prickly sense of humanism makes a considerable difference in "Depraved," his engrossing take on Mary Shelley's Frankenstein, and maybe his best movie to date.
Set mostly in a decrepit factory by Brooklyn's Gowanus Canal, "Depraved" follows three troubled men and a constellation of tragic supporting characters, some of whom are women. There's Adam (Alex Breaux), a cadaverous amnesiac with prominent scars on his gaunt face and semi-clothed body; and Henry (David Call), an egotistical, PTSD-afflicted ex-army medic and current research scientist; and Polidori (Joshua Leonard), Henry's boastful, cynical patron, and a wannabe pharmaceutical mogul. There's also Liz (Ana Kayne), Henry's concerned girlfriend; and Georgina (Maria Dizzia), Polidori's aloof wife; and Lucy (Chloe Levine), the kind girl that Adam can't stop thinking about, mostly because Adam's not really Adam.
In a former life, Adam used to be beanie-clad hipster Alex (Owen Campbell), before Henry gave him an absurd new name, a battery of radical antibiotics, and an unreliable sort of companionship. Alex was callow, but not unsympathetic: in an introductory scene, he pushes Lucy away when she semi-casually mentions that he would make a good father. Alex is a mess—anxious, untrusting, young—but also real enough. Adam is somewhat similar, a child looking for guidance and love. His innocence draws people to him like a magnet, partly because everybody in "Depraved" is living on borrowed time, but doesn't want to admit it, as Fessenden often reminds us through blunt, but effectively pulpy dialogue, and lo-fi psychedelic imagery (the movie's trippy visual/optical effects are credited to cinematographer James Siewert).
One of the most charming aspects of "Depraved" is the way that Fessenden is able to synthesize his pet themes into a lo-fi psychedelic multi-character study. But you don't have to be familiar with his work to appreciate the idiosyncrasies that make "Depraved" such a stirring horror movie, though it certainly doesn't hurt (check out "Skin and Bones," his 2008 entry in the short-lived TV anthology series "Fear Itself"). Everything you need to "get" this movie is in the movie, so while Fessenden's generally soft-spoken characters sometimes declaim their intentions, that's only because they are young and careless (ex: "Most of America is on drugs" and "Henry, you brought the war home with you …"). Fessenden also tends to rely on horror archetypes—the nouveau riche villain, his Byronic surrogate sons, and their worried muses—but only because he likes all of them too much to completely deconstruct or dismiss them. Fessenden's also probably more of a hippy and/or fatalist than many viewers will be comfortable with, especially given his bleak view of humanity as a daisy chain of small-minded, unhappy creatures who'd rather preserve their lives than embrace their mortality. His characters are, in this way, doomed to inhabit roles that were prescribed to them as soon as Fessenden decided what type of horror story "Depraved" is.
But what's most remarkable about "Depraved" is the way that Fessenden makes you care about his characters, even when you know that they're either too kind or too greedy to live. Polidori is the hardest character to warm up to: he wants to be a father figure to Adam because Henry is too proud to accept his benefactor's cruel, over-simplified view of humanity. Polidori also tends to speechify about humanity's fleeting genius, like when he gives Adam a guided tour of the Metropolitan Museum of Art and airily dismisses the whole institution as a "mausoleum to the aspirations of man."
It's also hard to accept the peripheral roles that women like Liz play in Adam's story, though Fessenden is characteristically sensitive enough to give his actresses enough space to inhabit their respective roles. I'm especially taken with the scene where Adam tries to bond with Shelley (Addison Timlin), a warm, but wary local barfly who thinks Adam looks like Iggy Pop. This scene's inevitable conclusion annoyed and saddened me the first time I saw "Depraved," but made more sense the second time around; this scene captures the pulse of the movie's bleeding heart. "Depraved" may not take you anywhere that you haven't been before, but it might leave you with a renewed appreciation for Shelley's mythic story.