Bachelor in Paradise's Clay Harbor and Nicole Lopez-Alvar Were Actually at After the Final Rose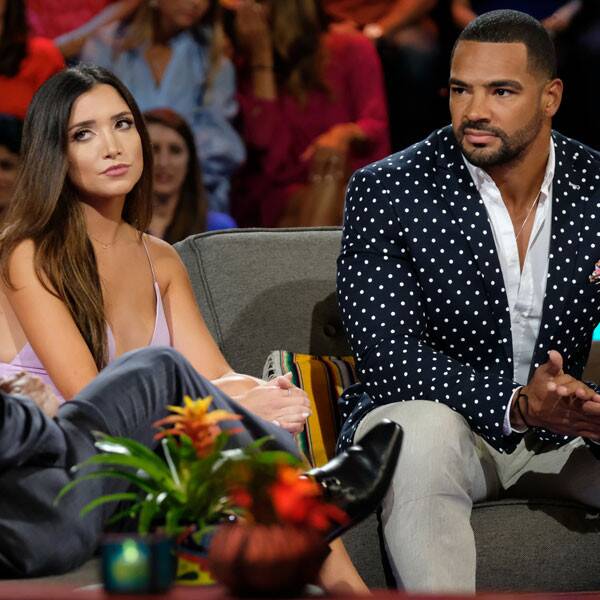 Bachelor in Paradise season six is officially over.
Fans watched couples break up, make up and get engaged during Tuesday night's finale. They also noticed that two very important cast members were missing from the After the Final Rose special: Nicole Lopez-Alvar and Clay Harbor.
Well, it turns out the reality stars were there after all. Both celebs took to Twitter on Tuesday to clear up the confusion.
"Yes I was at the reunion they chose not to show my convo with Nicole," the former football player tweeted. "I basically explained why I didn't think we were far enough along to get engaged and that I really did want to continue to date and wished her luck with her new relationship. #didntmissmuch."
When fellow Bachelor in Paradise alumna Ashley Iaconetti noted "how weird it is" that their "segment was cut out," Harbor continued to tell his side of the story.
"Me: I'll be on vacation planned 6 months ago with college friends," he continued. "Producers: you really need to be there ppl will want to know what happened. Me: Okay I'll cancel vaca and make it. Producers:."
Lopez-Alvar also claimed she attended the show.
"I think they cut my hot seat," she wrote.
Earlier in the episode, fans watched Lopez-Alvar and Harbor end their relationship. While the two were one of Bachelor in Paradise's strongest couples, things took a turn when they headed to the fantasy suite and Harbor opted to spend the night alone—noting he still had "reservations" and needed time to think about their relationship. Ultimately, Harbor said he was starting to fall in love with Lopez-Alvar and asked to continue their relationship outside of the show. However, Lopez-Alvar felt like Harbor led her on and decided to end the relationship.
After the episode aired, the Miami star took to Instagram to reflect on her journey.
"Ladies, we don't have to put up with anything less than wonderful," she wrote in part of her post, which showed her conversation with Chris Harrison. "We are worthy of someone's complete and all-encompassing respect, time, love, honesty, and energy. When a man's actions don't line up with his words, when a man's promises fall flat, and when a man dares to string you along (whether it's for 16 days or for 8 months) knowing very well he does not see a future with you—we are better off on our own than loving a man who doesn't know what he has when he has it. I know it's scary, but sometimes, the bravest thing we can ever do is love ourselves first. If that means to run, then run."
She also claimed she didn't "regret a single moment" of her experience.
Harbor also opened up about his time in Mexico via the social network.
"I took this opportunity very seriously and looking back I could have done things differently," he wrote in part of his caption. "Unfortunately I didn't see myself getting engaged after 16 days of exclusive dating and I wanted to be 100% truthful with my feelings even though I knew there was a chance my truth wouldn't get the outcome I wanted. I wish nothing but the best for Nicole and understand her position as well. Also I have nothing but love for my paradise cast members and will always look back at my time on that beach fondly."
While Harbor and Lopez-Alvarez's journey to find love with one another is over, another journey is just beginning. During the special, Harrison announced that Peter Weber will star on the next season of The Bachelor. Fans can watch him hand out the roses in January 2020.