30 Bonkers Secrets About Baywatch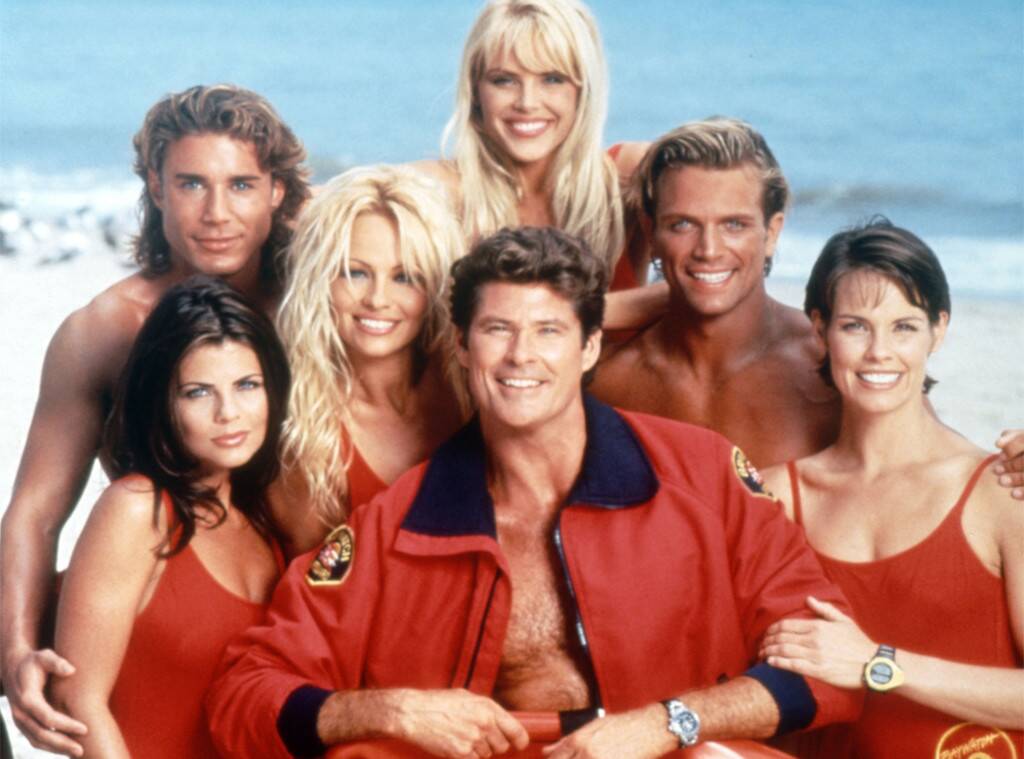 Fremantle Media/Shutterstock
Once upon a time, 30 years today, Baywatch bounced into our consciousness.
From the slow-motion running and idyllic beach scenery to the glistening torsos and iconic red swimsuits, the soapy prime-time drama had everything it took to both entertain the masses and not be taken one bit seriously.
Which isn't to say that the show, which renewed David Hasselhoff's momentum post-Knight Rider and turned Pamela Anderson into a household name, wasn't a certain kind of classic in its own right.
It ran for 11 years, after all, withstanding a mind-boggling number of cast changes, increasingly improbable plots and the fact that NBC canceled it after one season.
Hasselhoff recalled on the E! True Hollywood Story, which did a deep dive into the series in 2001, being "not surprised" to get the ax. "The show was taking a completely wrong direction."
But the creative team behind Baywatch wouldn't take no for an answer—and what they did was rescue their own show from the one-and-done dustbin of TV history.
Here are 30 things you should know about how Baywatch came together, almost fell apart and ultimately stayed afloat for all those years:
Fremantle Media/Shutterstock
1. The title "Baywatch" refers to the rescue boats that have been patrolling Southern California beaches for decades.
2. The original idea for Baywatch came from Greg Bonann, a real-life lifeguard who started doing his part to keep L.A. County beaches safe in 1970, when he was 17. One day he told fellow lifeguard Michael Newman, as Newman remembered it on a 2001 episode of E! True Hollywood Story, "'You know, Mike, would it be a great television show about what we did today?' He goes, 'If that show CHiPs could make it, we could make a show about lifeguarding!'"
3. Bonann pitched the show wherever he could get a meeting for 10 years. While still working part-time as a lifeguard, he joined a sports marketing firm and fatefully ended up directing segments featuring Olympians doing their thing in slow-motion.
Ron Galella, Ltd./Ron Galella Collection via Getty Images
4. Serendipitously, Bonann's sister got engaged to TV writer Doug Schwartz, who with his cousin and production partner Michael Berk had made a dozen TV movies. Bonann brought the guys to watch the annual Lifeguard Games and, as Schwartz recalled to E!, "the show was born in that moment." They shot a bunch of crowd footage on the beach featuring Mike Newman on the job.
5. NBC President Brandon Tartikoff was the executive who finally got it. In 1988 he ordered a TV movie that would serve as a pilot. Bonann, Berk and Schwartz wrote it in three months.
The LIFE Picture Collection via Getty Images, Walt Disney Television via Getty Images Photo Archives/Walt Disney Television via Getty Images
6. Among the actors originally considered for former Navy SEAL turned Lieutenant Lifeguard Mitch Buchannon were Falcon Crest heartthrob Lorenzo Lamas, The Dukes of Hazzard star Tom Wopat, and British actor Adrian Paul, who'd go on to star in the Highlander TV series. Tartikoff is the one who suggested they look at Hasselhoff, who had starred in NBC's Knight Rider for four seasons.
Fremantle Media/Shutterstock
7. Hasselhoff, who had legendarily become a singing sensation in Germany and Austria, said he initially didn't want to do Baywatch, dismissively calling it "Knight Rider in a bathing suit." They eventually won him over.
8. The series' producers intended to make a show about the day-to-day adventures of lifeguards. But NBC wanted a murder mystery, with lifeguards solving crimes that washed up on their beach. Original cast member Parker Stevenson, meanwhile, was picturing a Hill Street Blues-on-the-water type of show. They ended up with a firefighter-cop-doctor-rescue procedural all in one.
Jim Smeal/Ron Galella Collection via Getty Images, Moviestore Collection/Shutterstock, Ron Galella/Ron Galella Collection via Getty Images
9. NBC almost fired Erika Eleniak after finding out she had just posed nude for Playboy. Producers insisted they keep her, having picked her over, among others, Teri Hatcher, Neve Campbell and Alicia Silverstone. Casting director Susan Glicksman told Esquire in 2012, "Sandra Bullock definitely was scheduled to come in," but she passed on the role before actually coming in.
10. Shawn Weatherly was cast as Jill Riley as a last-minute replacement for Pamela Bowen, who—as the crew found out when they went to shoot her first ocean scene—was afraid of the water. After she panicked on set, a doctor ordered her to stay away from the water for two weeks, and she was uninsurable after that.
Fremantle Media/Shutterstock
11. Even in Los Angeles, shooting the pilot movie Baywatch: Panic at Malibu Pier in the dead of January in 49-degree water wasn't working, so they moved the production to Hawaii. That proved much warmer, but there were sharks in the water, so guys with stun guns were called in to guard the lives of the lifeguards.
12. They shot an, ahem, enhanced pilot for European markets that featured actual nudity. "We cast a girl named Hope Marie Carlton who did a topless scene," Berk told Esquire in 2012, "and the show opened with the lifeguards all gathering around with binoculars trying to see a photo shoot on the beach. So there were two nude scenes in that pilot that never saw the light of day."
13. After finding out they'd been picked up for 12 episodes in 1989, Bonann was with fellow producers and writers at Venice Beach scouting locations when a boy ran up and said his brother was drowning. Bonann ran into the water, found the boy, gave him mouth-to-mouth resuscitation and saved him—a rescue for which he was awarded the Lifeguard Medal of Valor from the county.
Fremantle Media/Shutterstock
14. Shawn Weatherly soon tired of the run-first, speak-later (or not at all) plot lines for Jill, so she decided she'd leave after one season. The episode in which Jill is fatally mauled by a shark—the price she paid for being let out of her contract—was a ratings winner.
15. Sadly, the ocean was apparently so full of garbage and other suspect substances, medics would disinfect the actors as soon as they got out of the water, spraying "every orifice you could find," Billy Warlock, who played Eddie Kramer, recalled on the E! True Hollywood Story.
Fremantle Media/Shutterstock
16. Despite being NBC's highest-rated show in the Friday 8 p.m. time slot since Knight Rider, Baywatch didn't meet expectations (critically or commercially), they were canceled after 22 episodes. In a double whammy, the studio behind the production, GTG (owned by former NBC exec and Mary Tyler Moore Show producer Grant Tinker) was shutting down. Warlock insisted to Esquire that ratings had nothing to do with the cancellation; rather, "we just didn't have the money. It was a big show."
17. Berk and Schwartz's uncle, Sherwood Schwartz, the creator of Gilligan's Island and The Brady Bunch, advised his nephews to buy the rights to their show from GTG. Which they did, for $10. "If we weren't successful at the end of that year, they got Baywatch back," Schwartz told the New York Times in 2017. "If we were successful they got $5,000 an episode." They asked Hasselhoff to take a 50 percent pay cut in exchange for an executive producer role. The Hoff's popularity in Germany helped them secure $300,000 an episode from "continental Europe" as part of a first-run syndication deal, Berk told Esquire. And at the height of its popularity, Baywatch reached a weekly audience of 1.1 billion people in 142 countries.
Fremantle Media/Shutterstock
18. As Shauni and Eddie, Eleniak and Warlock were love interests onscreen and off—and it was rumored that their salary demands contributed to their farewells in season three, episode 2, "River of No Return: Part 2." They both insist that they just didn't like the creative direction the show was taking. And while Eddie and Shauni tied the knot and moved to Australia, Billy and Erika ultimately fizzled. Warlock later returned to the fold to star on Baywatch Nights and the 2003 TV movie Baywatch: Hawaiian Wedding (in which, sadly, Eddie is separated), but Eleniak was done. "I was really still interested in pursuing a serious career," she told Esquire. "A theatrical career. That's what I wanted to do."
Fremantle Media/Shutterstock
19. "My swan song was Pamela Anderson's introduction," Eleniak said, "and they couldn't have asked for a better goddess to fulfill what they wanted and needed." Hasselhoff disagreed. "I said, 'I don't want anybody from Playboy. This is a family show,'" he told the New York Times. Actually meeting her changed his mind immediately, and Anderson as C.J. Parker proved the quintessential "Baywatch babe." He also denied ever worrying that her mere physical presence would upstage him, though he certainly wasn't alone in being upstaged.
20. When Anderson's infamous sex tape with then-husband Tommy Lee surfaced in the mid-'90s, some foreign markets and network affiliates demanded the show be canceled. At the same time, Baywatch got its highest ratings ever while the tape remained in the news.
Bob D'Amico/Walt Disney Television via Getty Images, Darlene Hammond/Getty Images, Fremantle Media/Shutterstock
21. Brandon Call, who went on to play J.T. Lambert on Step by Step, played Mitch's son, Hobie, in season one. According to Michael Berk, Leonardo DiCaprio was "ready to be cast" for syndication, but "David wanted a younger son," he told the Times, "so it wouldn't age him." The Hoff disagreed with that recollection, but did say he felt that Leo, who was around 15, was "way, way, way too old" at the time. Leo, naturally, "was brilliant and fabulous," Glicksman told Esquire. "If he had been two years younger," she cracked, "his whole career would have been ruined. He would've been on Baywatch." Ultimately 10-year-old Jeremy Jackson got the part. And it did hurt his career. "I quit just before my eighteenth birthday," Jackson told Esquire. "I was partying so much, I passed on a lot of really big movie offers, and rather than cleaning up my act, I decided to say screw it all and go further into the dark side…It was kind of actually a big blowup on the set where I quit in the middle of a filming day."
Fremantle Media/Shutterstock
22. He wasn't the only cast member who struggled. The show and Yasmine Bleeth, another instant pin-up idol from the series, parted ways in 1997 when, according to multiple people who spoke to Esquire, her drug problem got out of hand. She quickly found a new job, on the detective series Nash Bridges with Don Johnson, and went to rehab—where she met her husband of now 17 years, Paul Cerrito.
But she largely fell off the radar following an arrest for cocaine possession and driving under the influence in September 2001 (she took a plea deal that November and was sentenced to probation), and her most recent screen credit is 2003's Baywatch: Hawaiian Wedding.
"By the end of 1999, I'd stopped looking like myself," Bleeth shared with Glamour in 2003. "I'm a fleshy girl, very curvy and round, but I'd lost my softness. My friends said I looked like an alien, that my eyes were bulging out of my face. I wasn't anorexic-looking, but instead of being a size 6 with a 29-inch waist, I was 110 pounds and a size 0."
Pearson All-American Television
23. Mila Kunis was on the show twice, once in 1994 as a girl who ran for help when her friend was drowning, and again in 1995 as one of several blind students who needed saving from a fire. (And her whole family came with her, Kunis recalled on The Howard Stern Show, hoping for a glimpse of Pam Anderson.)
Fremantle Media/Shutterstock
24. The eventual second Mrs. Mitch Buchannon, Neely Capshaw, was played by three actresses: Heather Campbell, Gena Lee Nolin and Jennifer Campbell. Nolin easily became the most culturally resonant of the three, and was name-checked for posterity in the classic "Love Songs" ad campaign for Coors Light that debuted in 2012: "I love football on TV/shots of Gena Lee/ hanging with my friends/and twins."
Getty Images
25. Each red swimsuit was tailored differently, whether the straps were skinny or wide, the legs cut higher, or some necklines more plunging than others, to accentuate the actress wearing it. "I wanted them to be real and practical and actually work in the surf," Bonann told the New York Times in 2019. TYR, a competitive swimwear company, helped with the original design. Added Berk, "We never tried to be sexy intentionally. It was all about athletes and functionality."
The coverage got skimpier as the years went by, however, and by the time Kelly Packard joined the show, "my swimsuit was so far up my butt, that I started crying," she told E!. She was duly outfitted in another suit that was previously worn by Alexendra Paul. And that wasn't the only time they reused suits originally worn by others. "They give you this red suit and inside…it says 'PAM,'" Traci Bingham told Esquire. "I thought, 'Oh my god, this is amazing—they're actually letting me wear one of her suits."
Fremantle Media/Shutterstock
26. Wearing the suit—or showing off a body that could wear the suit—was part of the audition. Shawn Weatherly recalled in the E! True Hollywood Story unexpectedly being asked to take her clothes off, while Carmen Electra, who went right to her audition from the set of MTV's Singled Out, told the NY Times that she hoped no one noticed her unshaved legs. "I have my suit framed and when people come over to the house, they get really excited," Electra revealed. "It just has this effect on people. It was empowering." While she was shooting Baywatch, however, Electra's mother was ill, her schedule wasn't working out and she didn't feel it was right for her, so she only stayed for one season—but her Lani returned for the 2003 reunion movie, Baywatch: Hawaiian Wedding.
NBC
27. "There was a clause that said you couldn't gain more than 5 pounds over the weight you were cast at," Alexandra Paul, who originally auditioned for C.J. and ended up playing Stephanie Holden—a character created specially for her—for five seasons, told toofab in 2014. "And I read that and was like 'What, why do they have this for the women?,' but the producers said it was for everyone." To Esquire, Paul said, "Do I like that it defines my career? I don't hate it. If I had been on ER, that would have defined my career. Is that better or worse? I don't know. I wish no one thing defined my career, but if it's going to be the number-one show in the world, okay, I'll take it."
28. Nicole Eggert, however, has expressed regret on numerous occasions about joining Baywatch in the first place. The Charles in Charge star only played Summer Quinn for two seasons, but she agreed to do the reunion movie years later, she explained to Esquire, because by then "it was kind of good to be able to go back comfortable in your skin, knowing you look good, knowing you look better." What she and the producers could agree on, though, was that she did not get breast-enhancement surgery because they asked her to.
"I did the breast implants on my own. That was all me," Eggert said on Oprah: Where Are They Now? in 2015. "They never asked me to do that." Still, "a year later, I had them reduced quite significantly."
"We never asked anybody to get a boob job, even though several of them did," Berk told Esquire.
Fremantle Media/Shutterstock
29. Anderson left in 1997 and Baywatch Nights, featuring Hasselhoff's Mitch Buchannon moonlighting as a private detective, was canceled after two seasons. "Baywatch never got that other time slot back—we were losing our channels, our ratings were down, we were losing revenue, and we had to cut budgets," Berk told Esquire. Facing the threat of cancellation, in November 1998 they moved the production to Australia—where they were met by protestors who didn't want a "Baywatch invasion" down under.
Fremantle Media/Shutterstock
30. The last two seasons of the show were shot in Hawaii, hence the switch to Baywatch Hawaii, featuring the lady lifeguards in yellow one pieces—because just as official L.A. County lifeguards really do wear red, they wear yellow in the Aloha State. "I like to mimic the real lifeguard uniform wherever we set the show," Bonann told Yahoo! Style in 2014.
Hasselhoff went along for the first of those two seasons, but after deciding he was done, they re-edited the last episode so that Mitch is presumed dead after an explosion. "Hasselhoff didn't even know it," Berk told Esquire. "It was his own stunt guy that said, 'Guess what? We've been killed off.' It didn't go over well."
Yet Mitch resurfaced alive and well on Baywatch: Hawaiian Wedding. Never presume anything.
Baywatch may have been one of the cheesier shows in modern TV history, but it's also unarguably one of the most successful—and it is going to be the show, as Alexandra Paul said, that almost every person who was on it is going to be most remembered for.
"I loved being active—running in the sand, working out, being in the ocean," Pamela Anderson told Esquire, per Yahoo. "A lot of the people that came on to the show before or after me weren't really comfortable in the ocean, and I grew up on an island, Vancouver Island, and I'd swam in a lot colder ocean than California, so I was like, 'This is easy! This is great! Are you sure you want to pay me for this?' I was Baywatch. I was that girl growing up. I was really, really lucky to get that job, and everything else has just kind of been… not as good."
Added Paul, "People would criticize Baywatch for being a fluffy show, and we never pretended to be doing brain surgery. We were a fluffy show. Everyone else seemed so disappointed and shocked about it—our show did do a lot of good things, especially in places like China or Iran, where people saw women wearing bathing suits and it was OK. To me, in a way, culturally, we did a lot of good. I think people don't give us credit for that."
"For a while it was just Baywatch that was really penetrating the international market, so we had some rock-star status," David Chokachi, who played Cody Madison for four seasons, recalled to Esquire. Traci Bingham (Jordan Tate, two seasons) estimated she definitely made more than $1 million from Baywatch—not in salary but from her connection with the show.
"It was like being on Baywatch was a cash cow," she said.
For his part, despite some well-publicized financial issues down the road, Hasselhoff's Baywatch haul was once estimated at around $100 million.
Yet even The Hoff has admitted that there were some trade-offs involved. Gleefully taking pride in steering Leo DiCaprio down another path in life, he told GQ in 2017, "You make a lot of money and you get worldwide fame…but when it comes to parts, they go, 'Uh, no, not you.'"
He said yes to appearing in the 2017 Baywatch movie with Dwayne Johnson and Zac Efron "because it's Baywatch," Hasselhoff said. "It's part of my legacy. And it would be stupid not to."
(E! and NBC are both members of the NBCUniversal family.)