Taika Waititi to be Honored with the Ebert Director Award at TIFF Tribute Gala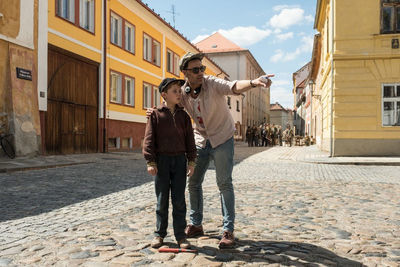 I AM PLEASED TO ANNOUNCE THAT BELOVED FILM DIRECTOR TAIKA WAITITI will receive the Ebert Director Award at the Toronto International Film Festival (TIFF) on Monday, September 9th. I will be joining TIFF's Artistic Director and Co-Head, Cameron Bailey, and festival Co-Head Joana Vicente in bestowing the honor upon Waititi, whose latest film, the anti-hate satire "Jojo Rabbit", is set to premiere at the festival. The film's cast includes Thomasin McKenzie, the remarkable discovery from Debra Granik's "Leave No Trace," Scarlett Johansson, Sam Rockwell, Rebel Wilson, Stephen Merchant and Waititi himself in the role of Hitler.
The gala this year is part of the new TIFF Tribute Gala awards event, combining our accolade renamed the TIFF Ebert Director Award with the TIFF Tribute Actor Award, which will be presented this year to three-time Oscar-winner Meryl Streep. Also scheduled to be honored at the event will be Participant Media's founder and chairman Jeff Skoll and CEO David Linde, the 2019 recipients of the TIFF Impact Award. The inaugural Mary Pickford Award will be given to an emerging female talent in the industry in celebration of United Artists' 100th anniversary. The Gala is an annual fundraiser to support TIFF's year-round programs and core mission to transform the way people see the world through film, and to celebrate the film industry's outstanding contributors. "Taika Waititi is one of the most innovative, bold, and exciting filmmakers working in the industry right now," said Vicente. "TIFF is thrilled to honor his extraordinary talent with the inaugural TIFF Ebert Director Award." According to Bailey, "the TIFF Ebert Director Award is the evolution of the organization's former Roger Ebert Golden Thumb Award. This award celebrates a remarkable filmmaker who reflected renowned film critic Roger Ebert's passion for cinema."
In Roger's three-and-a-half-star review of "Boy," he recognized Waititi's comedic chops as well as his ability to stare with a clear gaze at challenges facing young men growing up in a Maori community. After earning an Oscar nomination for his short film, "Two Cars, One Night," Waititi garnered a devoted fan-base with his witty and endearing films "What We Do in the Shadows and "Hunt for the Wilderpeople," filtering American pop culture through his inventive and distinctively New Zealand-influenced sensibility. He broke through into the American mainstream by directing and co-starring in "Thor: Ragnarok," while also making an appearance in the top-grossing film worldwide, "Avengers: Endgame." He will soon be writing and directing "Thor: Love and Thunder."
Roger has said that "artists are like priests. They share our mortality but are closer to the mysteries." His connection to the Toronto International Film Festival was solid, and I am pleased that the relationship continues. Past recipients of the Ebert Tribute Award have included Claire Denis, Martin Scorsese, Ava DuVernay, Agnès Varda, and Wim Wenders.
"Taika Waititi is the rock star cinema needs right now," said Bailey. "His films are full of razor-sharp humor, faultless style, and boundless generosity. Somehow he manages to stuff both indie hits and massive crowd-pleasers with big, radical ideas. We're thrilled to be premiering his latest, 'Jojo Rabbit,' at the Festival and to hand over the inaugural TIFF Tribute Award for direction to this 21st-century master."
The 44th Toronto International Film Festival runs September 5–15, 2019. For information on purchasing a table for the TIFF Tribute Gala, please contact development@tiff.net.