Wabasca evacuees grateful for support as wildfire rages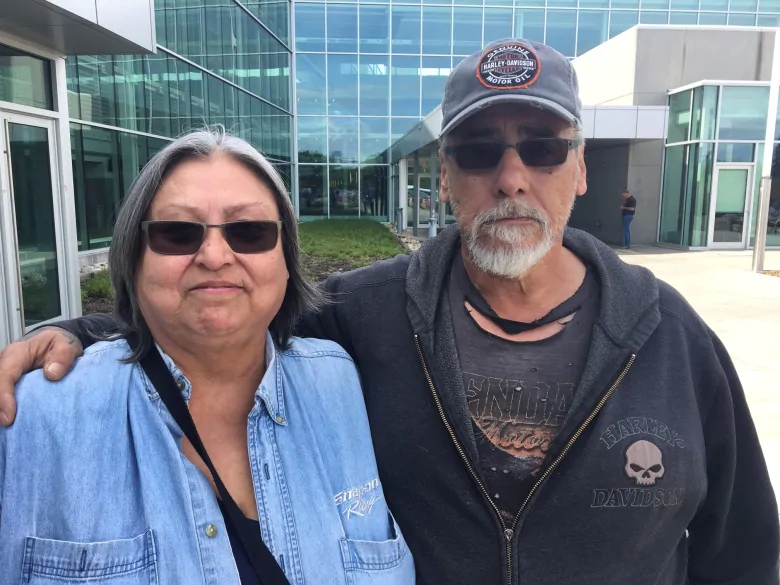 After a week of displacement from their homes, evacuees from Wabasca-Demarais were able to register for evacuation payments on Wednesday.
According to the provincial government there are about 5,750 wildfire evacuees in Alberta, including many from Wabasca-Demarais, which includes the Bigstone Cree Nation, located 344 kilometres north of Edmonton.
On Wednesday a long line-up worked its way inside the Edmonton Expo Centre, as people registered for evacuation payments granted by the Government of Alberta. Some noted it took two or three hours to register in-person.
A mandatory evacuation order remains in place due to the McMillan Wildfire Complex, which is burning southwest of Bigstone Cree Nation, and is more than 246,083 hectares.
Albertans who qualify for evacuation payments will receive $1,250, and $500 for each dependent under 18 years of age.
Vera Auger registered for evacuation support on Wednesday. She's been staying at an Edmonton hotel since she left Wabasca-Desmerais a week ago.
She was prepared for the evacuation, packing clothes, and hitching a ride as it looked like an evacuation order was imminent.
Auger has been tired and exhausted, as she wants to return home, but the financial support relieves some of the stress she was feeling.
"It was important to me because whatever money I had, I had to use my rent money, but with the money that I got now I'll have my rent covered," Auger said.
"There's a lot of people who have no clothes and no money."
Wade and Rose Hartwig also successfully registered for evacuation payments at the Edmonton Expo Centre on Wednesday.
The couple has been staying with Rose's mother at her home in Edmonton. While Wade hasn't been able to earn a pay cheque since they left Webasca-Desmarais.
"He's not working up right now so it will help us and help where we're staying, to help the people there," said Rose Hartwig.
Although the financial support relieves some stress, the couple is anxious to head back home.
"Getting bored here in Edmonton," Wade Hartwig said. "Not much for me to do here. That's about it. Otherwise we're doing alright."
Burke Cardinal, a driver with Bigstone Health Commission, is one of many people who drove shuttles or buses of evacuees to the Edmonton Expo Centre on Wednesday.
He's also selling "Wabasca-Desmerais Strong" stickers to raise money for evacuees, which he says will be spent on groceries for those in immediate need.
"The donations go right away. We've gotta replenish and keep money coming," Cardinal said. "That's the way I'm helping."