Selah and The Spades to Screen at BAMCinemaFest on June 16th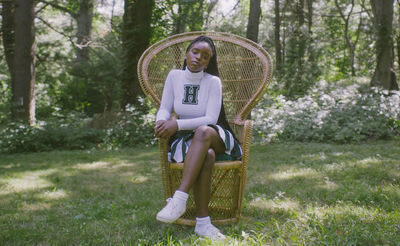 I am thrilled to announce that Tayarisha Poe's debut feature, "Selah and the Spades," will be screening at New York City's BAMCinemaFest this Sunday, June 16th, at 7pm. It is the first narrative feature for which I have served as one of several Executive Producers, and I was so proud to see the acclaim that it received upon premiering at the 2019 Sundance Film Festival. Lauren McBride is a producer, and Ebert Fellow, Jomo Fray, is the cinematographer, and it was so exciting to watch the process as they brought their first feature to completion. IndieWire calls it one of the 8 Gems to see at BAM CinemaFest, and Harper's Bazaar hails it as one of the best films this year built around a female nonconformist.
Lovie Simone is earning raves for her lead role as Selah Summers, a steely and ambitious teenage girl at a prestigious Pennsylvania boarding school, as is the supporting performance of "Moonlight"'s Jharrel Jerome, who is already proving to be a serious awards contender with his riveting work in Ava DuVernay's Netflix miniseries, "When They See Us." "The 'Lord of the Flies'-esque drama captures the struggles of a teenage girl threatened by the loss of a power she once wielded (and was intoxicated by)," writes Indiewire's Tambay Obenson. "It's a biting character study that ultimately brings the trivialities of being human to the fore. Specifically, its unspoken aim is to normalize the mundanity of black life, and newcomer Simone's performance wonderfully embodies all of Selah's complexities."
According to Candice Frederick at Harper's Bazaar, Selah "isn't so much straddling identities as she is flouting the very concept of the binary notions that so often attempt to harnass women. […] Selah isn't exactly sexually promiscuous (she's never had sex), but she's quick to say that she's in full command of her body, refusing to submit to the male-inflicted stereotypes of Madonna and whore. She freely struts around in a pleated cheerleader skirt and fitted crop top, embodying a sense of power and brazen femininity that both captivates and intimidates. Selah is a defiant contradiction of assumptions placed on women, and that's what makes her story—as well as Hala's, Billi's, and Molly's—so provocative. These women are living on their own terms, annihilating expectations, and forming their own resistance in a world that is hell-bent on catering to standards set by men. It's 2019, after all, and this is the mood we need to take into the rest of the year and beyond. Let's go."
Upon its premiere at Sundance, "Selah" was named one of the 20 best films at Sundance by The Hollywood Reporter, with its critic Beandra July writing that it "signals a bright future for a promising young filmmaker." Variety's Amy Nicholson wrote that Poe's "cold and stylish debut commands attention," while Shadow and Act's Aramide A. Tinubu noted that the film is an "earnest celebration of youth and power —something long-reserved for white teens while excluding young people of color." Out's Joi Childs says the film is "a joy to watch," Film Threat's Bradley Gibson raves that Poe has "mastered a Shakespearean approach to drama" and The Moveable Fest's Stephen Saito assures that the film won't be leaving viewer's minds "anytime soon."
So please excuse my pride in encouraging you to attend. Kudos to you Tayarisha and the whole gang!
"Selah and the Spades" screens at 7pm on Sunday, June 16th, at the BAM Rose Cinemas in New York City. For more information and to purchase tickets, click here.