If I Had an Emmy Ballot 2019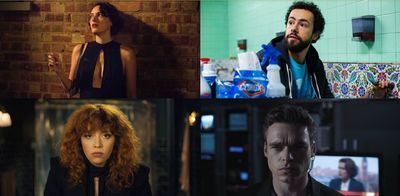 It's that time of year, Emmy voters. You likely still have a ballot in your hands waiting to be filled out as they're not due until Monday, June 24th, and there's just an overwhelming amount of choices to be made this year. You have probably been deluged with FYC ads and events, and it's all becoming a big blur of possibilities. Where do you even begin with a TV season that produced a range of television that includes the final seasons of "Game of Thrones" and "Veep," as well as massively acclaimed limited series like "When They See Us" and "Chernobyl"? It used to be so easy. There were a select few networks to pay attention to. Now they're coming at you from all directions. Let me guide the way.
BEST ACTRESS IN A COMEDY
Let's start with the most crowded category outside of the Limited Series pile-up that is likely driving most voters insane. There's been a wealth of quality in this category for years now, and it typically outpaces its male counterpart in terms of deserving candidates on the outside looking in. It doesn't help this year that a vast majority of previous nominees are eligible again, including Julia Louis-Dreyfus, Rachel Brosnahan, Pamela Adlon, Lily Tomlin, and Allison Janney. And then there are newer faces fighting for a seat at the table like Natasha Lyonne, Phoebe Waller-Bridge, and Alison Brie. Deep down into the list of likely nominees in this category, you're finding performances that would be nominated most years like Catherine O'Hara for "Schitt's Creek" and Aidy Bryant for "Shrill." They both just miss for me.
So who gets in? It pains me to leave Maya Rudolph in the 7th, just-miss spot for her incredible work on "Forever," but I can't find a way to squeeze her in. If I could beg anything of you, it would be to strongly consider America Ferrera's consistently great work on "Superstore," which has slowly developed into one of the best shows on network TV. She holds together a show that often looks like it's about to come apart under the weight of its out-there personalities. Adlon's deeply personal and fearless work on "Better Things" can't be ignored and, let's be honest, Julia Louis-Dreyfus gave a Hall of Fame performance on "Veep." They should both return. Natasha Lyonne found a career-best vehicle in Netflix's "Russian Doll" and Phoebe Waller-Bridge is finally getting some of the national attention she deserves for "Fleabag." Fail to nominate either and you'll hear from Twitter about how out-of-touch you are, Emmy voters. Trust me. That leaves one spot for another career-best turn—Christina Applegate on "Dead to Me." The Netflix hit gave her a chance to show her underrated range in a way she hadn't before, and a nomination should go her way.
Pamela Adlon, "Better Things"
Christina Applegate, "Dead to Me"
America Ferrera, "Superstore"
Julia Louis-Dreyfus, "Veep"
Natasha Lyonne, "Russian Doll"
Phoebe Waller-Bridge, "Fleabag"
BEST ACTOR IN A COMEDY
While the ladies side of the aisle is overcrowded, the male comedy category is actually a little hard to fill. There are two breakout, undeniable performances I would argue should compete for the actual prize: Bill Hader's fascinating work on "Barry" and Ramy Youssef's personal exploration on Hulu's "Ramy." Hader is a lock, but you may not have considered Youssef enough. Don't make that mistake. Sure, you could nominate reliable performers like Michael Douglas and Don Cheadle—and they probably will get in—but if you pick someone like William H. Macy or Jim Parsons or Anthony Anderson just because they're familiar faces over Youssef, you're just not trying hard enough.
After those two and the fantastic Ted Danson for "The Good Place," the picture gets a little hazy. If your heart tells you that "The Kominsky Method" and "Black Monday" are better than I think they are, then Douglas and Cheadle are fine choices. They're always good. Why not take another look at Showtime's "Kidding," a flawed show with a daring performance at its center from Jim Carrey? And have you seen TBS's "The Last O.G."? Tiffany Haddish and Tracy Morgan are doing phenomenal work on a show that's funny and insightful about race and class in the late '10s. Speaking of great work on a show you might not have seen, Hank Azaria has taken what could have been a caricature on "Brockmire" and imbued the title character with remarkable depth. If this category is going to get deeper and more challenging, you need to reward the performances that take risks like Azaria and Carrey over the ones that just adequately fill the role.
Hank Azaria, "Brockmire"
Jim Carrey, "Kidding"
Ted Danson, "The Good Place"
Bill Hader, "Barry"
Tracy Morgan, "The Last O.G."
Ramy Youssef, "Ramy"
BEST SUPPORTING ACTRESS IN A COMEDY
There are some categories in which the projected frontrunners and the people this critic would nominate have almost nothing in common. Luckily, that's not the case here, and I suspect you, dear Emmy voter, will likely nail this category more than most on nomination morning. Part of it is that there are a few undeniable performances here like last year's winner Alex Borstein for her incredible comic timing on the Amazon hit, "The Marvelous Mrs. Maisel." People seem to think that Betty Gilpin is getting in for "GLOW," which makes me happy as her work is the best thing about that almost-great Netflix show. Anna Chlumsky never made a bad choice on "Veep." She's getting in and she should.
After those three, it gets a little dicier. Yes, Marin Hinkle is also very good on "Maisel," but let's spread the wealth. Speaking of that, "SNL" had one of their worst seasons in a very long time. No one loves Kate McKinnon more than I do, but let's give that show a year off to get their shit together. I'd love for D'Arcy Carden to land here for "The Good Place," but she just misses the cut for me. And people seem to think that Oscar winner Olivia Colman is getting a nod for "Fleabag," which would be super cool, except that her co-star Sian Clifford is my personal choice. Pick either, but don't ignore Clifford's nuanced work just because she's not as big a name as Colman.
That leaves two spots. "Barry" is going to be a major nominee on Emmy morning with Hader and Winkler about as locked as two people can be. Don't fail to consider the rest of this excellent cast, especially Sarah Goldberg, who nailed a difficult arc as her character was forced to wrestle with what it means to be honest as an actress and a writer. Finally, show Netflix that they made a mistake by canceling the excellent sitcom "One Day at a Time," and nominate the living-legend on that show, Rita Moreno, one of only 15 EGOT winners of all time.
Alex Borstein, "The Marvelous Mrs. Maisel"
Anna Chlumsky, "Veep"
Sian Clifford, "Fleabag"
Betty Gilpin, "GLOW"
Sarah Goldberg, "Barry"
Rita Moreno, "One Day at a Time"
BEST SUPPORTING ACTOR IN A COMEDY
Most voters will have the same top four in this category, a murderer's row of comedy veterans—Alan Arkin, Tony Hale, Henry Winkler, and Tony Shalhoub. I'm totally behind three of those four—I can't see what others apparently do in "The Kominsky Method," even if Arkin is typically solid. So that leaves three spots.
While you're locking in Hale and Winkler, consider their co-stars. Hale has become something of a representative for a great ensemble, but it almost feels like his annual nomination has made others less likely. How else to explain the fact that Timothy Simons has never been nominated for an Emmy? His goofy-and-a-bit-terrifying work as Jonah Ryan was one of the most consistently funny comedy performances of the '10s. And Henry Winkler was excellent this year on "Barry," but he was nearly matched by Anthony Carrigan and Stephen Root. Invite one of them to the party, too. Or maybe both? If you don't go both, I would give that sixth spot to either Andre Braugher or William Jackson Harper, two wonderfully deadpan, nuanced performances from NBC hits. Braugher's work has become one of the most entertaining comedy turns of the modern era. He really should be nominated every year and probably should have won a pair by now.
Andre Braugher, "Brooklyn Nine-Nine"
Tony Hale, "Veep"
Stephen Root, "Barry"
Tony Shalhoub, "The Marvelous Mrs. Maisel"
Timothy Simons, "Veep"
Henry Winkler, "Barry"
BEST COMEDY SERIES
By now, you probably know the major players here. It was an incredible year for TV comedy—certainly better than drama—and there are going to be some worthy candidates left out. Don't exacerbate the problem by nominating space fillers like "Black-ish" and "The Big Bang Theory" when there are so many inspired choices you can make. Those shows are fine, but there are a dozen or so shows that legitimately could be called great, including just-misses for me like "Better Things," "GLOW," and "The Marvelous Mrs. Maisel." This is one of the strongest list of six series nominees I've ever seen, all shows that I suspect will be in my top 15 overall at the end of the year. Don't miss a single one.
"Barry"
"Fleabag"
"The Good Place"
"Ramy"
"Russian Doll"
"Veep"
BEST ACTRESS IN A DRAMA SERIES
And here's where the toughest question for voters probably starts: How much do we recognize the final season of "Game of Thrones"? Personally, I'm not a big fan of the show, but I recognize its cultural importance and the desire many will have to give it a proper send-off. And the dramatic categories are very thin this year as networks purposefully held back shows like "Handmaid's Tale" to stay out of the way of the dragons. So, why don't we agree that series is inevitable, and throw nominations to Emilia Clarke and Peter Dinklage for the way they helped redefine appointment television in an era when it felt like it was over and leave it at that? Moving on…
There are a few shows with ensembles strong enough that you should consider multiple performers and— SPOILER—they're often the shows that I would recommend for the big overall series category too: "Killing Eve," "Succession," "Homecoming," "Better Call Saul," and "Billions." They are dramas without a weak player. And two of the best performances on television happen to be from the same show and in the same category. Sandra Oh and Jodie Comer should compete to win this category. Don't fail to nominate both of them.
How to fill it out? It's honestly a little thin after Clarke and the "Killing Eve" ladies. Julia Roberts did excellent work on "Homecoming," and she deserves a nod. And Laura Linney was a highlight of a spotty season of "Ozark." That leaves one spot. There are decent choices like Robin Wright, Christine Baranski, and Maggie Gyllenhaal, but it's tough to get too excited about those. Think outside of the box a little and start a wave of nominations for HBO's next great drama with a nod for Sarah Snook of "Succession."
Emilia Clarke, "Game of Thrones"
Jodie Comer, "Killing Eve"
Laura Linney, "Ozark"
Sandra Oh, "Killing Eve"
Julia Roberts, "Homecoming"
Sarah Snook, "Succession"
BEST ACTOR IN A DRAMA SERIES
Again, some slim pickings here with some pundits suggesting that Kit Harrington and Milo Ventimiglia will get Emmy nominations. Let's dig a little deeper. We can start with a trio of likely nominees that should comprise the three people most likely to win: Bob Odenkirk, Jason Bateman, and Richard Madden. They're great choices.
Where do we go from there? Because he gave such a subtle performance in a show with bigger personalities, people seem to be ignoring Stephan James' work on "Homecoming." Don't do that. And I'll keep beating the drum for "Succession" here and Brian Cox's fascinating work on that show. Which leaves us with one spot. For four seasons now, one of the best ensembles on television has gone entirely unrecognized by the Emmys. Let's change that and finally nominate Paul Giamatti for his best year to date and as an apology for ignoring this great cast for so long.
Jason Bateman, "Ozark"
Brian Cox, "Succession"
Paul Giamatti, "Billions"
Stephan James, "Homecoming"
Richard Madden, "Bodyguard"
Bob Odenkirk, "Better Call Saul"
BEST SUPPORTING ACTRESS IN A DRAMA SERIES
Broken record here, but it's just as thin in the supporting categories as the leading ones, although there are some striking performances here that you should consider for the win. For me, there was no better performance by any actor on any show than what Rhea Seehorn did in the fourth season of "Better Call Saul." She was snubbed by the Globes. Don't make the same mistake.
Most people seem to think that the Academy will come around on the talents of Julia Garner and give her a much-deserved nod for "Ozark," and I'm totally on board with that. After those two, the general consensus is that "Game of Thrones" could land as many three nominations for Headey, Williams, and Turner. This may be fighting the inevitable but let me suggest a few alternates instead of giving over 50% of this category to one cast.
The second season of USA's "The Sinner" wasn't as strong as the first, but I'm going to put Carrie Coon on any Emmy ballot for the rest of time for how much y'all ignored her transcendent work on "The Leftovers." Speaking of ignoring, you have missed the best work of Maggie Siff on "Billions," but a nod now would make up for that. Fiona Shaw is riveting on "Killing Eve," and it would be fun to nominate someone from that show other than the leading pair. Finally, there's a stage star who has never really gotten the attention she deserves from those who have never been to Broadway: Audra McDonald, doing nuanced, complex work on CBS All Access's "The Good Fight." If this show was on FX or HBO, she'd be a lock, but not enough people have discovered it or her yet. A nomination would go a long way to changing that.
Carrie Coon, "The Sinner"
Julia Garner, "Ozark"
Audra McDonald, "The Good Fight"
Rhea Seehorn, "Better Call Saul"
Fiona Shaw, "Killing Eve"
Maggie Siff, "Billions"
BEST SUPPORTING ACTOR IN A DRAMA SERIES
Men continue to dominate many of the big drama ensembles. You could fill this category with people from "Game of Thrones," "Better Call Saul," "Succession," and "Homecoming." While this year is weak, let's try and spread it around. There are single nods for "GoT," "Saul," and "Succession" that feel like they would be sort of nominations for the entire extended ensemble. As for "Homecoming," I just can't choose between Bobby Cannavale's wonderfully vicious turn and the almost Columbo-esque charm of Shea Whigham, a longtime character actor too rarely recognized by his peers. Let's do both. Finally, there's a marvelous, scene-stealing performance from Michael Sheen, doing a riff on Roger Stone, just sitting there on CBS All Access, waiting for you to subscribe. Trust me when I tell you that Sheen's inspired lunacy is worth the subscription on its very own.
Jonathan Banks, "Better Call Saul"
Bobby Cannavale, "Homecoming"
Peter Dinklage, "Game of Thrones"
Matthew Macfadyen, "Succession"
Michael Sheen, "The Good Fight"
Shea Whigham, "Homecoming"
BEST DRAMA SERIES
Perusing the previous categories in this feature kind of makes this anti-climactic. There really aren't that many choices this year, which is not to say that I don't love "Better Call Saul," "Killing Eve," "Homecoming," and "Succession." I very much do and would be very happy to see one of those steal the trophy from the presumed winner in "Game of Thrones." For the final spot, I expect voters will go with "Ozark," but the second season was a bit too rocky for me, leaving us with a tough decision between sometimes great but inconsistent shows overall like "Pose," "The Good Fight," "This is Us," and "Billions." Why not go with one of the tightest thrillers in years, a massive hit in the United Kingdom and a Golden Globe winner earlier this year?
"Better Call Saul"
"Bodyguard"
"Game of Thrones"
"Homecoming"
"Killing Eve"
"Succession"
As with most years, I'm doing an overall commentary for the limited series categories instead of breaking them down one-by-one as there's just too much crossover with such a relatively small pool compared to drama and comedy:
These categories have never been more insane as more and more companies are opening their wallets for A-list stars and creators, and giving them unprecedented freedom to do something closer to film than what used to be considered television. Look at what Netflix did with Ava DuVernay and "When They See Us," one of the most ambitious projects in the history of television, and a series I expect to compete strongly to win series, actor, and supporting actor. Consider HBO's "Chernobyl," a series that seemed to start slowly but became a buzzed-about hit more with each subsequent episode. If you don't nominate Jared Harris for what is career-best work, you should be forced to turn in your credentials. And the series needs to be here too. Another series that feels like something that wouldn't have happened even just a few years ago is FX's best, "Fosse/Verdon." I've avoided saying who should win most of these categories but the answer for actress is Michelle Williams. As amazing as Amy Adams and Patricia Arquette were in "Escape From Dannemora" and "Sharp Objects," Williams gave one of the best performances in the history of television. And we're really just getting started! There's "The Act," "True Detective," "A Very English Scandal," "Maniac," and a show I love but worry will get ignored due to genre bias: "The Haunting of Hill House." It's incredibly difficult to choose in all of these categories, but I think the list below is the way to go. As for TV Movie, I've only picked three because, well, there were only three good ones. Sorry to fans of "The Romanoffs" and "My Dinner with Herve."
One final plea: Please watch episode seven of Hulu's "Castle Rock," featuring a tour de force performance from Sissy Spacek. It was a long time ago and isn't getting much of an FYC push. But if you watch it, you will nominate her. I guarantee it.
BEST LIMITED SERIES
"Chernobyl"
"Fosse/Verdon"
"The Haunting of Hill House"
"Sharp Objects"
"A Very English Scandal"
"When They See Us"
BEST TV MOVIE
"Brexit"
"Deadwood: The Movie"
"King Lear"
BEST ACTRESS IN A LIMITED SERIES/MOVIE
Amy Adams, "Sharp Objects"
Patricia Arquette, "Escape at Dannemora"
Paula Malcomson, "Deadwood: The Movie"
Florence Pugh, "The Little Drummer Girl"
Emma Stone, "Maniac"
Michelle Williams, "Fosse/Verdon"
BEST ACTOR IN A LIMITED SERIES/MOVIE
Mahershala Ali, "True Detective"
Hugh Grant, "A Very English Scandal"
Jared Harris, "Chernobyl"
Jharrel Jerome, "When They See Us"
Ian McShane, "Deadwood: The Movie"
Sam Rockwell, "Fosse/Verdon"
BEST SUPPORTING ACTRESS IN A LIMITED SERIES/MOVIE
Patricia Arquette, "The Act"
Patricia Clarkson, "Sharp Objects"
Vera Farmiga, "When They See Us"
Sissy Spacek, "Castle Rock"
Emily Watson, "Chernobyl"
Robin Weigert, "Deadwood: The Movie"
BEST SUPPORTING ACTOR IN A LIMITED SERIES/MOVIE
Paul Dano, "Escape at Dannemora"
Stephen Dorff, "True Detective"
Gerald McRaney, "Deadwood: The Movie"
Stellan Skarsgard, "Chernobyl"
Ben Whishaw, "A Very English Scandal"
Michael K. Williams, "When They See Us"