HBO's Years and Years is Fascinating Vision of the Future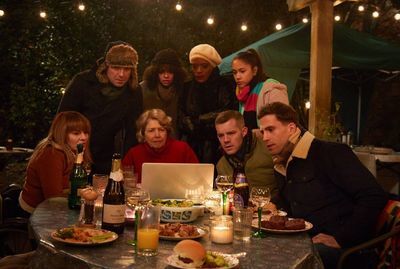 Russell T. Davies takes his gift for sci-fi from "Doctor Who" and "Torchwood" and applies it to a very ambitious take on the family drama with HBO's "Years and Years," a show that first premiered on the BBC and is now airing Monday nights on HBO. "Years and Years" is very reminiscent of programs like "This is Us" or "Parenthood," but Davies makes the daring decision to look forward instead of back. We follow the fascinating and relatable Lyons family over 15 eventful years over only six episodes, and we start in 2019. So Davies gets to play with both micro and macro ideas of what will happen to the world, but he never loses sight of his characters, a incredibly likable array of personalities. And what's most impressive about this series is how deftly Davies uses the big issues of a world in tumult as backdrop for what is a basically a character piece. This is one of the best shows of the summer.
Let's start with what you probably what to know first: Davies not only thinks Trump is winning again but that Pence wins after that. Do with that what you will. There are other little visions of the future sprinkled throughout, many of them built on the issues and fears of 2019. There's a war with China, a nuclear strike, a failed bank in the U.K., a refugee crisis, and much more. And a lot of it is interconnected through Vivienne Rook (Emma Thompson), an independent party candidate who doesn't seem to actually know much about the issues of the day but has an unforgettable personality. She's sort of a Trumpian personality in that she becomes more intriguing to the people as she says the things that politicians never say – like that there should be an I.Q. test before you're allowed to vote – but it's more a vision of the kind of abrasive politicians that are likely to flourish in the next decade in Trump's wake than a commentary on him directly.
Despite the always-welcome presence of Thompson, she's just a background character for the first four episodes, which detail the lives of four Lyons siblings. Rory Kinnear plays Stephen, a financial advisor with a wife and two daughters. His youngest is investigating becoming transhuman—Davies' vision of a future in which young people become more tech than human. She even wants to take it a step further and leave her actual body beyond and be a digital consciousness. (This subplot was my least favorite, one that felt more "Black Mirror" than the best of the show, but even it lands with some emotional resonance in episode three.)
Stephen's younger brother is named Daniel (Russell Tovey), and he's a housing officer handling refugees in the first episode. His main arc involves a relationship with one of the Ukrainians looking for asylum. Tovey is fantastic, giving the show an emotionally resonant undercurrent as he fears the possible deportation of the man he loves. Edith (Jessica Hynes) is their older sister and a political activist, and Rosie (Ruth Madelay) is the youngest of the Lyons, a mother of two who has spina bifida. We meet many significant others as well, such as Stephen's wife Celeste (T'Nia Miller) and the Lyons grandmother Muriel (Anne Reid).
If it sounds like a lot for one six-episode limited series, you're not wrong. Davies moves incredibly quickly, but his pacing choices are fascinating. He speeds through time with montages and news clips reels like you'd see in a sci-fi film like "Children of Men," but then he slows down with more character-driven beats between the Lyons siblings and the people they care about. It's a riveting, breathtakingly ambitious way to show the impact of world events on everyday people.
What Davies accomplishes here is something that feels of a piece with both standard family dramas and sci-fi genre fiction. And he found a cast that completely imbues their characters with a truth that connects this vision of the future to our concerns of the present. Tovey is the standout but Madelay, Kinnear, and Hynes are great too. There's really not a weak performance in a very large cast that's asked to capture a large amount of character depth over the timespan of the show. They all deliver.
For a show to echo both "Black Mirror" and "This is Us" is not something I though I'd ever see but "Years and Years" is one of those daring high-concept shows that actually works. When I was doing research for the show, I laughed at Davies' IMDb entry that opens with "Often described as a genius…" I get it more now.
Four episodes screened for review.