Entangled North Atlantic right whale spotted in Gulf of St. Lawrence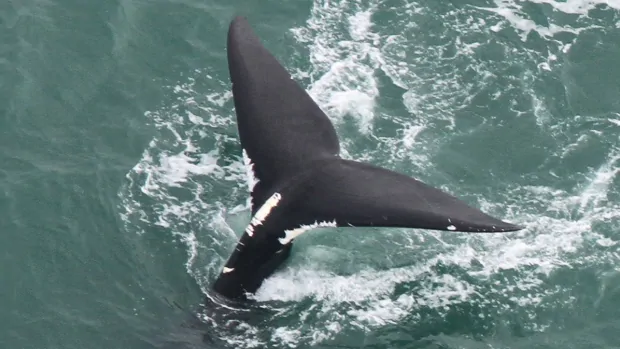 An entangled male North Atlantic right whale has been spotted in the Gulf of St. Lawrence.
The news was reported by the Grand Manan Whale & Seabird Research Station in New Brunswick on its Facebook page. The entangled whale was discovered on Saturday.
It is not known how badly the right whale, known by the number 4400, is entangled.
The post says when the weather improves, it is hoped the whale can be disentangled.
"It is quite the trek for the Campobello Whale Rescue Team. They are hoping to set up another disentanglement team to help with these."
That team recently disentangled a humpback whale off Miscou Island, N.B..
Six North Atlantic right whales have died since early June. There are only about 400 of the whales left in the world.
The entangled whale was born in 2014 to a right whale named Naevus. It is the grandson of Wart, one of the adoptive whales of the research station.
The research station said there is no indication where the gear entangling the whale came from.