Edmonton businesses keen on single-use plastic ban, but wary of execution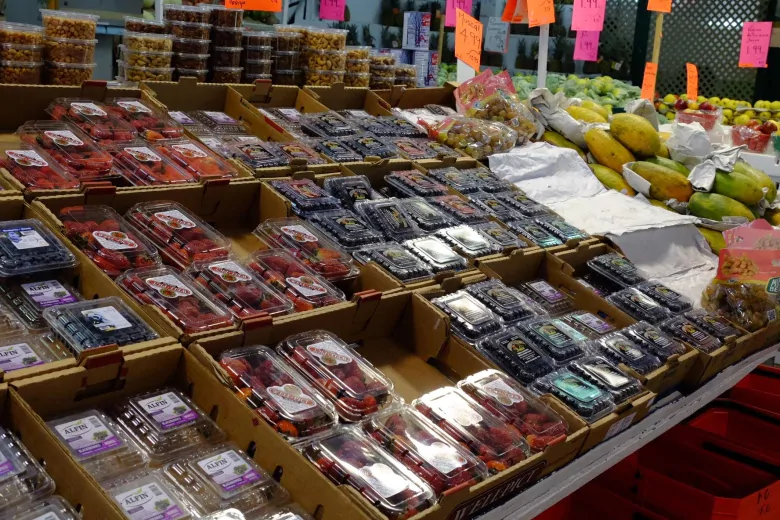 While some Edmonton-area businesses are fully on board with the federal government's plan to ban single-use plastics, others are uncertain of how — and if — it would work.
The Trudeau government announced Monday that it hopes to ban single-use plastics as early as 2021. Government research will help inform a full list of banned items, which could include fast-food containers, plastic grocery bags, disposable cutlery and straws.
Phillip Jacobsen owns Greenmunch in Sherwood Park, which predominantly sells food-related compostable alternatives to plastic disposables.
Jacobsen said a ban on single-use plastics would be hugely beneficial for his business. But some sustainable products require commercial composting facilities that aren't available in some Canadian cities, he said.
"We need a lot of improvements in infrastructure and the compost facilities in cities in order to … properly dispose of these items," Jacobsen told CBC News.
Communities could run into problems if disposable plastic cups are to be replaced with compostable cups, for example.
"If you don't have the facility to process that, then that compostable cup is still going to the landfill," Jacobsen said.
"If there's no plan to build infrastructure in the cities to process this material, then … you're improving things a bit, but it becomes somewhat negligible."
Paid or punished?
Matthew Cummings, who works at Remedy Cafe on Jasper Avenue and 103rd Street, is also uncertain of the logistics of a single-use plastic ban.
"It's a grand idea, but without a strategy, it just seems more like a parliamentarian … powerplay than a real, solid plan," he said, noting the government is likely laying the groundwork for its upcoming re-election campaign.
Remedy Cafe uses plastic lids and straws. Cummings said it's not yet clear what the cafe would have to do to cooperate with a ban.
"Either businesses need to be incentivized to make it happen or it just needs to be a parliamentary fiat — a straight up order," he said.
"Are we going to be paid to do this or are we going to be punished if we don't? Or is it going to be a combination?"
While Cummings is cautious about how a ban would be executed, he said he's optimistic about the intent.
"If there's a real, positive moral force behind this movement and they're interested in cooperating with the business sector to make this work, then I think it would be a good thing for the whole because the environment is important and plastic waste is a real issue," he said.
Two Edmonton businesses are well aware of the woes of plastic waste, and are on board with the ban plan.
Keri Benjamin, owner of Carbon Environmental Boutique, said a ban wouldn't affect her business, which sells alternatives to products like plastic wrap, straws, containers and bags.
There's no positive outcome to single-use plastic.– Keri Benjamin, Carbon Environmental Boutique owner
"There's no positive outcome to single-use plastic," Benjamin said. "It's convenient, and convenience is an excuse. There are always alternatives and that's what we offer. We take that excuse away from people."
Michael Kalmanovitch owns Earth's General Store, which also makes use of alternatives to single-use plastics. The grocery store doesn't provide people with plastic bags or containers.
Last month, customers reused more than 9,000 bags and more than 6,000 containers, Kalmanovitch said.
"So those are 15,000 bags and containers that did not go to recycling or to landfills," he said.
Kalmanovitch is optimistic about the potential effects of a single-use plastic ban.
"We will see a major reduction in littering, consumption of fossil fuels to create these products, as well as waste going into our oceans, rivers and onto our land," he said. "I think that's a … pretty good goal."