Wu-Tang Clan: Of Mics and Men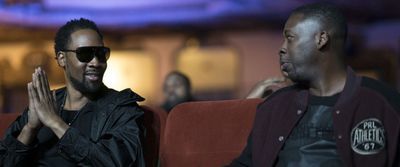 "They are warriors of the imagination, and the power of the imagination is far stronger than guns or money." – Jim Jarmusch on The Wu-Tang Clan
Sacha Jenkins' "Wu-Tang: Of Mics and Men" is one of the best music docu-series in a very long time, a piece of work that doesn't just relay the chronological facts of a band or artist's existence but translates their art to the form of a TV series, and fully conveys their cultural importance. Jenkins understands the impact of the Wu-Tang Clan on generations of music fans and performers, but he also knows that the band demands more than a straightforward telling of their successes and failures. Consequently, "Of Mics and Men" flows like the group itself, jumping around from member to member and even in time, the way the rap collective itself allows different voices to come forward and have their time on the mic. How did a group of friends from Staten Island become such a force? And how does a filmmaker capture that in a way that's more interesting than just listening to a Wu-Tang album or hearing an interview with RZA or Method Man?
The first thing one realizes about "Of Mics and Men" is that it's straight-up joyous. Jenkins plays a ton of Wu music throughout, never letting the piece sink into the dry, informative muck that can sometimes mar talking-head documentaries. He generally lets the members tell their own story—which can get a little complicated in the back half as the group fell apart and, well, some members remember things a little differently than others—accompanying hours of great archival footage. He also assembles an eclectic group of fans to opine on the Wu, including Seth Rogen and Jim Jarmusch, but he primarily lets the guys do the storytelling.
What that means is spending time with RZA, GZA, Method Man, Inspectah Deck, U-God, Ghostface Killah, Raekwon da Chef, and Masta Killa. Even then, Jenkins avoids the typically dry delivery system of simply putting a camera in front of an interview subject, and instead gets them together in an old NY theater, and shows them archival footage of themselves. Some of the best material in "Of Mics and Men" feels like a family reunion, watching old home movies and telling stories about what you remember—they don't always remember things the same way. It emphasizes what really elevated Wu-Tang Clan—the chemistry among the guys, and the shared background and brotherhood from which that chemistry emerged.
"Of Mics and Men" offers new insight and details into the Wu-Tang history for even hardcore fans of the band but works as great entertainment for even those who can't sing along to "Protect Ya Neck." The documentary also deftly takes the time to spotlight individual players but always keeps them within the context of the entire band. We get family background and anecdotes from each of the members, but Jenkins somehow never allows it to become cluttered or clunky as it flows from one to another. The flow feels off only in the final chapter, in which Jenkins lets loose chronologically, jumping back and forth from the early days to the recent one, even devoting some time to the controversial story behind Once Upon a Time in Shaolin, the Wu-Tang "album" that sold to Martin Shkreli for $2 million. RZA defends the way that story brought the Wu brand to a new audience. To put it politely, the other members aren't quite so happy.
Going into "Of Mics and Men," I knew that my appreciation of the music of Wu-Tang Clan would make it enjoyable, but it transcends fandom. It's in the trust that these men clearly have in Jenkins—how he gets them to open up about their past, their image, and where they go from here. The biggest compliment I could pay "Of Mics and Men" is that a big fan is an even bigger fan after watching it. Wu-Tang Forever.