Trump says his FBI director gave 'ridiculous' answer about spying allegations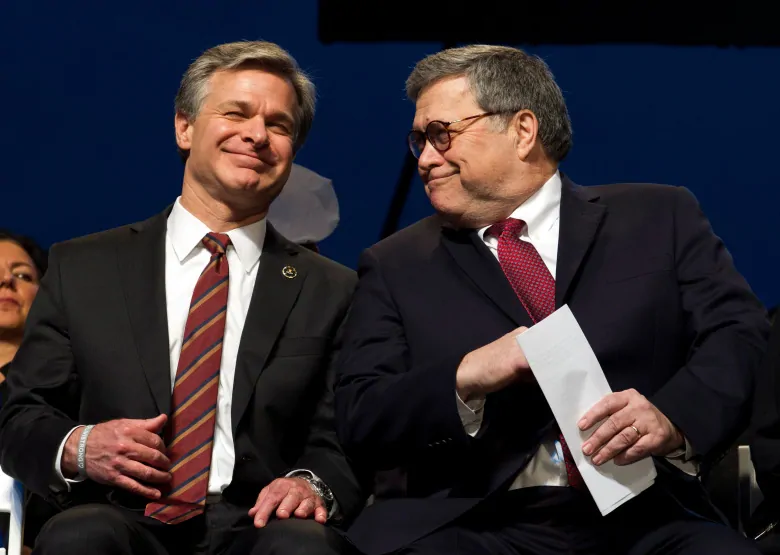 Attorney General William Barr has appointed a U.S. attorney to examine the origins of the Russia investigation and determine if intelligence collection involving the Trump campaign was "lawful and appropriate," a move welcomed by a president increasingly critical of yet another FBI director.
Barr appointed John Durham, the U.S. attorney in Connecticut, to conduct the inquiry, the person said. The person could not discuss the matter publicly and spoke Monday to The Associated Press on condition of anonymity.
With the appointment, Barr is addressing a rallying cry of Trump and his supporters, who have accused the Justice Department and FBI of unlawfully spying on his campaign.
Trump denied ordering Barr to do so on Tuesday while speaking to reporters at the White House.
"No I didn't ask him to do that," said Trump. "I didn't know it, but I think it's a great thing that he did it."
Durham's appointment comes about a month after Barr told members of Congress he believed "spying did occur" on the Trump campaign in 2016. He later said he didn't mean anything pejorative and was gathering a team to look into the origins of the special counsel's investigation.
Barr provided no details about what "spying" may have taken place, but appeared to be alluding to a surveillance warrant the FBI obtained on a former Trump associate, Carter Page, and the FBI's use of an informant while the bureau was investigating former Trump campaign foreign policy adviser George Papadopoulos.
FBI Director Chris Wray said last week he does not consider court-approved FBI surveillance to be "spying" and he has no evidence the FBI illegally monitored Trump's campaign.
Trump, speaking to reporters at the White House on Tuesday, said he "didn't understand" why Wray said that.
"I thought it was a ridiculous answer," the president said.
U.S. Attorney General William Barr, right, speaks with FBI Director Christopher Wray at an event in Washington on Monday. Trump has repeatedly praised Barr's handling of the release of the redacted Mueller report, but has taken aim at Wray this week. (Jose Luis Magana/Associated Press)
It was the latest indication Trump is unhappy with the man he nominated to be director after controversially firing James Comey just four years into Comey's 10-year term in 2017.
Earlier this week, Trump retweeted a far-right conservative commentator who accused the FBI of having "no leadership," with the director "protecting the same gang that tried to overthrow the president in an illegal coup."
Democrats have accused Trump of using the allegations to divert attention from special counsel Robert Mueller's findings that Russia aided Trump's 2016 campaign and that he could not exonerate the president on the question of whether he tried to impede Mueller's investigation.
Inspector general already investigating
Durham's inquiry, which will focus on whether the government's methods to collect intelligence relating to the Trump campaign were lawful and appropriate, is separate from an investigation by the Justice Department's inspector general. The agency's watchdog is also examining the Russia probe's origins and Barr has said he expects the watchdog report to be done in May or June.
Former attorney general Jeff Sessions had appointed another U.S. attorney, John Huber, in March 2018 to review aspects of the Russia investigation following grievances from Republican lawmakers.
The review by Huber, Utah's top federal prosecutor and an Obama administration holdover, is a "full, complete and objective evaluation" of Republican concerns, Sessions said at the time.
John Durham, shown in 2006 outside a court in New Haven, Conn, has been appointed by Barr to examine the origins of the Russia investigation. (Bob Child/Associated Press)
Congressional Republicans have also indicated they intend to examine how the investigation that shadowed Trump's presidency for nearly two years began and whether there are any legal concerns.
Durham is a career prosecutor who was nominated for his post as U.S. attorney in Connecticut by Trump. He has previously investigated law enforcement corruption, the destruction of CIA videotapes and the Boston FBI office's relationship with mobsters.
Mark Meadows, Republican congressman from North Carolina, and Democratic Sen. Patrick Leahy of Vermont had diametrically opposed reactions to the Durham appointment on social media.
John Durham is an outstanding choice for special prosecutor investigating 2016 pre-election activities—his selection further demonstrates Bill Barr's tenacity and determined desire to get to the truth and restore credibility at the top tier of the DOJ and FBI.

—@RepMarkMeadows
This is why I voted against AG Barr: His expansive views of unbridled executive power are being weaponized by a president who derides limits on his authority. Ordering a 3rd meritless investigation at the request of Trump is beneath the office he holds. <a href="https://t.co/ZaRUC3P1zM">https://t.co/ZaRUC3P1zM</a>

&mdash;@SenatorLeahy
While Trump and his most vociferous supporters consider the Mueller report the final word in his exoneration, members of Congress are still eager to pursue what they see as valid lines of inquiry.
The Senate intelligence committee on Tuesday subpoenaed Donald Trump Jr. after he backed out of two scheduled interviews as part of the panel's Russia investigation, the chairman of the committee told his Republican colleagues last week as he tried to stem criticism from the move.
Trump Jr. subpoenaed
The committee had been in negotiations with Trump Jr. since December, and had scheduled the interviews for March and April, according to one of the people familiar with his remarks.
Trump Jr.'s stance about the interviews changed after special counsel Mueller's probe on Russian election interference investigation ended without any charges against the president's eldest son, according to a person familiar with his beliefs but not authorized to speak publicly about private conversations.
The president on Tuesday said he believed his son was being treated poorly.
"It's really a tough situation because my son spent, I guess, over 20 hours testifying about something that Mueller said was 100 per cent OK, and now they want him to testify again," Trump told reporters. "I don't know why. I have no idea why. But it seems very unfair to me."
Donald Trump Jr. previously appeared before a Senate committee, but some members want to bring him back in light of information contained in the redacted Mueller report. (Matt York/Associated Press)
Senators on the committee want to go over answers Trump Jr. gave the panel's staff in a 2017 interview and ask further questions. It's the first known subpoena of a member of the president's immediate family, and news of the move prompted strong words from the Republican chair Richard Burr's colleagues within his party.
Sen. Thom Tillis, a Republican from North Carolina, tweeted, "It's time to move on & start focusing on issues that matter to Americans." Texas Sen. John Cornyn, a Republican member of the panel, said he understood Trump Jr.'s frustration. Cornyn's Texas colleague, Republican Sen. Ted Cruz, said there was "no need" for the subpoena.
The subpoena highlights a delicate bind facing Burr, a third-term senator who is not expected to run for re-election in 2022. He has been adamant that the panel's Russia probe be bipartisan and fair and has worked closely with the panel's top Democrat, Virginia Sen. Mark Warner.
Burr's committee had renewed interest in talking to Trump Jr. after Trump's former lawyer, Michael Cohen, told a House committee in February that he had briefed Trump Jr. approximately 10 times about a plan to build a Trump Tower in Moscow before the presidential election. Trump Jr. told the Senate judiciary committee in a separate interview in 2017 he was only "peripherally aware" of the proposal.