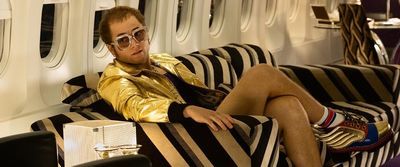 "Rocketman," about the life and music of Elton John, is a formulaic, paint-by-numbers biopic. It actually begins at a moment of crucial emotion and flux in the singer's life, then backtracks to show us how he ended up there – a narrative device that already was a cliché when the brilliant "Walk Hard: The Dewey Cox Story" parodied it back in 2007.
It is a tried-and-true jukebox musical fantasia, seemingly prepackaged for the Broadway stage, packed with toe-tapping sing-alongs you've known and loved for decades. Songs spring from significant moments in John's life, or so we're led to believe. And of course, there are plenty of montages: the obligatory depiction of John's hits rising up the charts and racking up gold records; the concerts, headlines and adoring fans; the shopping sprees to spend his insane riches; the trying-on of various ornate hats, glasses and spangled get-ups; and all the sex and drugs that go along with the rock 'n' roll.
It's all very safe in terms of its structure and the ultimately uplifting story it's trying to tell – ironically so, given that it's presenting the life of a man who took risks with his larger-than-life, wildly flamboyant stage persona. But Elton John himself is very much alive and a part of the production, serving as an executive producer on the film and an adviser to Taron Egerton, the young actor who plays him with great gusto. (The two even gave a duet performance together after the rapturous "Rocketman" premiere at the Cannes Film Festival earlier this month.) This is not exactly a warts-and-all portrayal; even moments of John's selfish and self-destructive behavior eventually are fodder for a greater redemption tale.
And yet … and yet. Egerton gives a performance with such thrills and vulnerability, such charisma and pathos, that it's hard not to be wowed. Previously best known for his starring role in the action-comedy "Kingsman" movies, Egerton truly gives it his all – you can see the effort on display here in what was clearly a physically and emotionally arduous role. That includes doing all his own singing, which adds an element of accessibility that, say, "Bohemian Rhapsody" lacks (and we'll get to all the inevitable comparisons in a moment). He doesn't look or sound exactly like John, and that's probably preferable to doing a straight-up impression. He gets the vibe right and he has a genuine, appealing screen presence. It is almost enough in itself – but it's also enough to make you wish the film surrounding him were as brash and gutsy.
And at times, it is. Director Dexter Fletcher and writer Lee Hall frequently arrange and stage the musical numbers in such inventive ways, they achieve a new level of meaning in the lyrics and almost make you feel as if you're hearing them for the first time. And that's tough, given that John's songs have been standards on the radio, in movies and in tourist-trap, sing-along piano bars since the 1970s. This is especially true of "Rocket Man," which flows so beautifully and covers such substantial ground, it's like a mini-movie unto itself. The quiet and intimacy of seeing John find his way through "Your Song" at a piano in the living room is also surprisingly effective. And in an especially inspired move, John's longtime collaborator and close friend, songwriter Bernie Taupin (a lovely Jamie Bell), performs "Goodbye Yellow Brick Road" at a breaking point between the two men. Again, these sporadic glimmers of greatness are welcome, but they also make you wish that the filmmakers had applied such daring throughout.
When we first see John, he's storming into an AA meeting in full regalia, a whirlwind of feathers and crystals, fresh from the stage. He does not want to be there. But while he has your attention, he may as well tell you a little story. Cut to John's youth (when he was still Reginald Dwight), a piano prodigy with a judgmental, emotionally withholding father (Steven Mackintosh) and a distant, promiscuous mother (a distractingly miscast Bryce Dallas Howard). "Rocketman" suggests that John's creative life – nay, his entire eye-catching persona – has been an elaborate attempt to gain his parents' love and approval, and that his substance abuse has been a method of numbing the pain of their rejection. That may be true, but it also seems rather simplistic.
"Rocketman" hits all the key notes: his connection with Taupin in the late 1960s and the early seeds of their enduring collaboration; the development of his stage name and trademark style; and his star-making performance at the Troubadour in Los Angeles. Tate Donovan is such a hoot as legendary nightclub owner Doug Weston, he makes you want to see an entire movie about him and all the acts that made their names there in the '60s and '70s. L.A. is also where John hooks up with manager John Reid (a menacingly sexy Richard Madden) and truly launches into a life of debauchery. (Did John really come up with "Tiny Dancer" while surveying the late-night party scene at Mama Cass' house? Probably not, but it's evocative of a specific place and time.)
Which brings us back to "Bohemian Rhapsody," while we're on the subject of rock-star wretched excess. It is impossible not to think of Freddie Mercury – and of Rami Malek's Oscar-winning portrayal of him – while watching "Rocketman." Both were flashy, gay, British musical icons, producing insanely catchy tunes around the same era. Both reinvented themselves to escape the truth of their mundane upbringings. "Bohemian Rhapsody" only came out last fall and it was a massive hit, so it's still fresh in our minds. And Fletcher also happened to direct both films, having stepped in to finish the Queen biopic after Bryan Singer's firing. "Rocketman" is superior in a lot of ways, but both films adhere to such a predictable narrative that they're similarly frustrating.
"Rocketman" has the benefit of an R-rating, which allows it to be sexier, raunchier and more profane. It's more open about John's sexuality, which gives it a degree of authenticity. But both films make the mistake of spelling things out and wrapping things up in cringey, on-the-nose ways. There's a moment that I could see coming during one of the AA meeting scenes that I almost had to watch through splayed fingers, it was so painfully obvious. But you may be too busy singing "Crocodile Rock" – or "Saturday Night's Alright For Fighting," or "I'm Still Standing" – to care as you leave the theater.