Edmonton AM takes to the streets with Mark on the move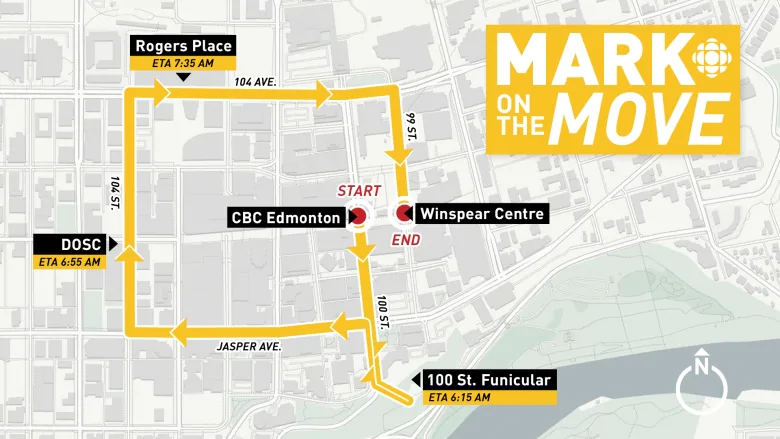 For an entire show, Edmonton AM is going for a walk.
No, seriously.
Tune in to hear Mark Connolly and Tara McCarthy as they wander through Edmonton's downtown on Wednesday, May 15.
The entire morning show will be broadcast live from the streets of Edmonton.
From 5:30 a.m. to 8:30 a.m., listen in as the crew explores some of the city's coolest destinations and the people who know downtown's best-kept secrets.
Edmonton AM is taking the show on the road…literally! Here is a map of the route for our walking show on Wednesday, May 15. (CBC)

Follow along live on CBC Radio (93.9 FM) or on yourCBC Radio app
6:10 a.m. – The show kicks off at the Hotel MacDonald and a quick ride on the river valley funicular
6:30 a.m. – The walk begins! The Edmonton AM team will walk along Jasper, heading toward 104th Street
7 a.m. – The crew will take a coffee break at DOSC
7:35 a.m. – The tour will pause for a pit stop at Rogers Place
8:30 a.m. – The walk ends with a visit to the Winspear Centre
Turn your radio dial to 93.9 FM or 740 AM or download the CBC Radio App to listen on your mobile device.