Protesters occupying TransCanada facility in support of B.C. anti-pipeline camps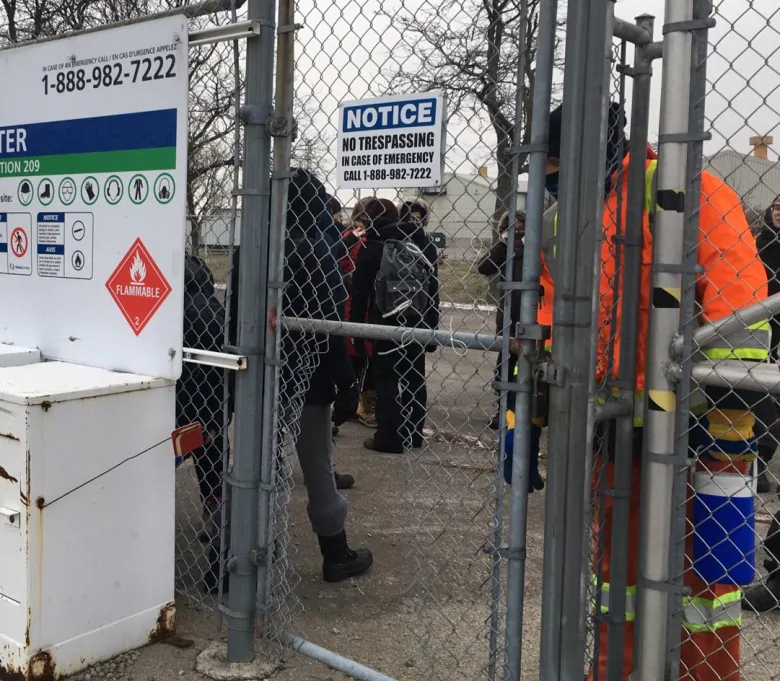 A group of protesters says it is occupying a TransCanada pipeline facility in Hamilton in a show of solidarity with Wet'suwet'en anti-pipeline camps in British Columbia.
The group says it is showing support after 14 people were arrested at a checkpoint outside Smithers B.C. last week, where people opposed to a pipeline project had been restricting access to their traditional territory.
"The Wet'suwet'en have been occupying and protecting their unceded ancestral territory since time immemorial — before colonial law. The RCMP, nor any court or court order, have no jurisdiction there," said Dev Ridge in a statement from the protestors.
Hamilton police say they are investigating, and have dispatched officers to the site at 1020 Rymal Road East on the Mountain.
Const. Lorraine Edwards told CBC News that officers are also trying to reach the company to see what is happening on its end. TransCanada did not immediately respond to a request for comment.
Edwards said, as she understands, the site is "not really a workable site."
"There's not really workers there," she said.
Photos from the site show a section of fence that has been cut to allow entry. (Submitted)
On Thursday, Wet'suwet'en hereditary chiefs, who have opposed the project, reached an agreement over the enforcement of an interim court injunction to allow pipeline workers into the nation's traditional territory.
TransCanada has said it signed agreements with all First Nations along the proposed pipeline route to LNG Canada's $40-billion liquefied natural gas project on the coast.
But the hereditary leaders say those agreements don't apply to the traditional territories.
Protester Trish Mills, who has been involved with similar actions in Hamilton, said in a statement that "compliance under duress is not consent.
"This isn't the first time state-sanctioned violence has been used against indigenous peoples on behalf of private corporations," she said. "We all need to mobilize and ensure it's the last."
This is the latest in a string of protests on the issue that have happened in the region, and across the country, in recent days.
Protesters in downtown Hamilton blocked traffic Tuesday and marched in support of people from the northern B.C. First Nation.
Then on Friday, people in Brantford staged a similar show of solidarity by blocking off two main roads in the community.