Police seek to ID man with 'mullet' in connection with Edmonton arson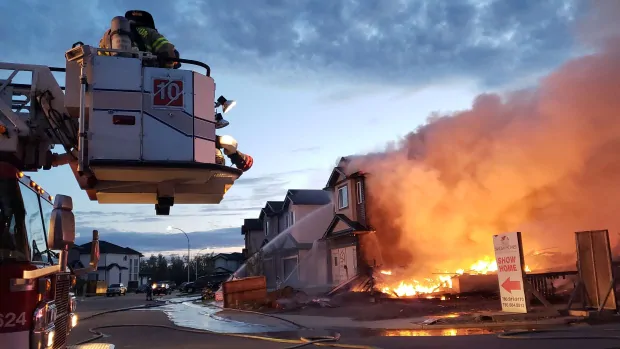 Edmonton police are looking to identify a man with a mullet who they consider a suspect in a fire that destroyed two homes in northeast Edmonton six months ago.
The man, described by police as a white male with a slim build and a "mullet style haircut," was captured on security footage near the scene of two suspicious fires in the McConachie neighbourhood on June 3rd.
Investigators are investigating the fires as arson and believe the man may be responsible, police said in a news release on Thursday.
A show home and a house under construction in the area of 172nd Avenue and 62nd Street were fully engulfed in flames that morning.
It took 28 firefighters more than an hour-and-a-half to douse the flames.
A third home, which was occupied, was threatened by the fire but firefighters were able to stop the flames from spreading.
Neither of the damaged homes was occupied at the time and no one was injured.
On the surveillance footage, the suspect was seen checking vehicle door handles before ultimately breaking into a vehicle, police said.
He was wearing a long sleeved shirt, baggy jeans and a small backpack with rope shoulder straps.
Police are asking anyone with information on the man's identity to contact Edmonton police or Crime Stoppers.