Happy New Year from All of Us at RogerEbert.com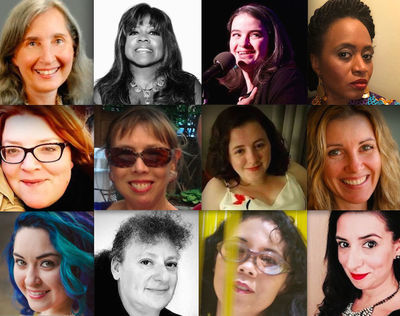 I am so grateful to all of the editors, our regular contributors and all our other writers at RogerEbert.com, and I am happy to present their smiling faces during this Holiday Season. Please look them up individually when you want news and film reviews and you won't be disappointed (click on each name, and you will be directed to their articles). Although I am grateful to ALL who have contributed to our website in 2018, the photos below consist of only those writers who have contributed five or more articles, essays, obituary or other commentaries, videos or broadcasts during the year. Thank you for visiting our website throughout the year. We all hope you have had a Merry Christmas! Happy Kwanzaa! Happy Hanukkah! and we wish you Peace and Joy in the New Year! HAPPY NEW YEAR!—Chaz Ebert
OUR EDITORS
BRIAN TALLERICO, managing editor
Brian Tallerico has covered television, film, video games, Blu-ray/DVD, interviews, and entertainment news for almost two decades online, on radio, and in print.
Tallerico is the Editor of RogerEbert.com. In addition, he is the Editor of Magill's Cinema Annual, a regular guest on radio stations throughout the Midwest, a TV writer for Vulture.com, a contributor at Rolling Stone, and freelancer for multiple outlets. He also serves as President of the Chicago Film Critics Association and co-produces the Chicago Critics Film Festival every May.
You can follow him on Twitter @Brian_Tallerico. Read his answers to our Movie Love Questionnaire here.
MATT ZOLLER SEITZ, editor at large
Matt Zoller Seitz is the Editor at Large of RogerEbert.com. He is also the TV critic for New York Magazine and Vulture.com, and a finalist for the Pulitzer Prize in criticism. His writing on film and television has appeared in The New York Times, Salon.com, The New Republic and Sight and Sound. Seitz is the founder and original editor of the influential film blog The House Next Door, now a part of Slant Magazine, and the co-founder and original editor of Press Play, an IndieWire blog of film and TV criticism and video essays.
A Brooklyn-based writer and filmmaker, Seitz has written, narrated, edited or produced over a hundred hours' worth of video essays about cinema history and style for The Museum of the Moving Image, Salon.com and Vulture, among other outlets. His five-part 2009 video essay Wes Anderson: The Substance of Style was spun off into the hardcover book The Wes Anderson Collection. This book and its follow-up, The Wes Anderson Collection: Grand Budapest Hotel were New York Times bestsellers.
Other Seitz books include Mad Men Carousel: The Complete Critical Companion, The Oliver Stone Experience, and TV (The Book). He is currently working on a novel, a children's film, and a book about the history of horror, co-authored with RogerEbert.com contributor Simon Abrams.
MATT FAGERHOLM, assistant editor
Matt Fagerholm is an Assistant Editor at RogerEbert.com and is a member of the Chicago Film Critics Association. He spent four years writing film reviews and interviews for HollywoodChicago.com and has contributed to a variety of publications including Time Out Chicago, The A.V. Club and Magill's Cinema Annual. His writing/editing experience includes serving as Assistant A&E Editor at the Columbia Chronicle and a full-time writer at the Woodstock Independent. He is a monthly guest on Vocalo radio's The Morning AMp program, and is also the founder of Indie Outlook, a blog and podcast featuring exclusive interviews with some of the most exciting voices in modern independent filmmaking. Follow him on Twitter at @IndieOutlook and @mattfagerholm.
NICK ALLEN, assistant editor
Nick Allen is an Assistant Editor at RogerEbert.com. He has been writing about film online since 2007, contributing to various publications including TheFilmStage.com, MovieMezzanine.com, HollywoodChicago.com, TheScorecardReview.com, and RogerEbert.com. His film reviews can also be found in your local library's recent copy of Magill's Cinema Annual. He has been a member of the Chicago Film Critics Association since 2010, and is a programmer for the Chicago International Movies & Music Festival. You can follow him on Twitter @nickallen_redux
NELL MINOW, assistant editor
Nell Minow reviews movies and DVDs each week as The Movie Mom online and on radio stations across the US. She is the author of The Movie Mom's Guide to Family Movies and 101 Must-See Movie Moments.
Her articles have appeared in the Chicago Tribune, the Chicago Sun-Times, the Kansas City Star, USA Today, Family Fun, Daughters, Parents, and three editions of The Practical Guide to Practically Everything. She has been profiled in the New York Times, the Economist, Forbes, the Chicago Tribune, Working Woman, CFO Magazine, the Ladies Home Journal, Washingtonian Magazine, and the Chicago Sun Times, and has appeared as The Movie Mom on CBS This Morning, Fox Morning News, NPR, and CNN. She is the founder of Miniver Press, a publishing company specializing in non-fiction ebooks and print books about the arts, music, sports, history, and culture. She is a graduate of Sarah Lawrence College and the University of Chicago Law School and her wonderful husband allows her to have a "10 best movie" list with 20 movies on it.
OUR REGULAR FILM REVIEWERS
Simon Abrams is a native New Yorker and freelance film critic whose work has been featured Esquire, the Village Voice and elsewhere.
Simon started his career as an arts critic writing comics reviews for the Comics Journal. He conducted the cover interview with writer Robert Kirkman in issue #289. After writing film reviews for the New York Press and Slant Magazine, Simon wrote film reviews for the Village Voice, an outlet that he now regularly contributes feature interviews and capsule reviews to. This past November, Simon wrote the cover interview with the Wachowski siblings.
Simon has also spoken at a number of panel discussions in New York. This past December, Simon helped to organize and participated in a panel discussion at 92YTribeca on Jean-Luc Godard's King Lear, and in January, Simon spoke at the Museum of Modern Art during a panel discussion on Pier Paolo Pasolini's Trilogy of Life. Simon's currently writing a book on the exploitation of blood and gore on film.
Monica Castillo is a freelance writer and University of Southern California Annenberg graduate film critic fellow. Although she originally went to Boston University for biochemistry and molecular biology before landing in the sociology department, she went on to review films for The Boston Phoenix, WBUR, Dig Boston, The Boston Globe, and co-hosted the podcast "Cinema Fix." After a stint as an Entertainment Reporter for International Business Times, she's back to freelancing for RogerEbert.com, NPR, Village Voice, Tribeca Film, Paste Magazine, Remezcla, among others. She is a member of the National Association of Hispanic Journalists, Women Film Critics Circle, and served as a co-chair of the Boston Online Film Critics Association. Monica has traveled to a few film festivals, met a couple of living legends, and has some great stories about hitchhiking to red carpet premieres. She can usually be found online talking about the film she just watched.
Odie "Odienator" Henderson has spent almost 30 years working in Information Technology. He runs the blogs Big Media Vandalism and Tales of Odienary Madness. Read his answers to our Movie Love Questionnaire here.
A lover of film noir, musicals, Blaxploitation, bad art and good trash, Odie has been a Far Flung Correspondent since 2011. He has written for Slant Magazine's The House Next Door blog since 2006. He is the troublemaker responsible for the annual Black History Mumf series at Big Media Vandalism. His work has also appeared at MovieMezzanine, Movies Without Pity, Salon, and of course, here at RogerEbert.com.
In 2013, Odie entered the world of film festival programming, presenting 9 movies at the Off Plus Camera Film Festival in Krakow, Poland.
Based in the NYC area, Odie enjoys writing code almost as much as he enjoys writing prose. Something is wrong with that guy.
Glenn Kenny is the editor of A Galaxy Not So Far Away: Writers and Artists On 25 Years of 'Star Wars' (Holt, 2002) and the author of Robert De Niro: Anatomy of An Actor (Phaidon/Cahiers du Cinema, 2014). His writings on the arts have appeared in a wide variety of publications, which include the New York Times, the Los Angeles Times, Rolling Stone, the Village Voice, Entertainment Weekly, Humanities, and others. From the mid-1990s to the magazine's 2007 folding, he was a senior editor and the chief film critic for Premiere. There he commissioned and edited pieces by David Foster Wallace, Tony Kushner, Martin Amis, William Prochnau, and other well-regarded writers. He also wrote early features on such soon-to-be-prominent motion picture figures as Paul Thomas Anderson and Billy Bob Thornton. He currently contributes film reviews and essays to RogerEbert.com and to Vanity Fair Online, Decider, the Criterion Collection website, and other outlets. He has made numerous television and radio appearances and appears as an actor in Steven Soderbergh's 2009 film The Girlfriend Experience, and Preston Miller's 2010 God's Land. He was born in Fort Lee, New Jersey and has been a resident of Brooklyn since 1990; he lives in that borough with his wife.
Tomris Laffly is a freelance film writer and film critic based in New York. She regularly contributes to Time Out New York, Film Journal International, Film School Rejects and RogerEbert.com, and her byline has appeared in Indiewire, Variety and Vulture, among other outlets. She has a special interest in the awards season and women in film, covers various film festivals throughout the year including New York Film Festival, Sundance and Telluride and tweets from @TomiLaffly.
Christy Lemire is a co-host of the YouTube film review show "What the Flick?!" She also co-hosted the public television series "Ebert Presents At the Movies" opposite Ignatiy Vishnevetsky, with Roger Ebert serving as managing editor. Until recently, Christy reviewed films for The Associated Press for over 14 years, and in 2004 was named the first full-time movie critic in the worldwide news organization's history. A third-generation Los Angeles native, she is a member of the LA Film Critics Association and the Broadcast Film Critics Association. You can find Christy's writing at ChristyLemire.com. She's also on Twitter @christylemire and on Facebook at https://www.facebook.com/christy.lemire2. Read her answers to our Movie Love Questionnaire here.
Sheila O'Malley received a BFA in Theatre from the University of Rhode Island and a Master's in Acting from the Actors Studio MFA Program. Along with Rogerebert.com, her work has also appeared in Film Comment, The Dissolve, Masters of Cinema, Movie Mezzanine, Flavorwire, Capital New York, Fandor, Press Play, and Bright Wall/Dark Room.
She has contributed video and print essays for various releases from The Criterion Collection. O'Malley wrote the narration (read by Angelina Jolie) for the Governors Awards Lifetime Achievement tribute reel to legendary actress Gena Rowlands. O'Malley also wrote the narration for the Governors Awards tribute to editor Anne Coates', played at the 2016 Governors Awards. O'Malley writes about actors, movies, and Elvis Presley at her personal site, The Sheila Variations. A short film she wrote, "July and Half of August," premiered at the 2016 Albuquerque Film and Music Experience.
Read her answers to our Movie Love Questionnaire here.
FAR FLUNG CORRESPONDENTS
Seongyong Cho was born in Jeon-ju, South Korea. He did graduate work at the Korean Advanced Institute of Science and Technology (KAIST) in Dae-jeon. His passion for good movies continues its primitive rampage, which includes weekly pilgrimages to the local multiplex. He started his blog in 2008 and writes nuumerous reviews. In the midst of that, he manages to find time for books, music, exercise (usually treadmill and swimming), and corresponding with other bloggers.
Jana Monji, made in San Diego, California, lost in Japan several times, has written about theater and movies for the LA Weekly, LA Times, and currently, Examiner.com and the Pasadena Weekly.
Currently living in LA, she has found her inner Latina dancing Argentine tango. Her short fiction has been published in the Asian American Literary Review.
Omer M. Mozaffar teaches at Loyola University Chicago, where he is the Muslim Chaplain, teaching courses in Theology and Literature. He has given thousands of talks on Islam since 9/11. He is also a Hollywood Technical Consultant for productions on matters related to Islam, Arabs, South Asians. In 2009, Roger Ebert named him as one of his "Far Flung Correspondents." In 2011, the Graham School of the University of Chicago honored him with an "Excellence in Teaching Award" in Humanities, Arts and Sciences. He is a lifelong Chicagoan, involving himself in various educational, social service and charitable projects.
A well-rounded individual whose interests include movies, cinema and film, Chicagoan Lisa Nesselson contributed to Variety from Paris from 1990 through 2007 and now writes for Screen International. From 1986-2001 she wrote the irreverent monthly film pages of the Paris Free Voice. A contributor to the BBC World Service and a former Radio France International anchor, her book-length translations from French to English include biographies of Clint Eastwood, Simone de Beauvoir and Cinematheque Francaise founder Henri Langlois.
In a shameless ploy to pad her resume, Nesselson performed the role of Lucy in You're A Good Man, Charlie Brown for a 6-month run in English at the Galerie 55 in Paris and, from 1983-1987, completed the annual New York Road Runners Club invitational Run-Up the Empire State Building. Having served on over two dozen film festival juries, Nesselson concludes that awards are either incredibly important or completely irrelevant. Read her official SBS blog here.
Gerardo Valero was born in 1962 in Mexico City, where he currently resides with his wife Monica. He has a degree in Architecture and an MBA from the IPADE Business School in Mexico. His interest in movies started at a very young age as his father used to take him and his brothers to double or even triple features at their neighborhood theater. He mostly remembers seeing Tarzan movies and Disney classics, though mostly they watched a lot of forgettable war and cowboy movies. He remembers "The Poseidon Adventure" being talked about by everyone at his school, and by the time he saw "Jaws" at age thirteen, it became his favorite all-time film and somehow still remains so, even after watching it more times than he can recall.
Valero first learned of Siskel & Ebert in the mid-eighties during one of many summers he spent with friends in Columbus, Ohio. By 1988 it appeared on a cable station in Mexico and soon became a must-watch for him. Then the internet came along, and in 1999, he emailed Roger his very first suggestion for his "Little Movie Glossary," which, incredibly, he chose for one of his coming Yearbooks! Since then Valero has sent him dozens (or hundreds) of suggestions and, even though his days of batting 1.000 in that department didn't last very long, he has happily been published about 20 times in Roger's annual "Movie Yearbook." He has also contributed to Time Magazine's "10 Questions" (segments on Alex Trebek, Andy Roddick and Hillary Swank) and to "Freeze That Frame" in the long-defunct Video Review Magazine (1991).
Valero has won prizes in a number of trivia contests: an Omega watch for the James Bond contest (1995) and a VCR for the Lethal Weapon one (1996), both by Premiere Magazine (Mexico Premiere), and his first DVD player in the Godfather trivia contest by Cinemex, a Mexican movie chain (1998). His main interests are movies and DVDs, playing tennis, following the NY Yankees and, whenever possible, traveling. His favorite film is still "Jaws," but the first two Godfather movies make him question his standings every time he watches them.
OTHER CONTRIBUTORS
Godfrey Cheshire is a film critic, journalist and filmmaker based in New York City. A native of North Carolina, he co-founded Raleigh's Spectator Magazine and began writing film criticism professionally in 1978. After moving to New York in 1991, he served for a decade as chief film critic for New York Press; his writings have also appeared in The New York Times, Variety, Film Comment, The Village Voice, Interview, Cineaste and other publications. He has also won three Arts Criticism awards from the Association of Alternative Newsweeklies. Cheshire's areas of special interest include Iranian film, the conversion to digital cinema and cinematic representations of the American South. He is a former chairman of the New York Film Critics Circle and a member of the National Society of Film Critics.
Ben Kenigsberg is a frequent contributor to The New York Times. He edited the film section of Time Out Chicago from 2011 to 2013 and served as a staff critic for the magazine beginning in 2006.
Prior to that, he was a mainstay in the film pages of The Village Voice. He has also written for Variety, Slate, The A.V. Club, and Vulture, among other publications.
Violet LeVoit a film critic, novelist, poet and artist whose work has appeared in many publications in the US and UK, including RogerEbert.com, TurnerClassicMovies.com, Allmovie.com, PressPlay.com, Bright Lights Film Journal, the Baltimore City Paper, Film Threat, and others. She is a contributor to the film history compendium Little Black Book: Movies (Cassell Illustrated), and was voted "Best Arts Writer" by Baltimore magazine.
Originally from Baltimore, Violet began her career in journalism as a television producer and video editor at Maryland's PBS affiliate, where she won two Emmy Awards for outstanding original programming. After transitioning to print journalism and film criticism at the Baltimore City Paper, she earned an MFA in Creative Writing at Rutgers University and published many works of fiction, including the short story collections I am Genghis Cum and I'll Fuck Anything That Moves and Stephen Hawking (both Fungasm Press), the zine chapbook love poems/sɯǝod ǝʇɐɥ (Budget Press) and the critically acclaimed "experimental noir" novel I Miss the World (King Shot Press).
Violet is also Associate Editor and Researcher for the Eisner-award winning graphic novel company Beehive Books, where she's co-edited The Temple of Silence: Forgotten Worlds of Herbert Crowley and LAAB magazine (for which she is also a co-publisher).
Donald Liebenson is a Chicago-based film critic, entertainment writer and DVD reviewer. He has been published in The Chicago Tribune, The Chicago Sun-Times, Printer's Row Journal, Los Angeles Times, Movieline and Entertainment Weekly.
He also contributed to VideoHound's Cult Flicks & Trash Pics and Sci-Fi Experience; Your Quantum Guide to the Video Universe, and The International Dictionary of Films and Filmmakers, Volume 3: Actors and Actresses.
Kristen Lopez is a freelance writer, critic and podcaster with a love of classic film.
Her work can be found various places including Film School Rejects, Remezcla, Forbes, The Hollywood Reporter, Slash Film, TCM and RogerEbert.com.
You can follow her at @Journeys_Film on Twitter.
Vikram Murthi is a freelance writer and critic currently based out of Chicago, IL.
He currently writes about film and television for RogerEbert.com, The A.V. Club, and Vulture.
He previously was a chief film critic at Movie Mezzanine and a news writer for IndieWire. You can follow him on Twitter @fauxbeatpoet.
Barbara Scharres is the Director of Programming at the Gene Siskel Film Center, a public program of the School of the Art Institute of Chicago.
In this capacity she is the artistic director for one of the largest cultural exhibition programs of world cinema in North America. She has published articles and criticism in film magazines and journals including American Cinematographer, Film Comment, Chicago Reader, Variety, and the Chicago Sun-Times, and has contributed to books including Hong Kong Babylon, edited by Fred Dannen.
Scharres was named a "Chicagoan of the Year in the Arts" by the Chicago Tribune three times, in 1989, 1991, and 1999. In 2006, the French government awarded her one of its highest honors by designating her a Chevalier de L'Ordre des Arts et des Lettres for her role in advancing French culture through cinema.
Allison Shoemaker is a freelance film and television critic based in Chicago. A member of the Chicago Film Critics Association, Allison's work can be found at The AV Club, Comic Book Resources, and at Consequence of Sound, where she's a Senior Film and Television Writer.
You can hear her on the podcasts TV Party, Debating Doctor Who, and Podlander Drunkcast: an Outlander Podcast, and you can heckle her on Twitter @allisonshoe.
Peter Sobczynski is a contributor to eFilmcritic.com and Magill's Cinema Annual and can be heard weekly on the nationally syndicated "Mancow's Morning Madhouse" radio show.
His work has also been seen in such places as the Daily Herald, playboy.com and NYFA.org and he has contributed to the upcoming book "World Film Locations: Chicago."
He saw his first movie ("Dumbo") at the age of three and hasn't stopped talking about them since. His favorite film is "Buckaroo Banzai," his favorite director is Brian De Palma and his favorite actors are Dick Miller and Nastassja Kinski.
Collin Souter has been reviewing films in Chicago for 14 years, most notably on WGN Radio where he has been a part of the movie review segment every week on The Nick Digilio Show. Additionally, he contributes to The Bad Mutha Film Show every month on WHPK. He has also written for eFilmcritic.com and Magill's Cinema Annual.
Collin also serves as the Short Film Programmer and Programming Adviser for the Chicago Critics Film Festival. You can follow Collin's work as a filmmaker at Multihead Productions.
Scout Tafoya is a blogger and filmmaker living in Doylestown, PA. He writes for and edits the arts blog Apocalypse Now and directs both feature length and short films, many of which are free to watch at honorszombiefilms.com.
His list of peculiar achievements include teaching a class on the cultural importance of zombie movies while in high school, lecturing on Dystopian sci-fi at Villanova, shooting an eighty minute feature in only eight shots and calling it Tron Wayne Gacy on a dare, and making the world's first all-improv horror film about Quakers. Scout is in pre-production on a sci-fi homage to "My Own Private Idaho."
ReBecca Theodore-Vachon is a film and TV critic who focuses on race, gender and representation in Hollywood.
She was the entertainment columnist at The Urban Daily and has contributed to NYTimes.com, RogerEbert.com, Entertainment Weekly, Fast Company and Vulture.com.
In 2017, she was a featured speaker for Google Talks at the Miami Film Festival and currently hosts Oscar Q&A panels for the Academy of Motion Pictures And Sciences.
TV appearances include "Politics Nation" on MSNBC and Good Morning America.
Katherine Tulich is an Australian-born entertainment journalist now living in Los Angeles, where she covers music, movies and television.
She is a contributor to the Los Angeles Times.