Cardi B Accuses Paparazzi of Racism and Defends Her Publicist After Confrontation
Suffice it to say, Cardi B is no fan of the Australian paparazzi.
The 26-year-old rapper arrived in Sydney on Saturday for a New Year's holiday gig and was greeted by a swarm of photographers. She was not in the mood for pictures or interviews, and covered her head in a blanket as she and her publicist, accompanied by a male associate pushing luggage, made their way through the terminal. The paparazzi were not happy and things soon turned ugly.
"You're in Sydney now, mate, you're in Australia," one of the photographers shouted at Cardi as the group followed them around the airport. "It's our rules, not yours, buddy. Our rules, not yours. Be clear on that. What's going on with the blanket, Cardi? You got an identity crisis or something? Give the fans a picture, Cardi."
"Can you guys please leave me alone?" the rapper responded, still covering her head.
"So as soon as I got here, you know, paparazzi's all in my face, and I get that, I understand that," Cardi said on Instagram on Sunday. "But what didn't sit well with me was this man telling me, 'You're in Australia now…you're playing by our rules.'"
"It don't sit well with me when a white man tells me that s–t," she said. "Like, excuse me? Sir…you think this is the 1800s? Are you crazy? Like, do you think that people are still getting oppressed or something?"
Things then got even uglier. As Cardi walked by the paparazzi with her face covered, a female photographer said to her, "No wonder your husband left ya." The incident took place weeks after the rapper announced that she and husband Offset, father of their baby daughter Kulture, had split after a year of marriage.
Cardi's publicist, Patientce Foster, was not having it, and confronted the woman, threatening to smack her (she didn't) and telling her to watch her mouth.
"Then this old lady, she keep asking for a picture but I'm like literally covering my face," Cardi B said on Instagram. "Then she says something rude, disrespectful to me, like, 'Oh, that's why your husband cheated on you,' and that's when my publicist got in her face. And you know what she did? [The woman] acted like she was so scared, like a victim, 'Oh my God, oh my God.'"
"But that didn't even bother me as much as this white man telling me, 'Yeah, you playing by our rules,'" she continued. "It's like, what is your rules? What are you talking about? Like, my n—a, do I look like a little f–king slave to you? Do I look like a f–king slave to you or something? That's how ya'll see people? That's how ya'll see colored people or something, that you guys say foul s–t like that…that s–t got me so f–king mad. That s–t don't sit well with me, like, it just made me think like, yo, I just want to go home."
Foster defended her response, saying on her Instagram Story, "Understand me. Won't no job 'title' ever change me or who I am! I will always defend myself, and the people around me! What's 'professional' to you don't mean to s–t to me! PERIOD!"
"Any of you bishes in my situation would have been folded!" she wrote. "You hoes out here getting ran down on everyday! Don't be mad at me for defending mines, be made that you the type with 'best friends' that let you get beat up!"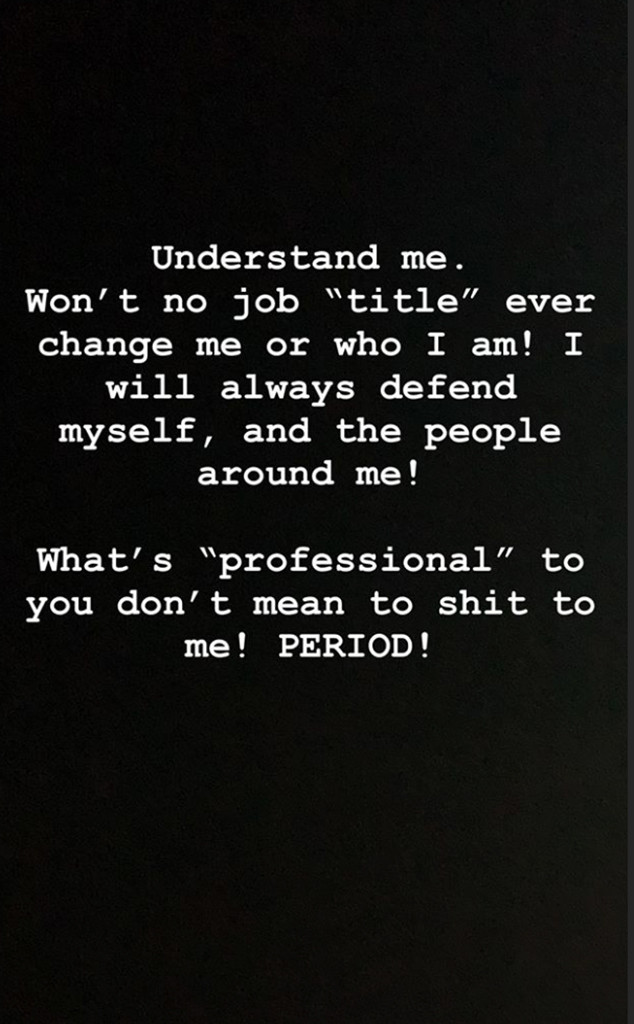 Instagram / Patientce Foster
Cardi also defended her publicist, and complimented her.
"My publicist is for me. My publicist is a publicist that do things my way and fits my personality…got me my first magazine cover, changed my image," the rapper said in an Instagram video. "It's not that she's my publicist, she's my friend. She was there when I gave birth to my daughter, everything. That's my bitch, that's my homegirl and as a matter of fact, I am mad at Patience. Wanna know why I'm mad at Patience? 'Cause she should've spit in that f–king lady's face. That's why."
"So don't f–king tell me about my bitch, that's my bitch and she been doing a great f–king job and I thank her every single f–king day. Thank you," she said.
Cardi ended up staying and playing her scheduled gig, a set at the Origin Fields Festival in Perth. She later said on her Instagram Story how she had a good time and didn't want to leave. She and Foster both posted a video of her onstage.
Instagram / Patientce Foster
"[Crossed fingers emoji] For life," Foster wrote. "Job Loyalty."
Cardi also ranted about the pressures of fame.
"And another thing. Stop telling me how I need to act like another celebrity, or this person would never…'you need to handle your situation like this person, that person,'" she said. "Bro that's not me, that's not me, bro. Like, sometimes, I don't even feel like I'm a celebrity because the standards and the way I expect these celebrities to act, ho, that is not me motherf–ka, I don't talk like that, I don't act like, bro, I'm just doing my motherf–king job, I'm just getting my coins."
"I've been acting like this, I've been this way my whole motherf–king entire life," she continued. "You wanna kknow some real facts? Your favorite celebrities be telling me, 'Yo, I wish I could express myself the way you express yourself. I'm so happy that you're f–king speaking up for us.' So I don't give a motherf–kf–kf–k."
She added, "I remember when I was a regular, shmegular girl and I used to see the celebrities going to heavy drugs, heavy depressions, committing suicide, wanting to die, and I used to think to myself, why do you want to die? Like, I don't get it. You got money, you got fame. Bitch, I'm broke. I want to die…what the f–k you wanna die for? And now I get it, though. I get it, 'cause…ya'll would really drive people crazy. Ya'll judge people, ya'll make rumors about f–king people. I feel like i could say anything to people and when people react, ya have something to say. Doomed if you do, doomed if you don't."
"I'm not gonna keep this s–t bottled inside because ya'll motherf–kers ain't..turn me crazy," Cardi said. "Bitch, I'm already crazy. So imagine another layer of crazy. Uh uh. And ya'll ain't gonna put me on motherf–king drugs either, so I'm letting ya'll know right now, f–k that s–t…before you motherf–kers be like, 'Oh, if you can't handle fame, get out then, I'm so sick of you.' Well bitch, you can't handle being in your motherf–king job for motherf–king eight hours straight, standing up, right? But you still do it, right bitch? Ah, ok, okurrrrrr. Go to sleep and f–king eat your food while it's hot, bitch. Goodnight."