No directive silencing MLAs on harassment allegations, Notley says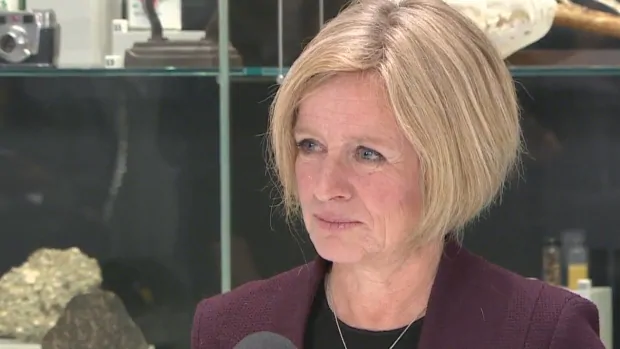 Premier Rachel Notley says she isn't aware of any incidents or allegations of inappropriate behaviour toward women within the NDP party or caucus.
Notley's availability at an unrelated announcement in Edmonton Thursday marked the first time reporters were able to ask her questions about allegations made earlier this week by former NDP MLA Robyn Luff.
Luff said she was bullied and faced a culture of intimidation under Notley's leadership. She also alleged NDP MLAs were told to keep quiet if they heard anything about opposition MLAs behaving inappropriately towards women "because our party wasn't completely without fault on the matter."
Notley said no directive silencing MLAs was ever made.
"Under no circumstances would that rule be in place by anybody who answers to or is accountable to me, and in fact none of the leadership in our caucus would never have said such a thing," Notley said.
Luff sent a letter to the media Monday morning announcing she was boycotting the legislature because NDP MLAs were deprived of their ability to properly represent their constituents and bullied into toeing the government line.
Luff said the government scripted questions for MLAs to ask in the assembly and in committee meetings. Anyone who rebelled faced shunning by their colleagues and a fear their nomination papers would go unsigned, she said.
Hours after Luff issued her letter, the NDP caucus voted to expel her from its ranks. She will now sit as an independent.
However, she said in a subsequent letter that she is still staying away from the legislature and will hold a meeting with her constituents to get direction on what to do.
Bullying allegations without foundation
When asked about Luff's bullying allegations, Notley referred to interviews the Calgary-East MLA has given to the media this week. Notley said Luff was unable to provide any specific examples of bullying, leading her to conclude the contentions are without foundation.
Notley said the caucus has internal processes for MLAs and staff to make complaints. She said Luff did not access any of that help.
"We understand that member is not a fan of the parliamentary system and would like to have complete independence in all that she does. But that's not the way the system works," Notley said.
"The processes that she described definitely describe common rules and processes within the parliamentary system of democracy. What she described [does] not amount to bullying, though."
Asked if she plans to review what happened, the premier said the NDP's internal policies and processes for making a complaint were sufficient. She said the NDP also has a code of conduct for how people behave toward each other.
Notley said caucus engaged in a "fulsome" discussion about the issues Luff raised in her letters.