Father of abducted boy says family wasn't told Randall Hopley had been released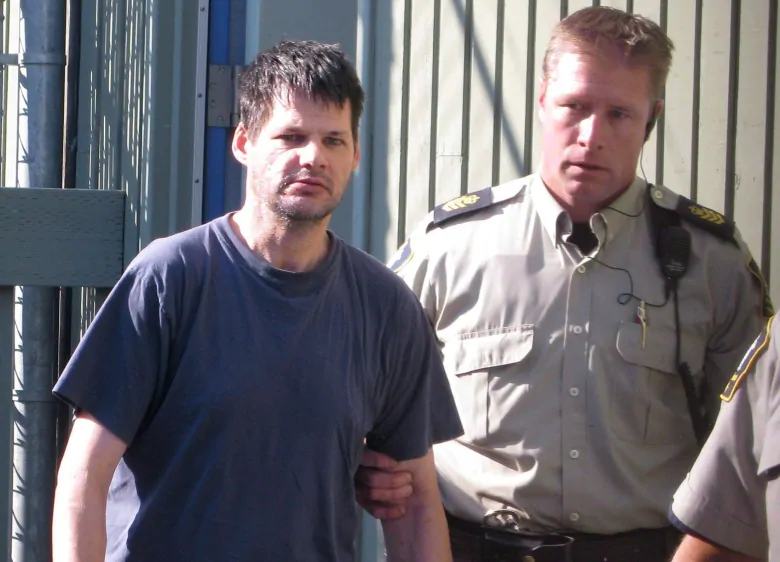 The father of a boy who was abducted from a home in southeastern B.C. says his family wasn't notified about the release of the high-risk offender who committed the crime.
Randall Hopley, 53, has served his six-year sentence for breaking into a home in Sparwood, B.C., and abducting the sleeping three-year-old in 2011.
He returned the boy four days later. The child was physically unharmed.
Randall Hopley, left, is led out of the Cranbrook, B.C. courthouse on Sept. 14, 2011. (Bill Graveland/Canadian Press)
On Thursday, Vancouver police issued a public warning about Hopley moving to the city because they say he still poses a risk of significant harm to young boys.
The boy's father, who lives in northern Alberta, told CTV Calgary that his family was shocked and upset to learn about Hopley's freedom.
He said he is anxious about the man's release but that his son, who is now 10 and in Grade 5, is doing well.
High risk to re-offend
A National Parole Board decision released to The Canadian Press on Thursday said Hopley continues to be assessed as a high risk for sexual offending against children.
It said Hopley is bound by a 10-year supervision order in an effort to manage his risks and his conditions, including not being in the presence of any child under 16 and abiding by a curfew.
Randall Hopley arriving for his dangerous offender hearing on Oct. 7, 2013, after he pleaded guilty to kidnapping a young boy from his home in Sparwood, B.C. two years earlier. (CBC)
Vancouver police said Hopley will be living in a residential correctional facility but wouldn't reveal the location.
Hopley was also designated a long-term offender after various courts heard that he sexually assaulted young children while living in a foster home as a teen.